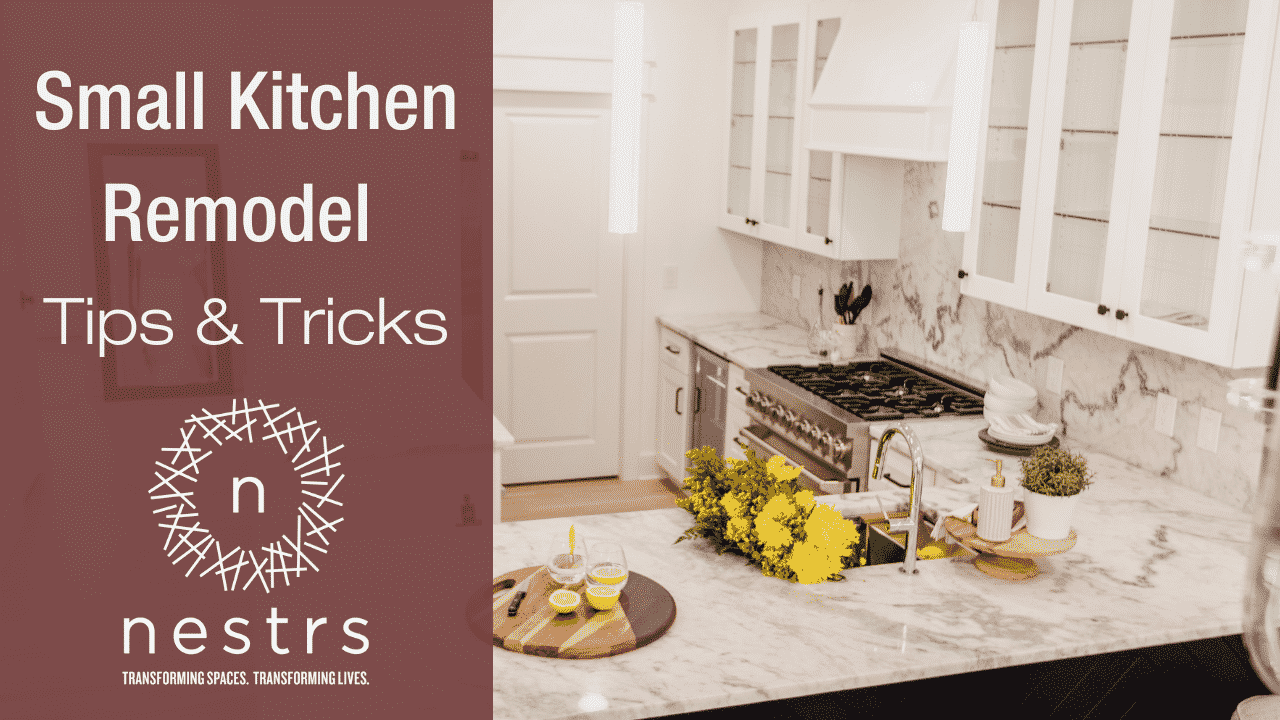 30 Jul

Small Kitchen Remodel Tips & Tricks

Do you have the itch to do SOMETHING with your small kitchen but feel like there's no solution to your lack of space? Whoever said good things come in small packages didn't think about kitchens, that's for sure… We feel your pain. If knocking down walls and creating a new kitchen isn't in the cards, is there any way you can improve your cramped kitchen? YES! Let's talk about some tips and tricks for remodeling your kitchen that will make it space you're proud to claim!

Related: How To Prepare for a Kitchen Renovation

What Are the Benefits of Remodeling Your Kitchen?
If you're still on the fence about whether you should hop on the remodeling train, let's first talk about the benefits of remodeling your small kitchen. 
Save yourself some money in the long run
If your kitchen is totally outdated with old appliances and light fixtures that aren't energy efficient. Think about how much money it's costing you. Your appliances are adding to those utility bills, taking longer to do their job, and maybe even causing you some frustration when preparing meals. Upgrading to energy-efficient appliances and lighting will not only look great but keep more cash in your pocket each month. 
Increase your home's value
It is well known that kitchen remodels have a great return on investment. Upgraded appliances, updated styling, and ensuring your scape is the most functional it can be all adds value!
Will help your home sell faster and for more money!
When it comes time to sell your home, a remodeled kitchen means one less thing a buyer will need to tackle before moving in. Even if you're only updating a few things in your kitchen, making it more attractive is appealing to any buyer.
Chance to declutter
Out with the old, in with the new! Remodels kinda force you to assess all the things you have and decide if it's worth it to keep or it's taking up space and collecting dust. Remember we're trying to make our small kitchen feel spacious, functional, and attractive so get rid of that dish set you think you're going to use on the holidays but somehow always forget about.
Make it more comfortable overall!
Think about how nice it would be to walk in your kitchen and feel proud of the space! Decluttered, functional, and pretty! Your kitchen should not be a reason for a headache!
Related: Airbnb Interior Design Tips: Kitchen and Bathroom

Small Kitchen Remodel Tips 
Go With an Open Kitchen Design 
The most obvious way to combat a small kitchen is to go with an open kitchen design. The more open the design, the larger it will feel! If you're able to knock down a wall to really open it up, go for it! A lot of the time, removing walls isn't a possibility. Another way to open up your kitchen is removing upper cabinets that block your view or removing a peninsula that makes the space feel cramped.
Sign up and get some of our excellent decorating tips straight into your inbox.
Downsize Your Kitchen 
Downsizing your kitchen goes hand in hand with decluttering your space. We know how it is, you end up with multiple serving platters but only use one, or someone passes on a dish set you really wanted to say no to. We collect a lot of things over time, but these extra things are taking up valuable space! Also, don't forget about all your kitchen gadgets. A lot of the time one gadget can do the job of three other gadgets… so get rid of those one-use things!

Use Color to Your Advantage 
Dark colors end to make a room feel smaller, so use color to your advantage. Keep the tone light and airy! Whites, creams, and greys are great! This goes for cabinets too! Consider painting them with light colors to make your kitchen feel open and much bigger! If you want to add an accent color, do so in small, changeable elements such as window treatments.
Say Yes To Open Shelving 
Want to remove those bulky upper cabinets but don't want to lose out on storage? Say yes to open shelving! Not only are open shelving attractive designs, but they allow you to see exactly what you have. No more digging around, wasting time searching for your things!
Incorporate Minimalistic Details 
Avoid the urge to over-decorate and clutter your space with items that don't provide functionality. If it looks like the items on your countertop are fighting for space, your entire kitchen will feel the same. 

Lighting, Lighting, Lighting
If you're lacking space, make sure you can see all of it! Dark shadows scream small and cramped, especially in the space above cabinets or in the corners of your kitchen. LIGHT EM UP! Make sure you have a combination of task lighting and atmospheric lighting to balance everything out!
Integrate Appliances 
Integrating appliances makes everything blend together and usually look the same as your other cabinets. Your kitchen will look sleek and overall look bigger!
Related: Organize Your Kitchen With IKEA
Use Clean Lines 
Keep it simple and light with clean lines! For example, consider opting out of cabinet handles. Not only do they catch your clothes from time to time, but they also break up your cabinets and make them appear busier. Choosing integrated handles, and handles on the side, will keep the eye at ease and make your kitchen appear larger!
Heighten Cabinets
There is always so much wasted space above your cabinets, not to mention all the dark shadows they create. If you're redoing your cabinets, consider raising them higher! Not only will you have more space under your cabinets, but fewer shadows. Your eye will be directed up, making your ceiling appear taller!
Use Reflective Materials 
Bouncing around the light is your best friend when remodeling your small kitchen. Reflective materials can be anything from glass tiles and stainless steel appliances, to high gloss cabinets or shiny floors!
Final Thoughts
If your kitchen feels small and outdated, there is hope! Just follow these tips and tricks and you're on the right track to make your kitchen a space you're proud of. Need some inspiration for your next kitchen design? Check out some of our recent flips, here!
We can't wait to see how you transform your small kitchen!
Wait! Are you having trouble figuring out ideas that'll take your kitchen to the next level? Try out one of our 1-hour consulting services and we will help you get started.