16 Mar

Airbnb Interior Design Tips: Kitchen and Bathroom [Part 2]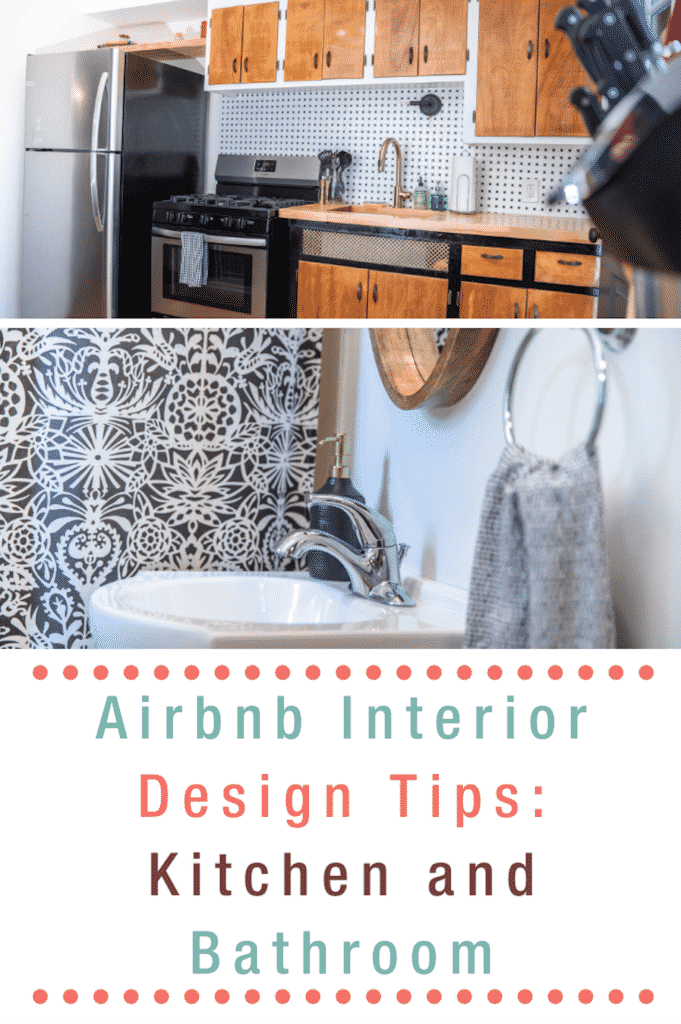 Ready for more AirBnB interior design tips? Awesome. Because we finished up the tour on our first Columbus, Ohio AirBnB and we'd love to share all of our tips and tricks with you.
I'm No Betty Crocker
It's actually kind of comical watching me give a tour of a kitchen. I can help you design and organize yours but I'll most likely refer to all the tools as thing-a-ma-jigs and dinglehoppers.
Secrets out! I don't cook.
But that doesn't mean I don't know what traveling guests need out of a kitchen! (Read: I like to hang out with cooks. Nothing like keeping your belly full all in the name of research!)
Ugly: Party of Two
It was important that we nailed the kitchen and bathroom in this space. Unlike our last AirBnB, we didn't renovate this one. The kitchen and bathroom haven't been updated in a loooong time. We didn't have much to work with in terms of charm.
The cabinets are a 1980's hodgepodge of builder grade hardware and make-shift storage. The flooring is a peel-n-stick vinyl – and not the cute kind you find on Etsy.
The shower walls are whatever Home Depot had on special in the 1970s.
Wait…was the Home Depot even around them?
[Pause while Sarah does a quick Google search].
Ok, so the shower walls are whatever Home Depot had on special in 1978.
Suffice it to say, she was ugly. But, it's nothing a magic eraser, cute furnishings, and a whole lotta determination won't fix.
Want The Down and Dirty Numbers?
Alsoooo, I'm going to be doing my first financial report on our Columbus AirBnB soon. Ever wonder how much an AirBnB host can make? Curious about expenses? Want to know how that compares to having a long-term (traditional) tenant?
Cool. Cause I'm going to tell you.
Well, I'll tell you if you subscribe to our email list. 🙂 I promised our email list that they would always be our VIPs. The first ones to hear about giveaways. The first ones to get down and dirty info. So, to keep that promise, I'll only be sharing these numbers with our email list subscribers in our beginning of the month e-letter in April.
Haven't subscribed yet?! No worries! You can do that here. Once or twice a month we reach out to say "what's up", share any design, construction, and real estate news we have, and offer up the opportunity to solve any marital disputes between Nick and myself – like what's better – Star Trek or Queer Eye…
Is that even a question?
So, join thousands of home lovers and subscribe!
Shop Til You Drop
Like what you see in our AirBnB? (oooOOh, that rhymed!)
Awesome! I compiled everything you can buy in this online kit. Everything else is a thrifted find.
Ok you interior design fanatics! Check out our 17-minute AirBnB Interior Design Tour of our unrenovated – but now totally cute – kitchen and bath!