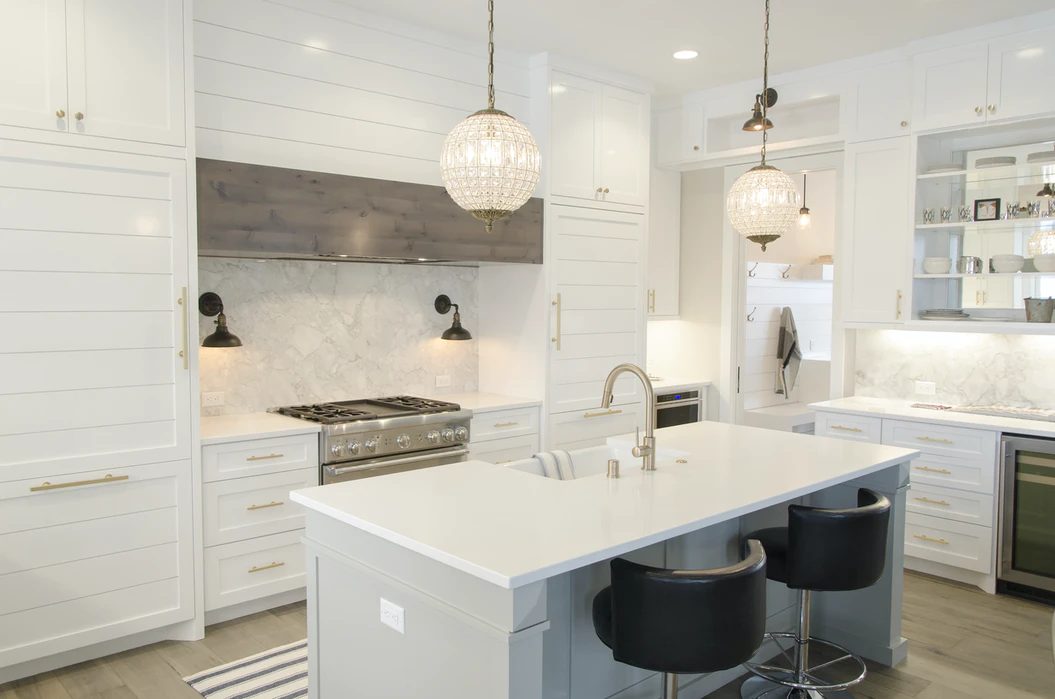 24 Aug

Kitchen Lighting Tips and Trends You Should Know About

A kitchen is so often the heart of a home and can serve many purposes, from cooking to dining with family to getting stuff done (in fact, I'm writing this article from my kitchen table). The right type of lighting can make all the difference! If your kitchen tends to be on the dark side or you're always working in a shadow, adding the right type of lighting can upgrade your experience.

Read on to learn about the layers of lighting you'll need to avoid dark spots and shadows, our recommendations for different lighting fixtures, how to choose the right bulb temperature for different applications, and other lighting accessories to consider your kitchen space.

We consider all sorts of things when renovating or upgrading a kitchen. Right now, we're working on a project in the Clintonville area of Columbus, Ohio, that we're calling #ruthisinrehab. We've partnered up with Kichler Lighting to help us bring this renovation project to light!

Are you looking for more tips and insights on how to upgrade your home check out our blogs
3 Layers of Kitchen Lights
Task
Task lighting is focused illumination for specific activities – prepping vegetables, working at a desk space, or studying a recipe. Think about all the ways you use your kitchen. Do you sit down at the counter to pay bills? Are you washing dishes every evening to tidy-up for the next day? Sufficient lighting can go a long way to making space work for you.
Ambient
We often think of ambient lighting as an essential feature in living spaces where we want to create a warm, cozy feeling. However, ambient lighting is an easy way to level-up your kitchen space. The golden flood of ambient lighting can serve to add light to areas not covered by your other light sources, illuminate the walls and floors, and create a subtle glow in the space.
Accent
With accent lighting, you can create dimension in your kitchen. Accent lights are commonly used inside cabinets (making it easier to find everything!) or to add unique lighting to particular features in the space. As far as brightness is concerned, accent lighting sits in between task (the brightest!) and ambient (the dimmest!)
Related: HOME PERSONALIZATION TIPS: HOW TO MAKE A PICTURE WALL
What Should You Consider with Each One?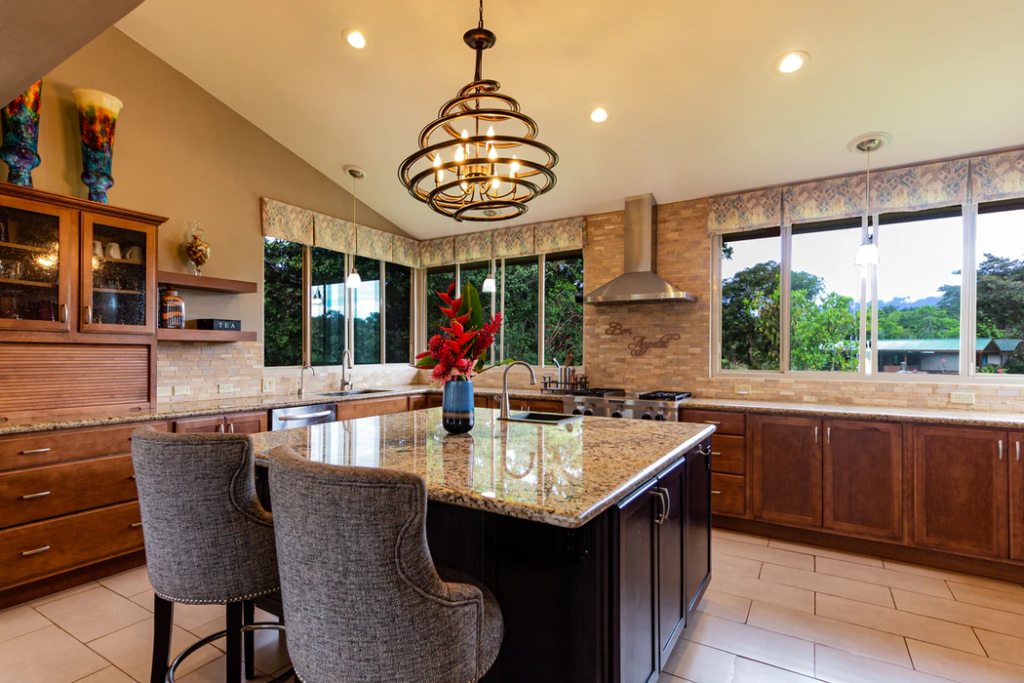 Task
Proper positioning of task lighting directly onto a work surface is vital. Think about all the ways you use your kitchen and where you can position task lighting to help. An excellent space for task lighting in a kitchen is under the cabinets. It can help with food preparation, cooking at your stove, and cleaning up after a meal. (Source: Kichler.com)
Ambient
Consider where you can place ambient light fixtures to direct light evenly across the floor. Can you access the ceiling space above your kitchen to install recessed lighting easily? Where are there gaps in lighting that your other fixtures don't cover? Strategically placed ambient light can make your kitchen feel warm and cohesive.
Accent
What details or decor do you want to highlight in your kitchen? For example, do you have decorative ceiling tiles that can be showcased with cove lights? Are your upper cabinets filled with vases that would look baller illuminated by puck lights? Decide what features you really want to set apart and showcase with lighting.
Choosing the Right Fixtures
Task
Strip lighting is a popular choice for task lighting in a kitchen, as it fits well under the cabinets to light your countertops. The best course of action with any lighting plan —but especially with tape and channel lighting is to plan it out ahead of time as these products need to be hardwired! Here's a great guide provided by Kichler to help you get on the right path.
Ambient
Options for ambient light fixtures include recessed lights mounted in the ceiling, flush-mount or semi-flush-mount fixtures that are also attached to the ceiling or other types of accessories that can be hung on a chain. Consider adding a dimmer switch to dim the lights and create an ambiance for yourself or your guests after dining.
These schoolhouse lights from Kichler are one of my go-to's for any transitional space. They're cute, timeless, and affordable!
Accent
To create depth in your kitchen space, consider adding rope lights or puck lights to your cabinetry. It's a great way to add dimension to space. LED lights are an excellent choice for this application. Have a cabinet that houses decorative glassware or your classic cocktail mixing supplies? Light it up with accent fixtures!
Related: HOW TO INSTALL A DIMMER SWITCH
Choosing the Right Bulbs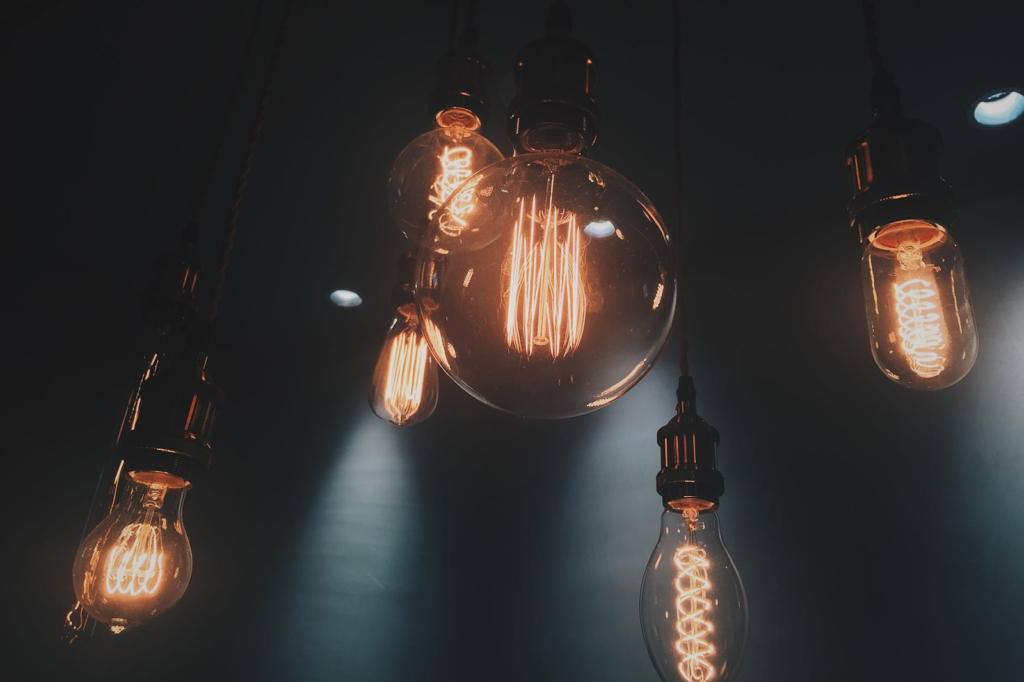 Your lighting upgrade will be all for naught if you choose bulbs that emit the wrong color temperature. The color temperature of a bulb is measured in Kelvins (K) and describes the characteristics of the light (think soft and cool). A higher bulb temperature indicates a cooler light, whereas a lower temperature indicates a warmer light. Here's a basic breakdown:
Soft white: 2700K to 30000 K
Cool White/Bright White: 3500K to 4100K
Daylight: 5000K to 6500K 
Ambient and task light fixtures should use bulbs with a color temperature range of 3500K to 4100K. This ensures that floors and working surfaces are illuminated with genuinely white light. You can go two routes for accent features. To backlight your showpieces with a warmer glow, choose a bulb with a temperature of 2700K to 3000K. To play up decor or architectural details, use bulbs from 3500K to 4100K to apply a sharper white light.
Related: HOW TO MAKE YOUR ROOM LOOK COOL AND MORE EXPENSIVE
Using Natural Light
Adding more natural light is not as easy as installing a puck light in your cabinet. However, natural ambient light sources are worth it. Natural light can add extra warmth to your kitchen and fill in gaps in the light coverage of your fixtures. Think your kitchen is too small to install another window? Think again! Here are a few ways you can incorporate natural light in your kitchen:
Add a small window to the middle of your counter backsplash
Utilize the gap in the wall between upper cabinets with a tall and narrow window
Leverage a high-up wall clearing with a porthole window 
Swap out a door for one with a pane of glass (<—LOVE this tip!)
Other Lighting Accessories You Could Use:
Open-Shelf Lighting
Did you jump on the open-shelf bandwagon? We love the instagrammable light look of open shelving for decorative items and to store plates and glasses! This is another place where you can use LED strip lights or puck lights. Place these lights under your open shelving to highlight your shelf styling.
Track Lights
Have a unique layout that requires custom light positioning? Track lighting may help. This type of fixture is gaining traction as new energy-efficient options hit the market. With track lighting, you can adjust the focus of each light to control the illumination. Bonus: track lighting is super easy to install!
Wall Sconces and Pendant Fixtures
Wall sconces and pendant fixtures are natural choices for your kitchen. Sconces can add to the ambient light in the space. Choose a low-voltage fixture to keep the lighting soft. Pendants can be used to feature special artwork or add focused lighting to a particular space (over a kitchen island or peninsula is a no-brainer!)
Kitchen Centerpiece
If your kitchen layout can accommodate a hanging centerpiece light fixture, you can get creative and bold. Choose a big, show-stopping fixture that reflects your unique personality and style. Replacing a kitchen light centerpiece is an easy way to add design flair to your kitchen – don't hold back!
Are you looking to renovate or upgrade your home Nestrs Styling Services can be a great help.
Conclusion
Coordinating the lighting design in your kitchen is an easy way to upgrade your space without undergoing a major renovation. Be mindful of how you live in your kitchen (where you work, where you cook, where you relax … ) to ensure that your lighting choices address those needs. Don't shy away from adding fixtures that really reflect your style (cue the centerpiece fixture!) Kitchens are such multi-function spaces and require a variety of lighting types to get the (many, many) jobs done. Adding new fixtures or swapping out existing ones doesn't have to be expensive or time-consuming. With a few quick upgrades, you'll have a brighter and more welcoming kitchen.