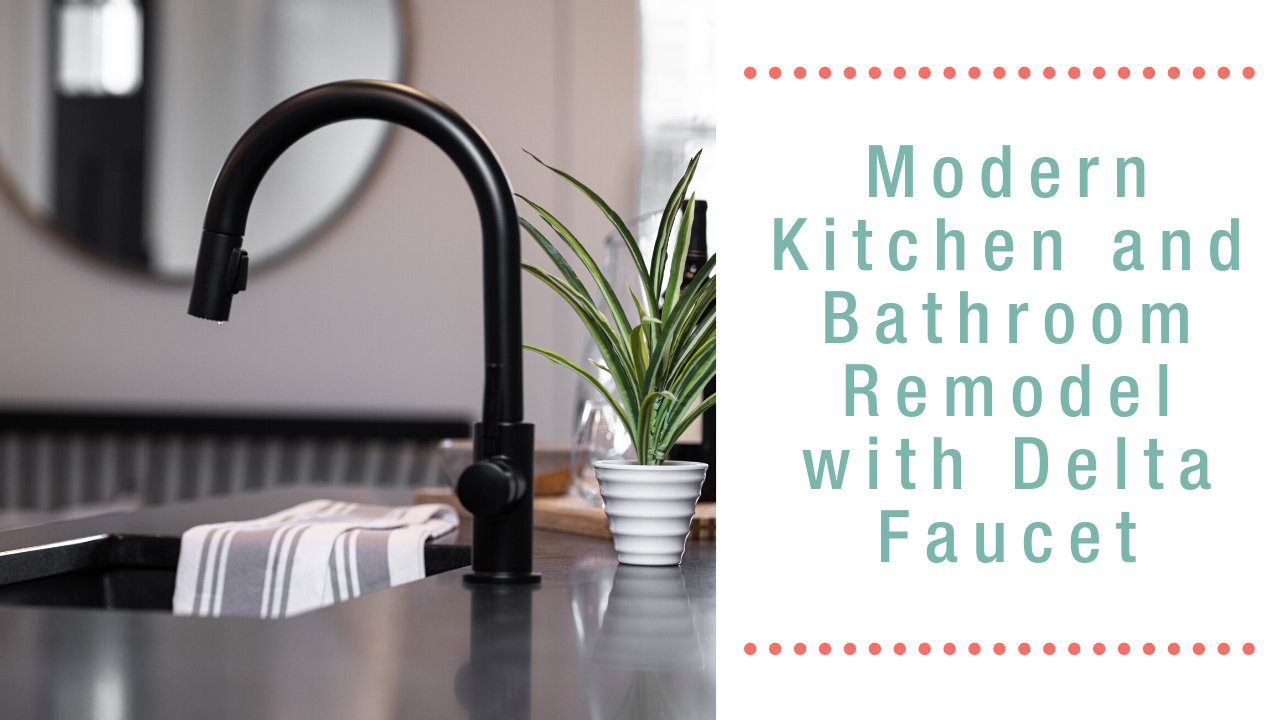 06 Apr

Modern Kitchen and Bathroom Remodel

This post is in partnership with Delta Faucet


We are beyond excited to share the kitchen and bathroom remodels at one of our downtown flips, lovingly called #betsy614.

To jog your memory, we were brought the opportunity to restore this downtown home built in 1905 by our friend and Realtor, Jenn Kessel-White.

Her story and how she found this diamond in the rough is GOOD. You can read about it here.

So much went into making this property shine. In this post we're going to focus on the challenges and solutions for the kitchen and bathrooms at Betsy.

Related: Ikea Kitchen Storage Ideas
The Bathroom and Kitchen 'Before'
We kept the kitchen in the same area(ish) but there was only one bathroom in the home. We moved it slightly towards the front of the home to create a 1st floor master.

We also added another full bath to the first floor, which brought in a TON of value AND we added a full bath to the second floor.

Here is the original layout of the first floor was vs. what the new layout is:

By utilizing the space better, we were able to add:
An additional full bathroom
A giant butler's pantry
First floor laundry (the original washer and dryer were in the basement)
A proper first floor master
Better living room/kitchen flow
And here's a look at the second floor before vs. after:

When we first walked through the home the second floor was being used as a semi-finished attic space.. We were able to make great use of the space by adding a full bathroom and plenty of proper storage space off of a fantastic master bedroom.

This home went from a 2 bedroom, 1 bathroom home to a 4 bedroom, 3 bathroom home. 

Need kitchen and bathroom remodeling? Check out Nestrs for ideas
Let's Talk Kitchen and Bath Design

The entire concept for Betsy was bold and contemporary, yet classic.

First step was to get inspired! We found plenty of ideas to get our wheels turning:
Once we gathered inspirational pictures, we took our favorites and laid them out onto a concept board.

This first board is for the first floor's bathroom. We wanted a lot of black and white with warm wood accents -making sure to keep it modern!

We gave the first floor master bathroom its own personality while staying true to the overall concept:

We wanted to have some fun with the 2nd floor bathroom! It already had a unique layout and ceiling lines – we couldn't change that too much since we had a strict budget, but we knew if we selected great materials and communicated an energetic design, our buyers would fall in love with its quirky nooks and crannies.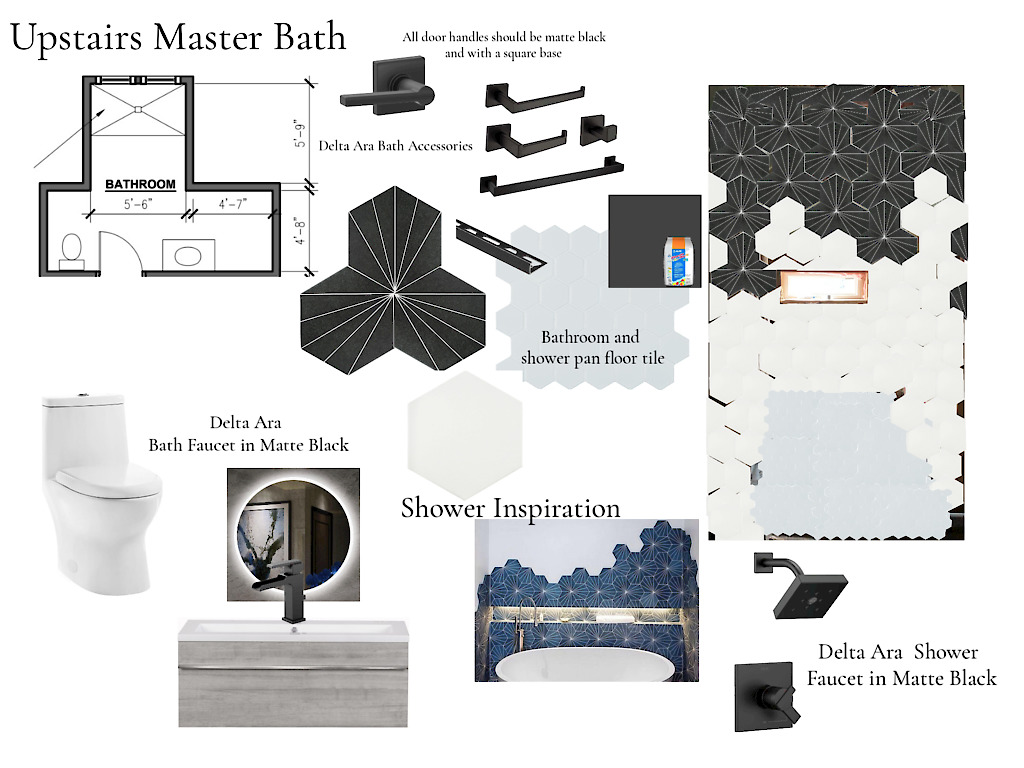 We had already decided on white walls throughout the entire home. We chose White Dove (OC-17) by Benjamin Moore. We like it because it's not a cold stark white -it's actually warm without being too creamy.

If you do use White Dove, however, we recommend using it on the ceilings as well. If you use ceiling paint against White Dove it does risk looking creamier than you might want since ceiling paint is incredibly stark.

Plumbing Fixtures by Delta Faucet

We LOVE the look of Matte Black fixtures against warm white walls. Delta Matte Black fixtures go with everything and are the perfect choice for a home we would be putting on the market. We need most of the design elements to be classy so that they will appeal to a wide array of buyers. 

Delta Faucet offers a great selection of designs and styles. Since we wanted to lean modern, we chose fixtures that have simple silhouettes and clean lines. 

Kitchen
For the kitchen we decided on the Delta Trask Pull-Down Kitchen Faucet in Matte Black

This faucet actually inspired the entire kitchen concept! We decided to do an all-black kitchen island and then an all-white back wall!

I mean, if this isn't sexy I don't know what is….

Bathroom:

Each of the three bathrooms has their own little personality, while still being cohesive within the home.

We stuck with our white and black concept -with hints of warm antique brass light fixtures and wood vanities.

For the bathroom plumbing fixtures, we fell in love with the Delta Ara Collection available at Lowe's. Again, simple lines, clean design, and a for sure crowd pleaser!

Here's the Delta Ara 1-handle Shower Faucet in Matte Black:
Here's why we like this fixture:
H2Okinetic® Technology sculpts water into a unique wave pattern, forming a powerful drench spray that gives you the feeling of more water without using more water
Control volume and water temperature independently
Related: Airbnb Interior Design Tips: Kitchen and Bathroom [Part 2]
Sleek…right?!

We knew we wanted the Delta Ara Single Handle Faucet in Matte Black for our modern vanities. We LOVE the open channel and the ambiance the waterfall creates in the bathroom!

We were able to just do the single hole installation, but if you have 3-holes with a 4" spread this faucet will work as well!
Accessories

Bathrooms wouldn't be complete if you didn't have a stylish way to hang hand towels, robes, or toilet paper! We went to Delta Faucet's Trinsic line to round out our bathroom design.

Contact Nestrs for hosting, style, and design services
The Trinsic Wall Mount Towel Ring in Matte Black:
The Trinsic Tissue Holder in Matte Black

The Trinsic 18" Towel Bar in Matte Black
The Trinsic Robe Hook in Matte Black:

Turns Out: Our Buyers LOVE the Kitchen and Baths!

We utilized social media and our hashtag: #betsy614 to help spread the word about this exciting project. We shared behind the scenes and got the community excited for updates.

So much so that the buyers who we went into contract with put an offer in before we were even done with a lot of the construction!

What what?!

And they LOVE the black and white concept. The love the simple, bold, classic design -and they love all of the Delta plumbing and accessory pieces.

Mission Accomplished!

If you love these Delta products as much as we do, here are the links again, all available at Lowe's:
Related: 7 Crucial Steps to Planning a Successful Kitchen Renovation