23 Feb

7 Crucial Steps to Planning a Successful Kitchen Renovation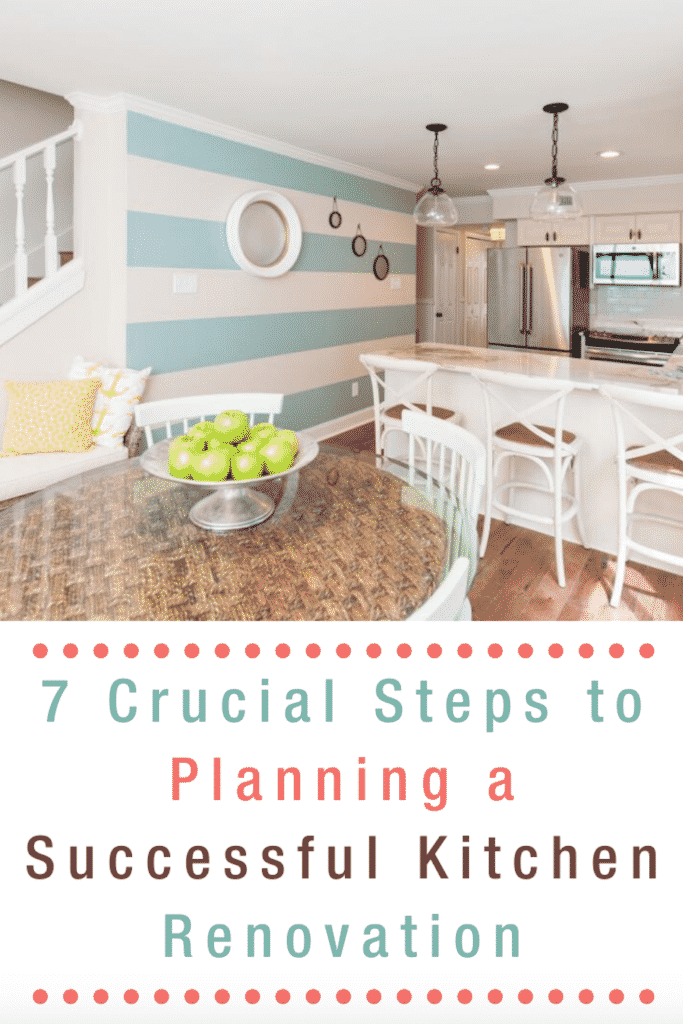 We [Heart] Kitchen Renovations
It's the first room people rush to in pretty much any situation. Looking at the home to buy … checking out a rental …. returning from a long day at work … visiting a friend … the kitchen is the place to be.
But if said kitchen still has linoleum flooring from 1988, dated cabinets with drab hardware, or countertops you're sure were made from leftover scraps from the ugly backsplash, then you're probably dreaming of what you can do to make it Pinterest worthy!
Can I get an "Amen"?!
But then one of two things happen.
You either get all excited and start shopping, but are quickly deflated because you had no idea cabinets cost THAT much. Or you don't even waste your time getting excited at all. You just give up because there is no way you could afford a kitchen reno. You don't know where to start, so you just slap on peel-n-stick backsplash and hope no one notices the missing tile right in the middle of the wall.
Chin Up, Cupcake!
Kitchen renovations don't have to be scary! Like most things in life, you need a solid plan. Know the pitfalls before you start and create a realistic budget.
It just so happens that planning is literally my favorite thing in LIFE! So, here they are – my tips to get you started with a plan for your reno.
The 7 crucial steps to planning a successful kitchen renovation:
1. Know your "why".
Are you renovating to sell your home quickly next summer? In five years? Or is this your forever home?
2. Make a wish list.
Think Pinterest, mood board, a wall full of torn out pages of the latest Architectural Digest magazine.
3. Figure out a budget.
And make it realistic. Ask a trusted real estate agent what an appropriate budget would be for your kitchen renovation in your market. And for goodness sake, do not keep your budget a secret! Say it out loud and proud. This will help you stick to it.
4. Secure financing.
Paying cash? Lucky you! But, if you're financing like most people, make sure you're prepared to pay for the entire project.
5. Hire your team. 
Whether or not you plan on project managing or hiring a general contractor, chances are you'll need to hire at least a few pros for different aspects of the job. Feel them out. Are they licensed? Bonded? Insured? When it comes to hiring contractors, look for these three characteristics: Good, Fast, Affordable. Hold out for at least two of the three! Be skeptical of someone who promises all of them.
6. Check your calendar.
Make sure it's a good time to rip your kitchen apart. Are the kids busy with school? Are you part of an HOA with renovation "seasons"? Take everything into consideration when determining a timeline.
7. Arrange lodging. 
Depending on where you live, you may not be able to stay in your home during the renovation. Add hotel expenses to your budget if staying with friends or family is out of the question.
Ready to plan?
Check out my guest spot on the podcast DIY Kitchen Guy, Scott Riley.  Scott and his wife Leslie run their family's 35-year-old kitchen cabinet company in Florida, so he knows a thing or two about kitchens. Put the earbuds in during your next workout, crank up the volume in your car, or grab a cup of coffee right now and dive into our 48-minute conversation all about planning for your kitchen reno!
Thanks for stopping by our online nest!