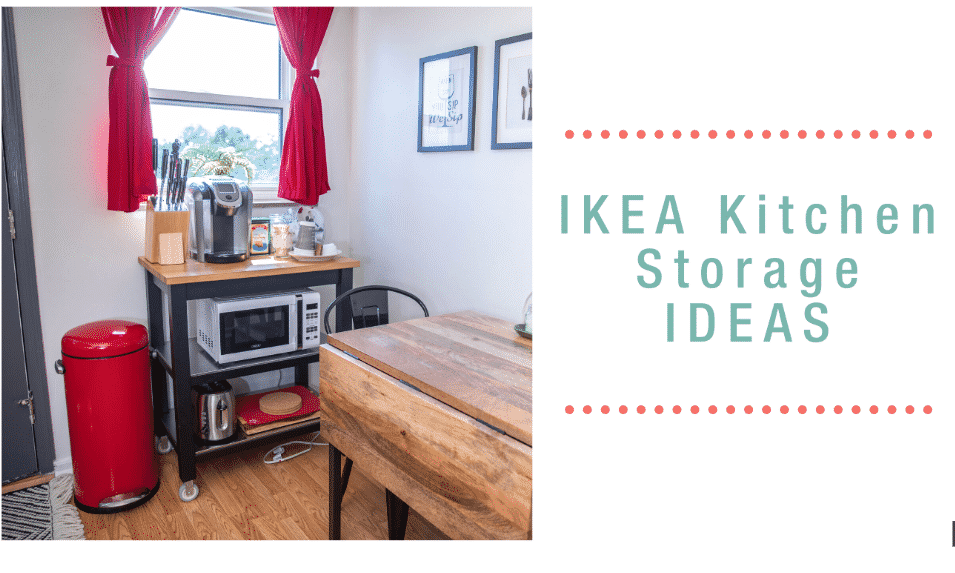 15 Mar

Ikea Kitchen Storage Ideas
It's my favorite time of the year – SPRING CLEANING! 
If you have been following along for a while, you know that organization and creating a great storage system is MY JAM. As a professional organizer, founder of Nestrs and an Airbnb Superhost, discovering innovative storage solutions for a kitchen gets me more excited than I should probably admit. 
 One of my favorite places to find storage solution ideas is Ikea. They have mastered the ability to maximize storage in kitchens big and small. Today I am sharing 7 Ikea kitchen storage ideas that will give you that boost of energy to start spring cleaning today. Let's get started!
1. Use floor space
Get creative with the floor space in your home! Ikea products come in all shapes and sizes, and there are many options that fit in tight spaces. Storage carts on wheels are genius for small kitchens The ability to move your workspace around a room based on the activity really does make up for little kitchens with little counter space.   Here are a few of my favorite Ikea storage carts that leverages the floor space available to you.
Related: Make Your Airbnb Instagrammable
The RASKOG utility cart can be pulled out when you are cooking and easily rolled back into its storage space once you are done. These carts fit great at the end of a counter, in a pantry or even in those awkward spots you find so often in an apartment.
This BROR cart is super versatile and functional for the kitchen. The wheels allow it to move around with ease and the metal frame makes it sturdy enough for heavy loads. This is a great option for a kitchen island or additional counter space.
The BEKVAM cart is another fantastic table on wheels! If you like this cart but wish it was a little bigger, try buying two and setting them side by side. This is a great cart for a kitchen island or storage in a corner. Because it is made from raw wood, you also have the option to paint it whatever color your heart desires, have fun with it!
2. Create Kitchen Island Storage Space
Is there anyone who doesn't like kitchen islands? Luckily, Ikea has great island options for even the smallest of kitchens. These islands add more storage to your kitchen and another work surface to spread out while cooking. Did I mention they are also beautiful?! Here are a few of my favorites.
The TORNVIKEN island is great for kitchens that lack square footage. It is compact but offers a ton of additional storage space with its soft-close drawer and spacious shelves below.
Ikea offers a longer option of the TORNVIKEN island and it is a stunner! This island offers so much storage the added wood detail gives this a custom look for your kitchen. 
Looking for a kitchen island with a seating option? Look no further! The VADHOLMA island is super sleek and offers storage on one side and on the other side, I space for stools to sit.
This rack can be installed on the VADHOLMA kitchen island. It offers another shelf for storage along with hooks to hang kitchen utensils or to dry out your herbs.
3. Make Use of Walls
When dealing with a small kitchen, it is critical to use the walls to maximize storage! Ikea has mastered the art of using empty wall space to its max potential.
Related: How to Set Up an Airbnb
Have you ever dreamed of owning a chef's kitchen? The KUNGFORS wall grid makes you feel like a chef with the ability to customize your kitchen storage based on your personal needs. The durable materials give the look and feel of a chef's kitchen in a restaurant.
The BEKVAM spice rack isn't just for spices. You can use this rack to hold cookbooks, small glasses or even small potted herbs. Not feeling the natural wood look? Try painting these racks to personalize your kitchen!
Add hooks to this stainless steel rack to hang kitchen utensils and small pots and pans.
The KUNGSFORS containers can be used in so many different ways. Attach them to a wall rack to store kitchen utensils or potted herbs. These containers will keep your smaller utensils organized and in one place without taking up valuable drawer space.
4. Use Rearrangable Shelf Storage
It is easy for a kitchen to look disorganized with only open shelving. You can create a more cohesive look by adding storage bins and unique open shelving for personal items.
The VARIERA organizer bins are great for corralling smaller kitchen items. You can use them in a drawer, place them on a shelf or even keep them on the counter for odds and ends.
This open storage unit is a great option to add some character to your space. It is mounted directly to the wall and the open shelving offers more surface space to personalize it and make it feel homey.
5. Create a Charging Station
We all have that corner of our kitchen that becomes a catch-all for mail, keys, and electronics. These storage solutions are a great way to keep all of your frequently used items organized while still within reach.
The OBSERVATOR clip-on basket will attach to any open shelf. This is another fantastic option to keep your countertops clear. Use this type of basket to create a charging station. Keep your phone and Ipad chargers off the counter by corralling them in this useful basket. This is a great option to hold your mail as well.
Isn't this basket adorable?! The RISATORP basket can store all of your frequently used electronics that can take up valuable space on your countertop.
Organize Table Space
Toss that Lazy Suzan on your kitchen table and consider these organization options below.
This sleek condiment stand is one more great solution to keep your counters and table clear when you are cooking. Store your olive oil, hot sauce and salt and pepper shakers in this stand for easy access every day.
Is your kitchen feeling a little cold with all of the stainless steel elements? Consider adding this beautiful bamboo basket to warm up your space. This basket can be hung on a wall rack or sit on your countertop. 
The KUNGSFORS mesh bag can be used inside and outside of the kitchen. Take this sustainable bag to the grocery store and skip the plastic bags. Use this mesh bag to store your fruits and vegetables and hang it on your wall rack.
7. Additional Tips
Sooooo, I tried to narrow my tips down to just 7, but there are too many amazing storage solutions that Ikea offers in the kitchen! You can see that storage and simplicity at work in one of Nestrs' recent kitchen makeovers. Here are four more storage products to consider in your kitchen.
Related: 23 Must-Have Items for Your Organizing Tool Kit
Separate organizers by guest
This is a great option for shared kitchens. Offer separate organizing bins for each person staying in the home.
Use shelves in the fridge
Maximize storage in your refrigerator with shelves. Not only is it easier to find your food, but it also makes it much easier to access when you don't have to stack everything on top of each other.
Use shelves on cabinet doors
This is a great option for cabinets under the sink. Hook these shelves on the cabinet door to easily access your most frequently used cleaning supplies.
Color code organizers
Sort your kitchen by activity and corral them into their own organization bins. Use a color-coding system to easily find what you need.
CONCLUSION
We spend so much time in our kitchen every day, taking some time to get your kitchen organized and functioning at max capacity will be worth it! All of these storage solutions will shave minutes off of your daily kitchen tasks, and I promise they start to add up quickly! Now that you are all set in the kitchen, what room should we organize next?!
For more organization tips and tricks, contact Nestrs today or head on over to our YouTube page: