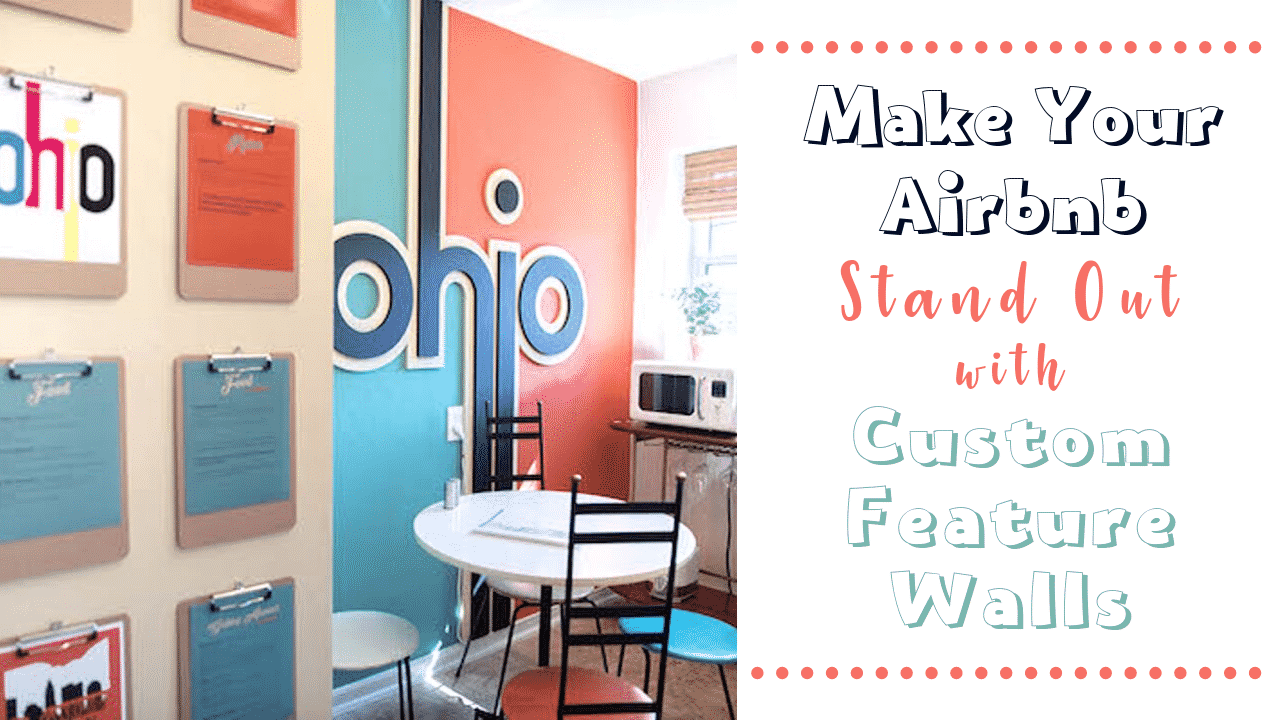 30 Sep

Make Your Airbnb Instagrammable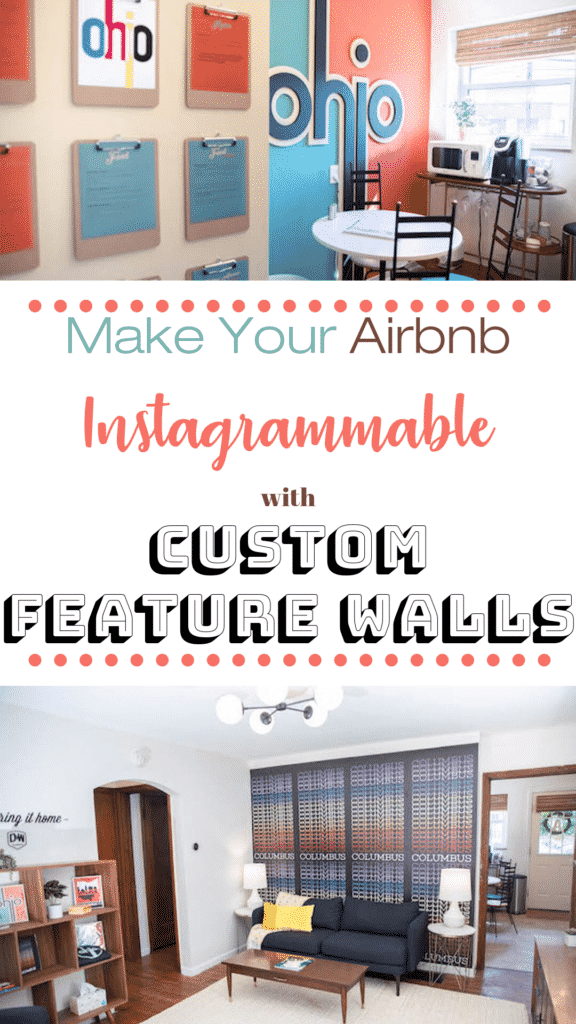 I'm a competitive person. This is no surprise to anyone who knows me personally.
As an Airbnb host, I am constantly on the platform seeing if my properties are on the first page and above the fold.
But I'm noticing that it's harder and harder for my properties to stand out. So I had to do something about it and regain my 1st page status….especially since I had a new Airbnb to design and list.
Whenever I want to do something epic -whenever I want to stand out -I find a way to collaborate with someone crazy creative.
O-H-I-O
I'm new-ish to Ohio and one thing I've learned is Ohians are v v proud of their state.
The people of Columbus are v v proud of their city.
And we get a TON of parents who stay in our Airbnb spaces while they're visiting their kids at The Ohio State University. Or alumni of OSU who are in town for a game.
Perfect. I'll create an Airbnb space that celebrates the city. And I'll do it with the help of a local graphic designer, Dan Wisniewski of D&W Elements.
D&W Elements creates modern vintage city skyline prints and they're amazing!
I've seen Dan's work pop up on Instagram, I've seen people put his stickers on their laptops, and there is always someone walking around the city in his vintage inspired t-shirts.
When I reached out to Dan, I was nervous he would think I was crazy. I had this idea to make his work a bit larger than life. I wanted to take his t-shirts, his stickers -or the prints on them- and put them on the walls of my newest Airbnb space. Since his work is vintage inspired, I decided to go mid century modern with the furnishings.
Dan was so down. So, we chose three of his designs and created three feature walls throughout this Airbnb. One in the kitchen, the living room, and the bedroom.
The Kitchen
This is the design I chose for the kitchen: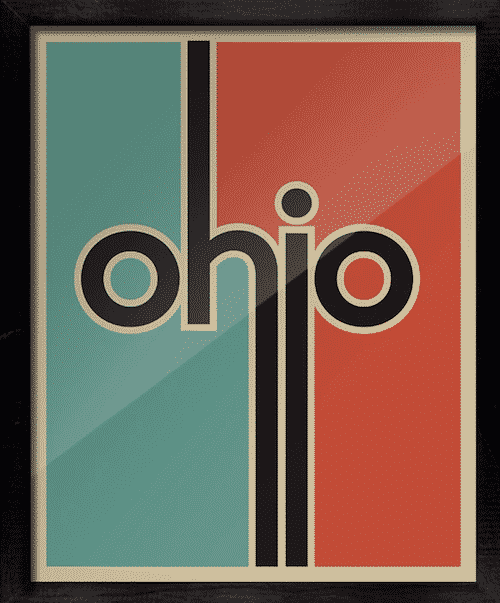 I loved the print but I wanted to do something different with it. So, Dan and I decided to make the word 'ohio' pop out by cutting it out on a CNC machine. Dan is also an engineer, so he made it so the black part of the word ohio is a separate piece from the beige part -I painted them- and then they just clicked together IKEA style.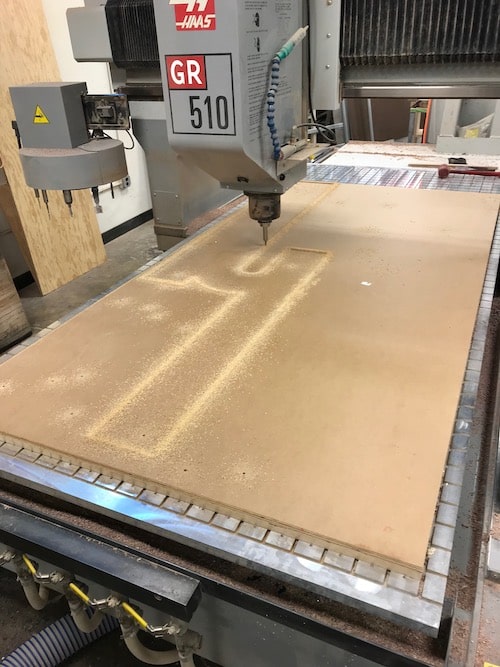 I purchased two gallons of paint from Sherwin Williams and color matched the green and the red in the print. I painted the wall to match the original print.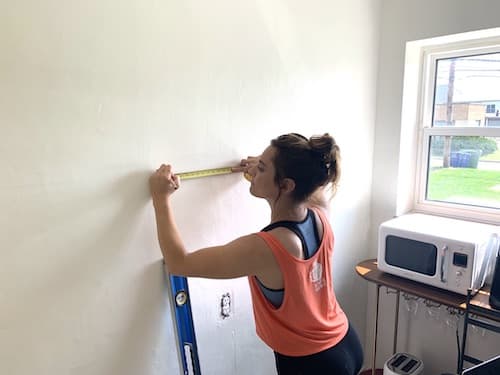 We then hung the beige base part of the word 'Ohio' first by using toggle bolts and counter sinking the screw. We placed the black top over it, securing it with construction adhesive and voila! Larger than life art on our kitchen wall! This is the first wall that greets guests. It makes a huge impact on their first impression of the space!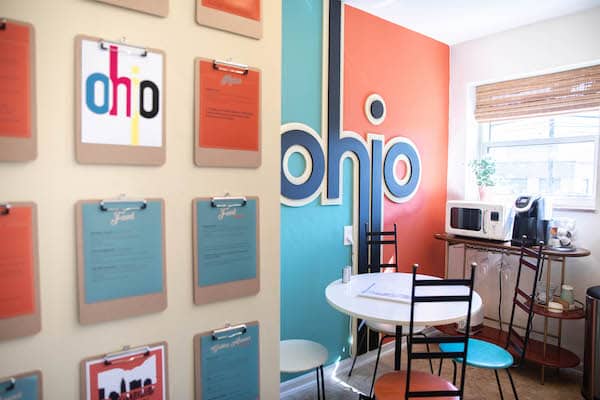 And how about those adorable clipboards?! We basically took our welcome book and put each page onto a clipboard. This way, guests can see, at a glance, everything they need to know about the Airbnb and the neighborhood! We threw in more of Dan's prints that guests can purchase if they want!
The Living Room
This is where we want our guests to be able to take selfies.
Dan has this print on his website: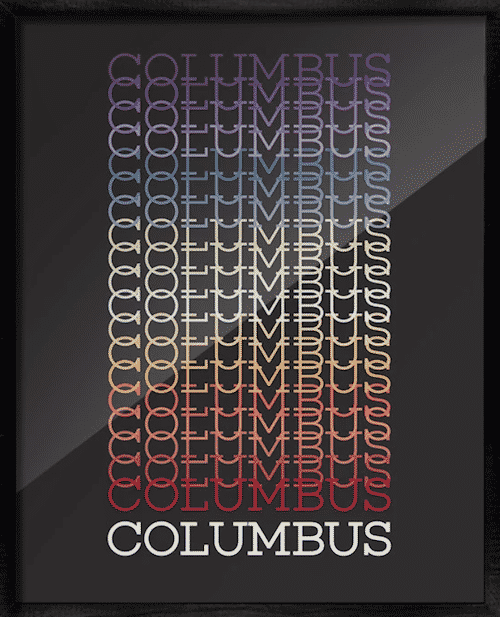 I immediately thought of putting it on wallpaper so it could fill up the entire wall behind the living room couch.
We used Tempaper Removable Wallpaper before in another Airbnb space and I remembered they offer custom orders. So, with Dan's approval and help, I sent over his image to Tempaper, figured out the best size for my wall, and approved a mock up they sent me of what our panels would look like.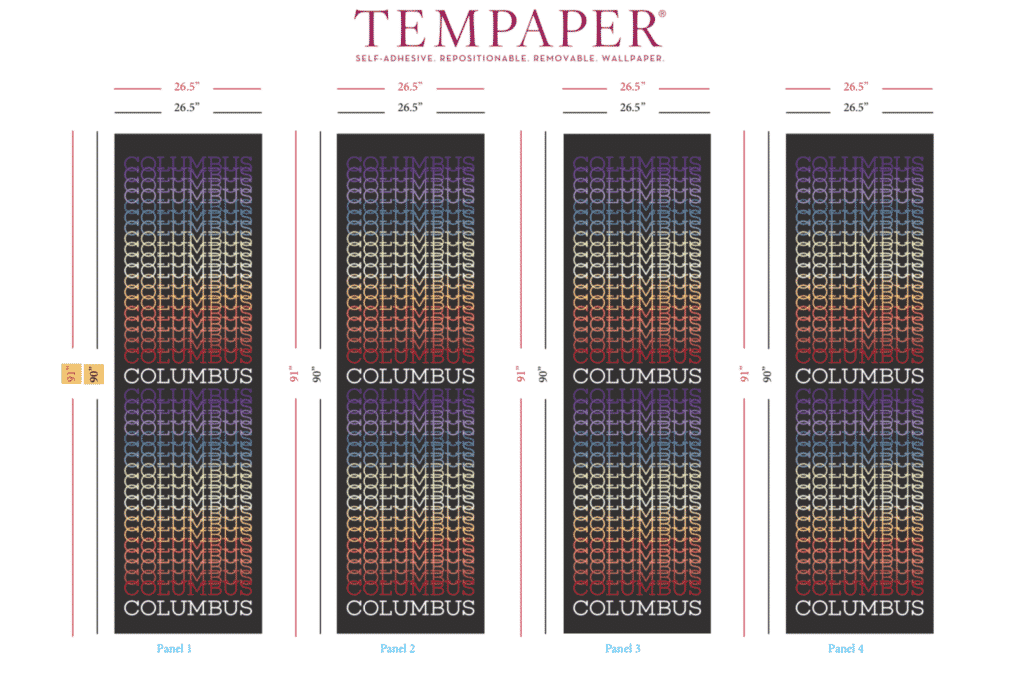 You can get the panels in any size you need!
The wall that this was going on had an orange peel texture to it, so Nick skim coated the wall so that it was smooth. We primed it and then painted the wall with a white semi-gloss paint. The wallpaper adheres best to paint that has a satin or semi-gloss finish.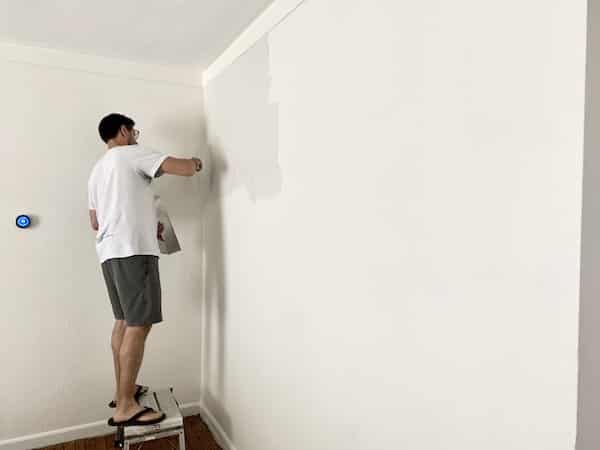 I don't know about you but I am loving how quickly temporary wallpaper can change the look of a space -with no commitment!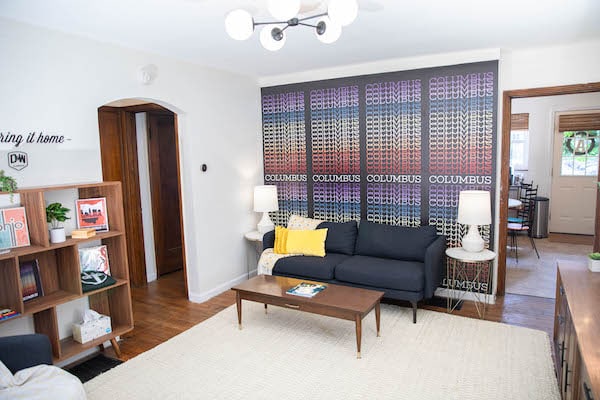 Now, guests can use our provided selfie stick to take a selfie in front our wall, use our hashtag, and share their memories in our Airbnbs with their friends and family!
The Bedroom
For the bedroom I wanted to do something other than wallpaper and I didn't want to repeat the concept from the kitchen. I told Dan I still wanted to do something "Ohio" but wanted it to be a bit softer and romantic.
He showed me an image of the Columbus skyline at night that he created and I knew that was it!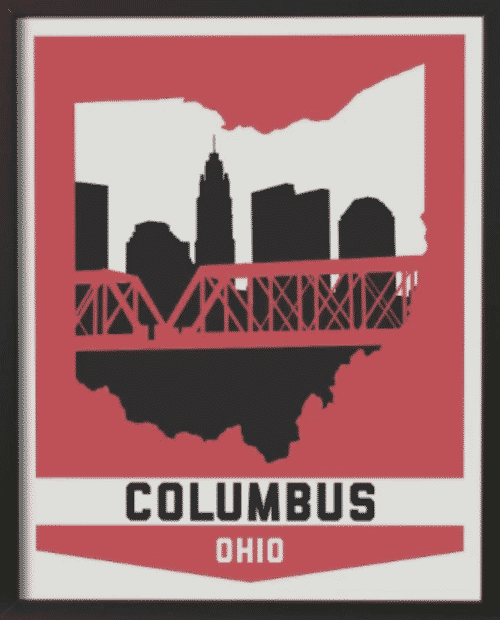 But how was I going to get it on the wall? Nick's actually pretty good at sketching, but to sketch an image from something small to a full bedroom wall was a big ask for Nick.
Dan, of course, had the brilliant idea of projecting the image on the wall with a projector. He created four different sections of the image so that we could scale the image appropriately.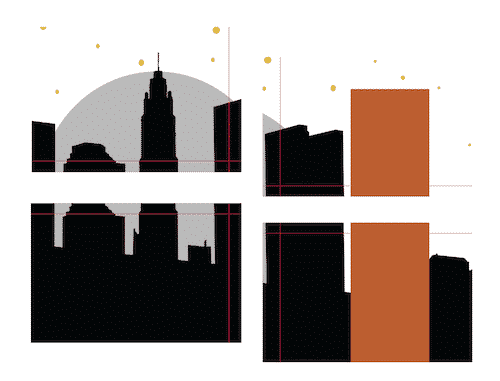 Nick traced each section for me and then I painted everything.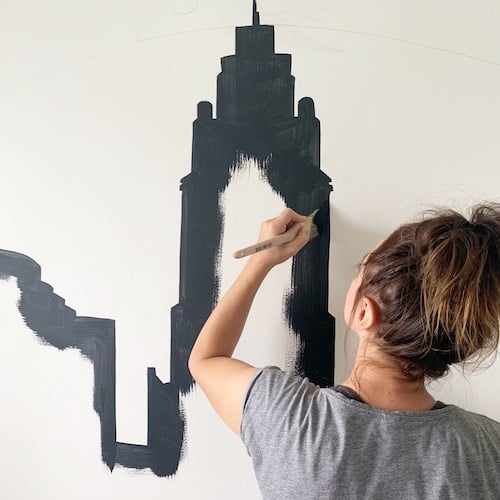 We love the way it turned out!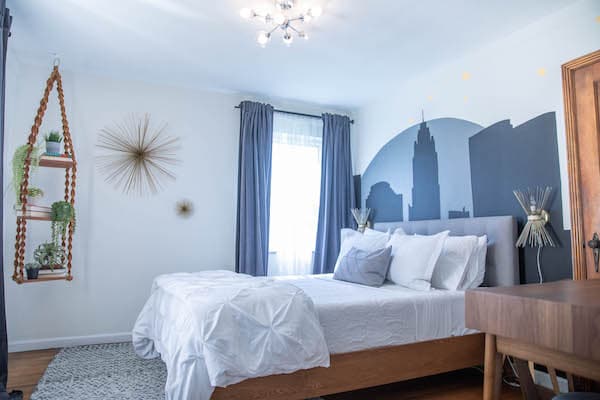 A Stand Out Space!
We quickly filled in the rest of the space with mid century inspired pieces and this not-yet-renovated 700 sqft apartment was charming and ready for guests!
To say our space stands out on Airbnb is an understatement.
Once we have the funds to renovate the kitchen and bathrooms, we'll keep with the mid century theme, protect all the feature walls, and round out the Ohio experience!
How about you? Any of you have an extra special Airbnb that has an unexpected element of design?