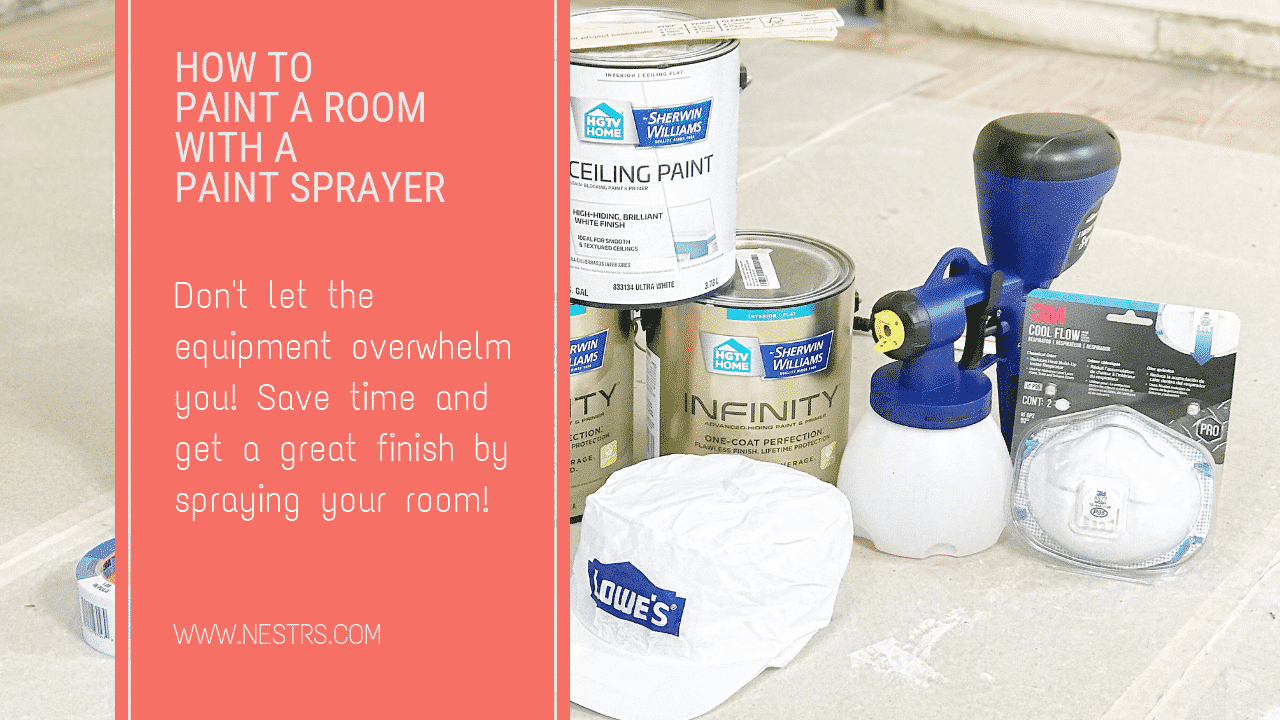 01 Aug

How To Use a Paint Sprayer Indoors

This post is a paid collaboration with Lowe's Home Improvement. All opinions are our own. Thanks for supporting our little online corner of the world!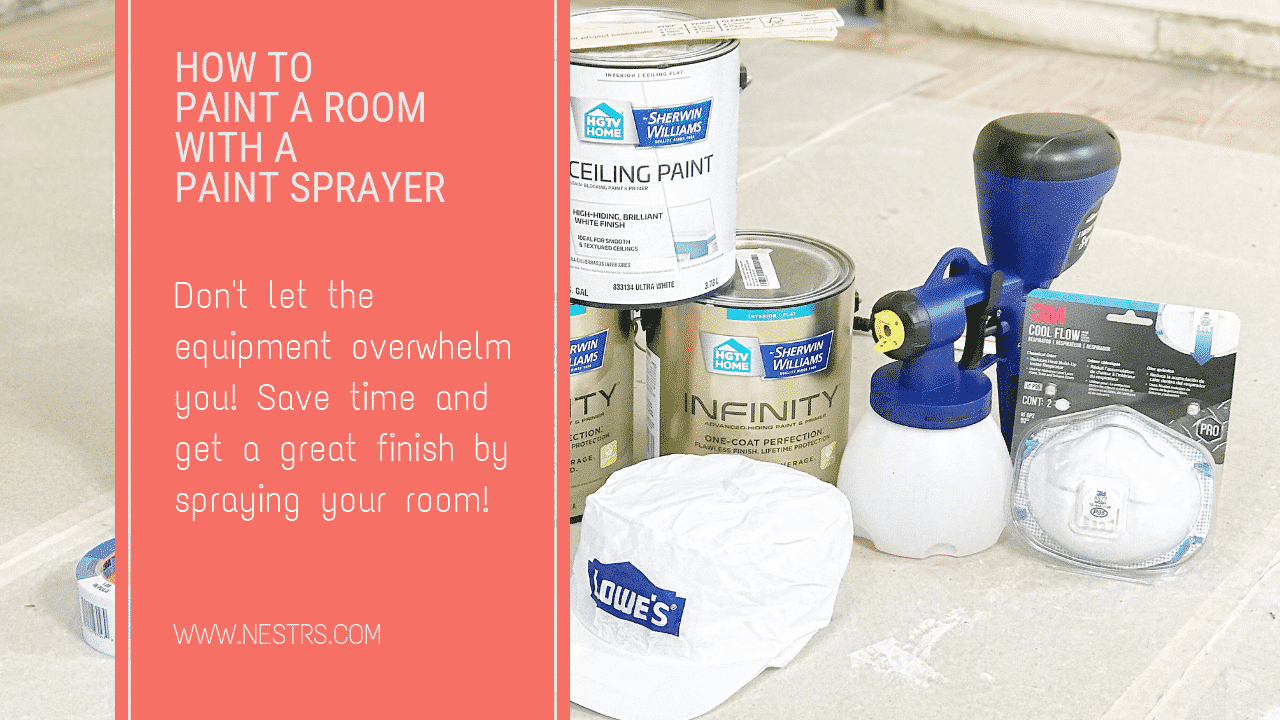 We've painted home exteriors with a paint sprayer. We've painted furniture and other DIY projects with a paint sprayer. But we've never done a room before, so wanted to try our hand at painting the bedroom in our latest Airbnb project with a paint sprayer!
Will it save on paint? On time? Will the quality be better? We wanted to know!
The bedroom in this Airbnb hasn't been painted in 20 years. For real. There were questionable stains on the wall, a lot of the baseboards were missing, and the doors were in horrible shape.
So before we could paint, we removed the door casings, baseboards, and doors. We then sat down and made a list of everything we would need from Lowes:
Lowe's Shopping List
If you're more of a video/visual person, check out our 9-minute video for the step-by-step on how we painted this room with a paint sprayer!
Prep!
When tackling any painting project, a good rule of thumb is to work your way from the top to the bottom. So…ceilings first!
Today's sprayers actually don't give off much overspray, but it's still imperative to protect anything in your space that shouldn't be painted. Using our 3M Delicate Surfaces tape, we protected our door jambs, windows, and floors. Because this bedroom was a disaster before we got our hands on it, we didn't need to protect doors, casings, or baseboards (but if you do, make sure to tape these off as well!)
It's important to give the ceiling the recommended 2-4 hours to dry. Also, don't forget to protect the ceiling's perimeter with tape and plastic so you can get a nice crisp paint line between your walls and ceiling.
Safety
Even though paints nowadays are much safer than before, it's still crucial to protect your nose and mouth from fumes when spraying. Protective eyewear is always a good idea, and if you have plans with friends after you DIY, consider protecting your hands and hair from paint. Be sure to take a selfie … it's not every day you get to look this badass!
Technique
There is a small learning curve when it comes to using a paint sprayer. If this is your first time using one, feel free to practice on a piece of cardboard. Nick taped a piece of Ram Board to the wall so we could make sure our spraying technique was on point. Here are the top three paint spraying tips we learned (mostly from trial and error…lots of error…on Ram Board)
Follow the manufacturer's instructions for your paint sprayer. For our

Homeright Finish Max Super

, we held the sprayer 10"-12" from the wall.

Once you have the distance down, work on your arm and wrist work. Try not to break your wrist. You want to keep the sprayer 90 degrees from the wall at all times. This was the hardest technique for me to master!

With the Homeright Sprayer, we stopped the paint flow once we finished a pass and then activated the flow again on the next row. Start your new row about ⅓ down from where you were before…so, overlap a little bit.
The coolest part about all of this was the HGTV Home by Sherwin Williams paint was SO forgiving. Even if our technique wasn't perfect the whole time, the paint job still looked baller in the end.
Clean Up
No matter your sprayer, you must clean it after each use and when switching up paint colors or stains. Do not skip this part, no matter how tired you are (or how late you are to happy hour). Take your beloved sprayer apart and clean it exactly how the manufacturer's instructions tell you to!
Verdict!
Not exaggerating … painting that ceiling took us 20 minutes, tops! If we rolled it, we would have had to cut the perimeter and carefully roll the surface. Once we were done spraying the ceiling and it started to dry, we were honestly impressed with how well the paint covered. No brushstroke lines around the edge – just a gorgeous, bright white ceiling.
We were really excited when we got to the walls. For starters, HGTV Home by Sherwin Williams swears by their one coat perfection promise. And we cannot believe we're saying this … but it truly only took one coat! Although we did clean and patch the walls, they were still in roooough shape. This paint covered beautifully. And we swear that by using the sprayer, we actually used less paint. What what?!
The finish that a sprayer leaves on your walls is awesome. You know how sometimes rollers can leave clumps behind? No matter how much you filter your paint or take care with rolling, it can be hard to get a flawless finish. Once we were done with this room, Nick and I were like….we may never roll again!
So, we're fans!