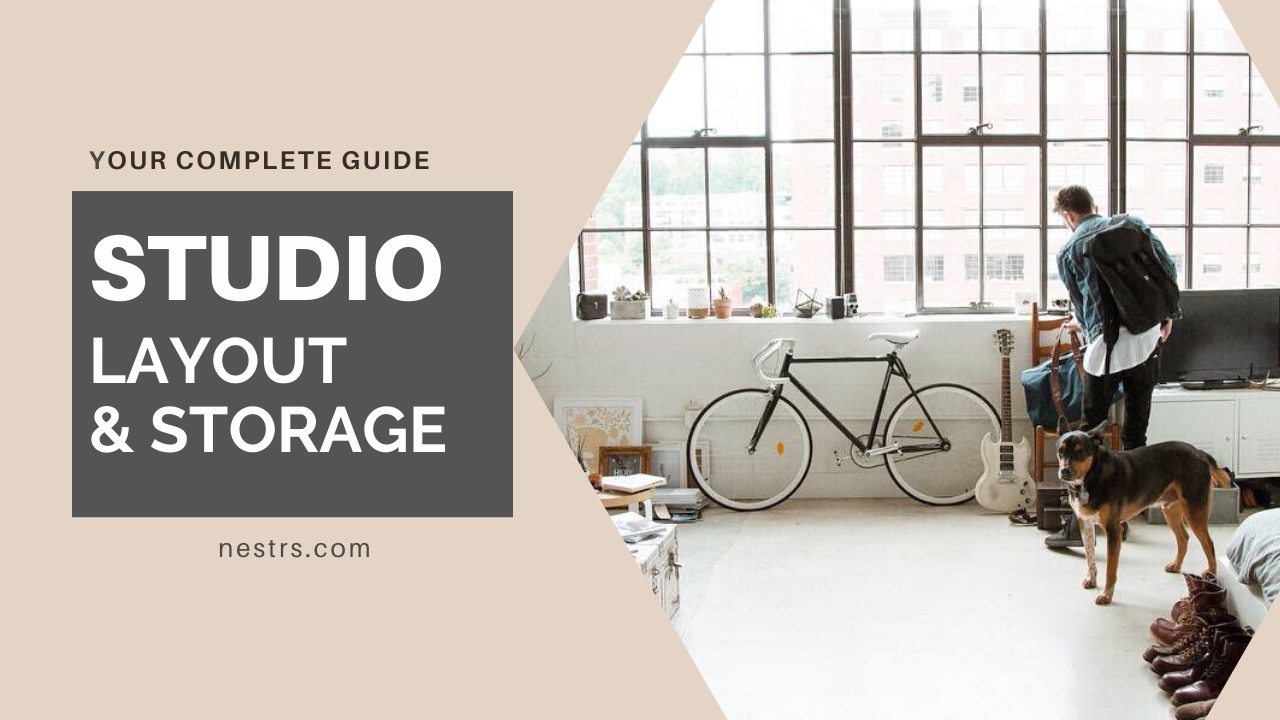 19 Jun

Studio Apartment Layout & Storage Ideas: A Complete Guide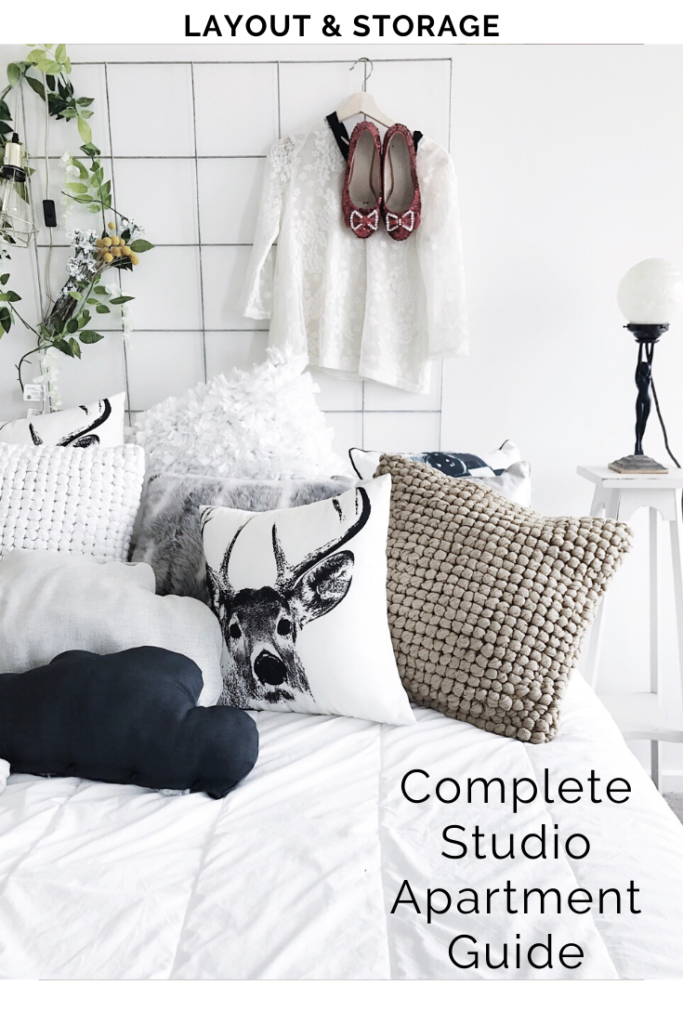 We've all been there! Whether it's your first apartment or simply the only one you can afford, we all have to get creative when it comes to a functional layout for such a small space. I'm going to do my best to give you a complete guide for laying out a studio apartment and some savvy storage ideas. Want a more personalized solution? Connect with us at Nestrs!
Related: Apartment CPR
Layout is Everything
If you have the luxury of time, knowing you have a month or more to shop for the space, then it's way better to find pieces of furniture to fit the space. Don't make the mistake of buying new pieces without knowing how it will fit into your layout. You can't change the floorplans, so you work with what you've got.
Use Furniture to Create Zones
You're granted four walls and the rest is up to you! Creating transitions and zones within a space that has none can be difficult. It's intuitive for people to push everything to the walls in hopes to preserve space, but segmenting a studio into functional areas will relieve more anxiety than you'll know.
For everyone this could look different, but listing your main pieces of furniture is a good place to start creating your zones. Most have their bed, sofa, and dining table. Second would be listing out other potential uses for the space. For some, working from home in some capacity is always something to keep in mind.
Create A Cozy Bedroom
Creating a cozy bedroom is so key. The goal of the bedroom space is to disconnect and recharge. This space will most likely be visible to guests unless you erect a moveable barrier, so you want to make the design simple and easily presentable.
Eliminating light at night can also be a challenge. I'm a huge fan of 'black-out' curtains and their sleep benefits.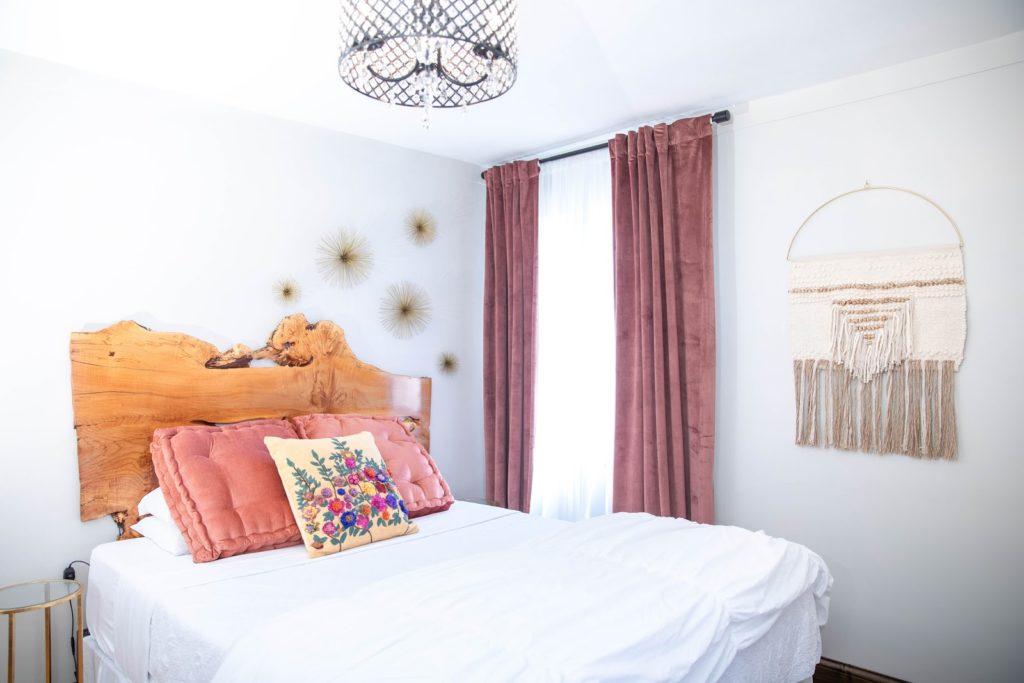 I always put blackout curtains in my Airbnb bedrooms. These soft pink ones are these ones from IKEA.
They have become more fashionable over the years and they are typically more expensive, so they can be an investment. I actually like the quality of IKEAs blackout curtains. I'd link to them here but IKEA doesn't let you filter your search that way. If you go to their website, look at their curtains that are "room darkening" or "blackout". Pair them with simple sheers if you want to let light filter in during the day.
Another great IKEA score if you have a small spare are their room divider track systems — these ones will even help you create corners so you can essentially "build your own walls"!
Float Your Sofa
Your sofa is more than likely your largest piece of furniture and therefore will give you one of the most clear separations in your studio. If at all possible keep your sofa from touching the wall. You may have to sacrifice a little on the distance of the couch from the tv but having that designated space will give your space a more functional purpose.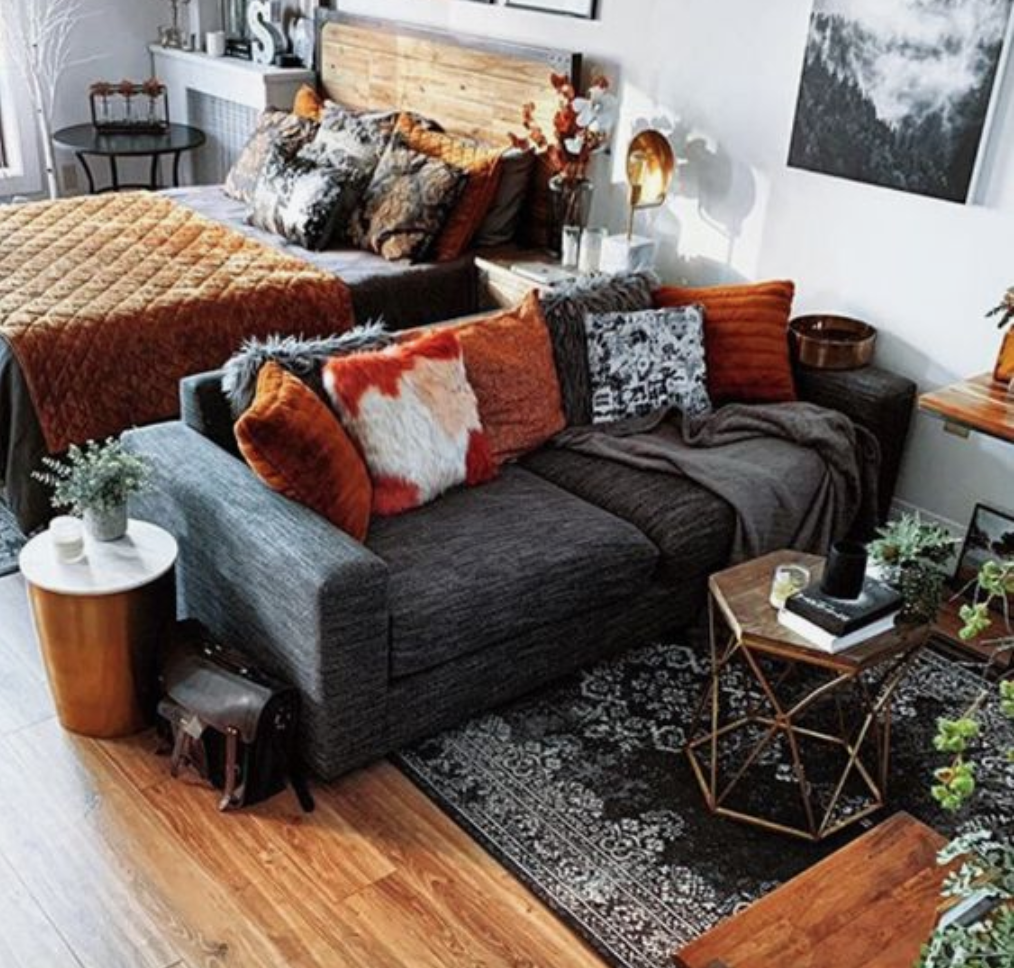 Photo by: Moda Misfit
Small Apartment Storage Ideas
50 words (Now that your layout is complete, let's talk about storage …)
Now that you've got an idea for how to handle the biggest pieces of furniture for your layout, here are some great storage ideas that help keep your space functional, clean, and help add a little style.
Storage Idea 1 – Buy Flexible Furniture
(Furniture that serves more than one purpose)
Buying flexible furniture for your space is a must. Purchasing a 'murphy' bed could be a great way to hide your bed when company is over and the setup is typically spruced up with some attached shelves. Pinterest is full of ways to DIY your bed to fit your home style. I've found a DIY blogger who has built their own 'murphy' bed and styled it amazingly! If you know me, then you know that I'm a fan of plants, as well as black and white!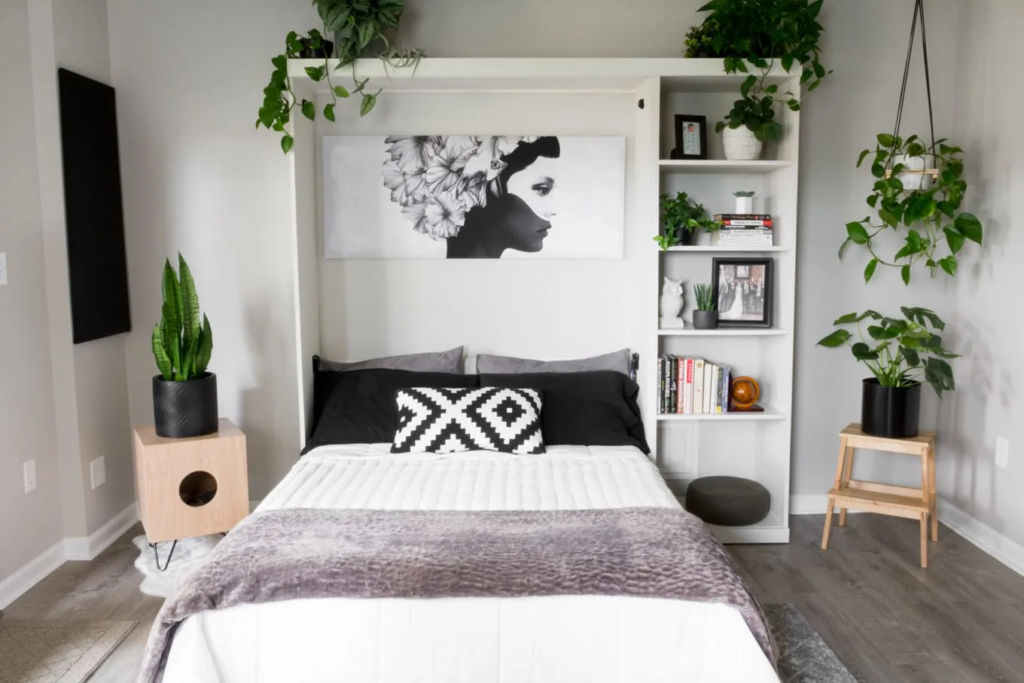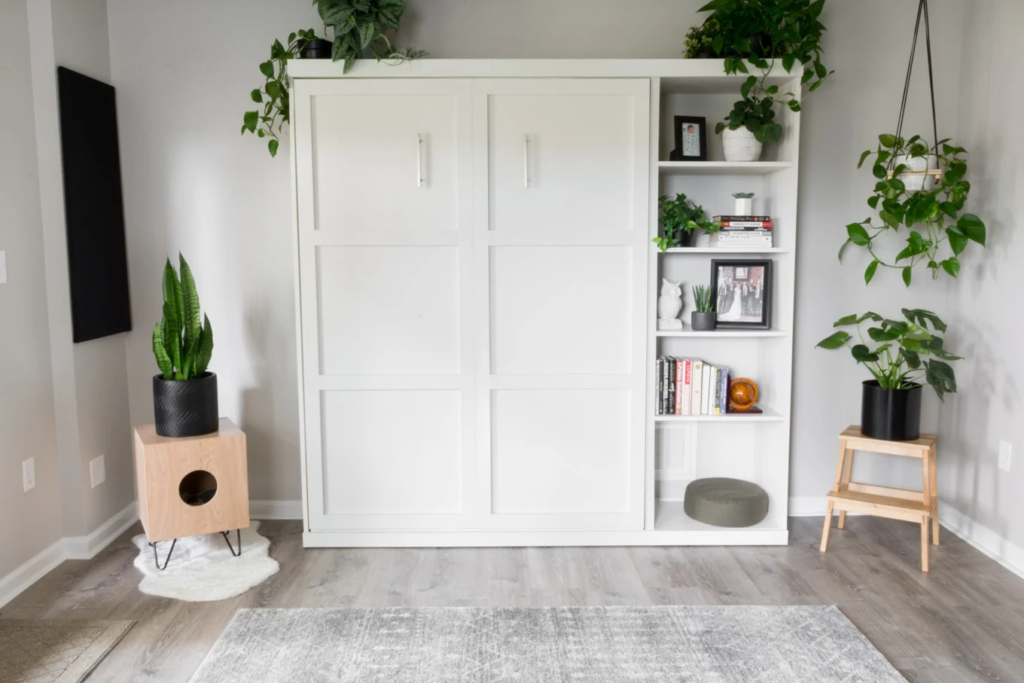 Storage Idea 2
I think one of the second best ways to add storage to your space is a coffee table with a drawer or latched top. I wouldn't recommend getting a coffee table that looks more like a chest, in spaces such as a studio apartment, keeping pieces of furniture off the floor with small legs is a great way to keep the room feeling larger than it is. This same principle could be used with an ottoman. I know Nick and myself like to work with our feet up when we're at home.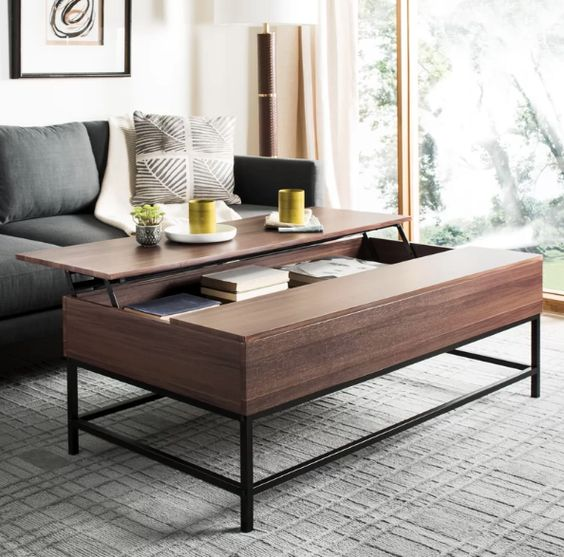 Related: OrgaNYze Your Kitchen With IKEA
Storage Idea 3
While everything needs to serve a purpose in your space, sometimes you just need things for aesthetics. If you're living and working there, then you need it to look nice. Open face book shelves are a great way to store stuff in plain sight. It's easy to shuzh some books you may need for school with a few succulents or small decor items. Buying an open faced book shelf that is big enough to hold baskets at the bottom can be a great way to hide ugly looking cords from your laptop and other projects that you get out on a daily basis for when people come over. Same can be said for shelves that have built-in drawers.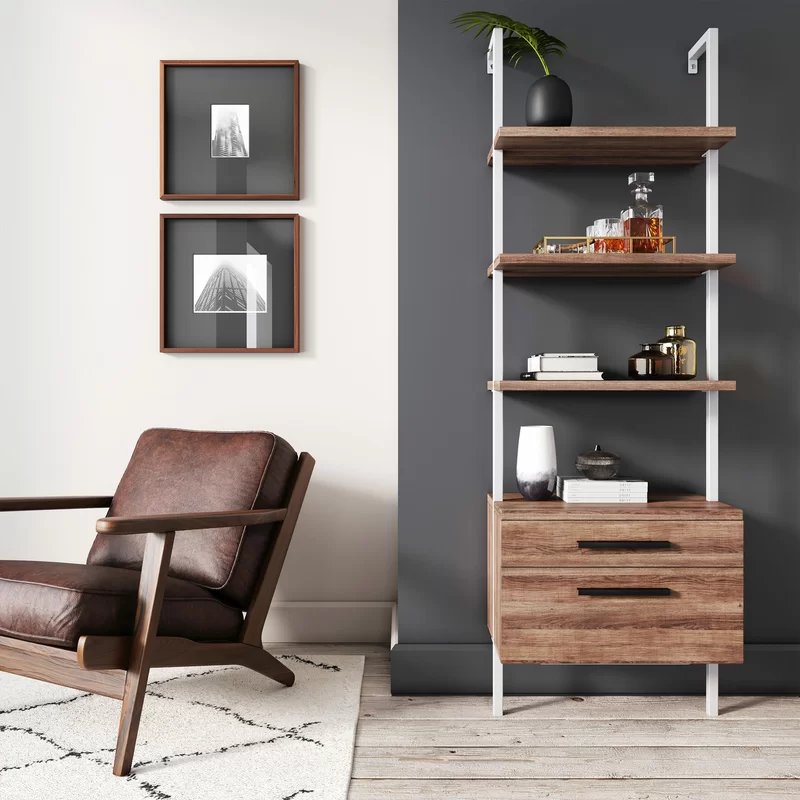 Storage Idea 4
Back of the cabinet and door storage is a must! We can't always make things look 100% amazing from every angle, but we can hide them from most 😉 If we know we aren't going to be staying in this space for long, we want things to be easily removed with minimal work. Command hooks or over the door hooks are great on their own or to help hang other organizing tools. Another key component to storage is knowing how you like to function and your daily routines. Tackling daily routines when laying out your initial storage solutions is a good place to start. Think through your morning bathroom routines and kitchen routines. What would make my life more efficient, then worry about aesthetics.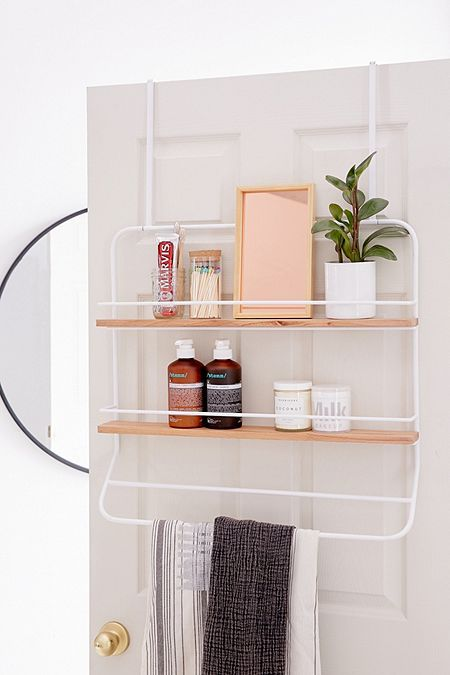 Storage Idea 5
Most cabinets found in any apartment building don't come with very good built in organizers. Realize that this investment doesn't have to be very costly, but efficiently storing the little kitchen utensils and pans you have acquired thus far in life may leave a little extra room for some overflow. If you are planning on living in a rental property for a few years, then possibly purchasings stand alone cabinet storage could be a good idea. Regardless if you move into another apartment or home, you will most likely still need them.
ReRecen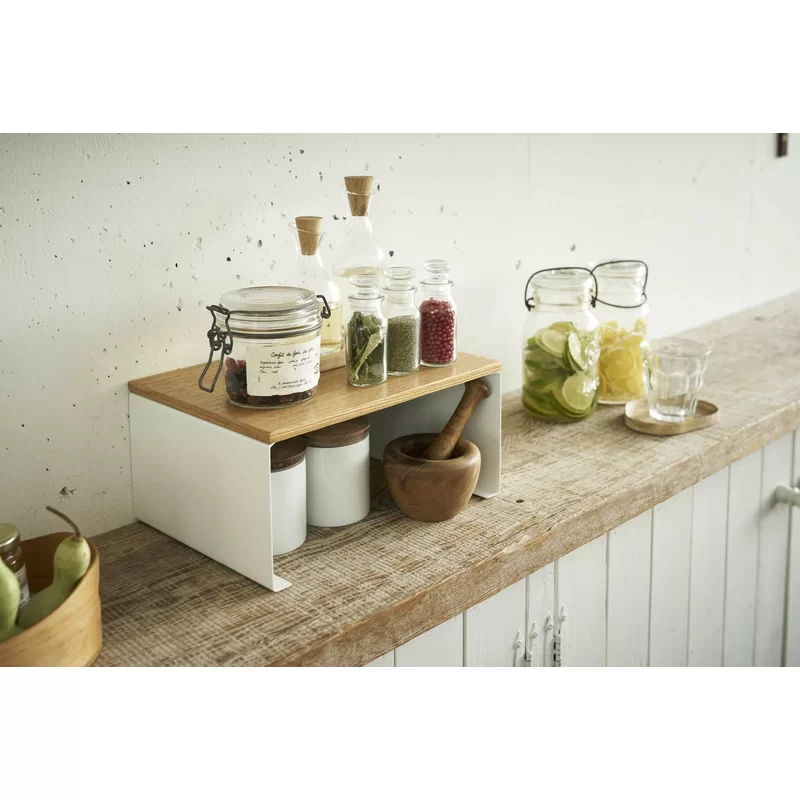 Recent Floor Plan Project
I was recently charged with the job of laying out 2 studio style Airbnbs. The client didn't have enough funds to invest in a murphy bed, so we put together a plan that included standard pieces that were easily found on websites like Wayfair.
Take a look at the plans:
Talk to the Professionals
If you've never been an organized person, then finding a professional organizer could be a saving grace for you! If you can walk them through your routines and tell them what would be useful to have, they can foresee most other things you will need. I previously was a professional organizer while I was in New York and let me tell you, the need is great! You should think of storage as a place to hide stuff, how a system that functions with you on a daily basis. It will save you time and heartache.
Conclusion
Outfitting any space to be both aesthetically pleasing and functional is a challenge and that's why I love it! Studio spaces are no different. Whether you're already living in the space or moving in, there is always a way to design a more efficient layout. Remember the best system works with your lifestyle and the aesthetics are presentable. Are you ready for an apartment makeover? Nestrs can make it happen!
---
+sarah@nestrs.com Wayfair affiliate link
_Assigned to Sarah Karakaian_
+sarah@nestrs.com Wayfair Affiliate link
_Assigned to Sarah Karakaian_
+sarah@nestrs.com Wayfair affiliate link
_Assigned to Sarah Karakaian_