27 Mar

14 Ways to Organize Your Home This Spring
Organizing is Fun When it's Affordable
Spring is the perfect time to start anew. The suns out, the breeze is cool, and all you want to do is open your windows and have friends over for a glass of Pinot Grigio! Open your door with pride. Find the things you need quicker. Breathe easier knowing your home is working for you.
One Stop Shop Makes It Easier at IKEA
I love IKEA for their affordable organizing options. And when you think outside the box a little a lot of their products can be used for multiple functions throughout your home. Here are 14 of my favorite ways to get organized.
Indoor/Outdoor Shelving
First up is IKEA's HINDO shelving. I love this option because if you have a shed or garage, at $99 it's a quick and affordable way to use vertical space. There are options to customize the shelving to suit your needs. Use this gray metal unit inside to add an industrial touch while creating the perfect space for your indoor herb garden!
Get Those Photos Displayed Beautifully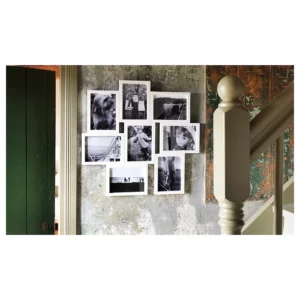 VAXBO is a great tool to have on hand during spring organizing. If you're like most people you might have boxes of developed pictures sitting in the back of your closet or in your basement. Or maybe everything is living on your smartphone. Spring is a great time to bring them out or get your favorites printed.
THREE: Ah, the pot lid. The bane of kitchen organization – until now. The great thing about IKEA's GRUNDTAL is that it comes in varying lengths so the rod will fit anywhere – behind your cabinet door, on a narrow space of wall in your pantry, anywhere really!
FOUR: IKEA's SAMLA is perfect for when you're ready to Marie Kondo your home and spring is the perfect time to do it. Starting with going through all your clothes, I always recommend clients start three piles: Keep, Discard, and Donate. Having these clear plastic lidded containers will help you contain these three piles. When your donation bin is full, put a lid on it and take it to your closest donation drop off. No need to waste plastic bags as you can take the container home with you for another storage solution. I also can appreciate not being able to make a decision on certain items. For your 'undecideds' I recommend putting them in a SAMLA container, labeling them 'undecided' and then tucking it away in a closet, attic, or basement. Set a reminder on your electronic calendar to remind you to go though that stuff again in 6 months. If you've forgotten about most of the contents, it's safe to donate those items as well!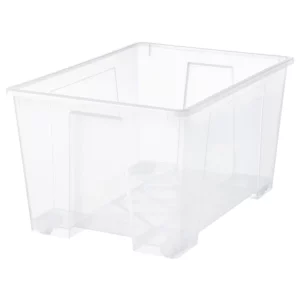 FIVE: Remember to tackle your office space come spring time! The more you can digitize the clearer your desk becomes. However, it is helpful to have a place to put incoming papers and mail. IKEA's KVISSLE tray is wall mountable, easy to label, and easy to keep clean!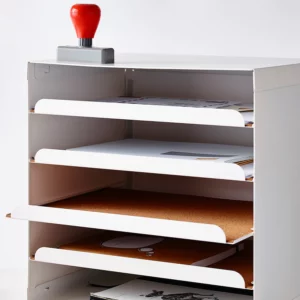 SIX: You might be scratching your head at this one, but those big, blue, sturdy plastic FRAKTA bags are the best! Have a couple around for tons of odds and end jobs. Since we're thinking spring organization, when you're going through all of your clothes, anything that you want to keep but that has a snag or hole that needs to be repaired should be taken immediately to your tailor. Start a pile of repairs in your handy dandy FRAKTA bag!
SEVEN: This might be my favorite tip because it involves little decision making and minimal effort: pretty bedding. There's something about fresh linens with springlike patterns that immediately makes a room feel new again! Check out IKEA's RODBINKA selection for affordable bedding upgrades!
EIGHT: I'm a big fan of junk drawers! A space that holds tiny and useful items can be organized. A great way to streamline these drawers are with flatware trays. They have built in sections so categorizing is easy.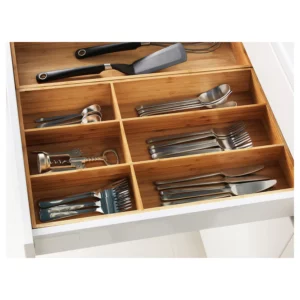 NINE: Not only is IKEA's FLORT great for organizing your remote controls and other items that you need handy when sitting on the couch, but take it to the car, place it under the car seat, and have crayons, snacks and other little guy goodies within reach!
TEN: The hanger trick is an oldie but a goodie. When you're swapping out your winter clothes for your warm weather clothes, hang them 'backwards'. When you go to wear something you'll return the hanger correctly. At the end of the season, whatever is still hanging backwards never got worn and should therefor be donated. Check out IKEA's BUMERANG hangers if you're in need of extra supplies.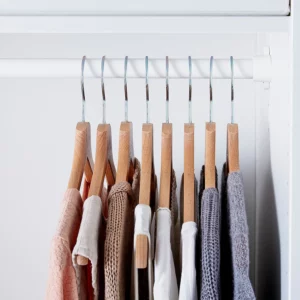 ELEVEN: IKEA'S GRUNDTAL towel holder with 4 bars is not only wonderful in the bathroom but also in your closet. Use the rotating bars to hang tank tops, purses, or to set out tomorrow's outfit the night before!
TWELVE: Magazine holders, like in IKEA'S KVISSLE series, are one of my top fav secret weapons. These badboys aren't just helping out the office anymore. Bring them to your kitchen to store cutting boards, plastic lids, and aluminum foils and plastic wraps!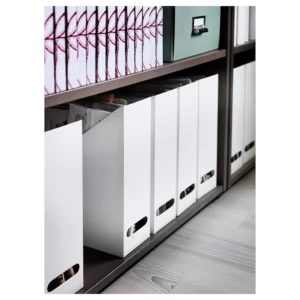 THIRTEEN: Hanging shoe organizers are EVERYTHING! Gah – they do so much! Okay, here's so many different ways to put these superheroes to work: kids room to organizing dolls, legos, small toys, kitchen to organize cleaning supplies, outdoors to create an herb garden, in the shed to organize small hand tools, oh yeah, and for shoes!
FOURTEEN: When spring cleaning and organizing remember the fridge! Small spills and forgotten foods can get caked on to the shelves and walls of your fridge. Use clear quality containers, like IKEA's FORTROLIG containers, to house your fridge items. Not only does this help keep foods separate like cheeses, condiments, and baking supplies it will also help keep your fridge free from random gooey stuff that is always a pain to clean up.
 I could go on and on, but this is a great list to get you started. Now, go on! Crank some tunes, open those windows, and organize that house! You'll thank me later.