20 Apr

How To Build Alcove Shelves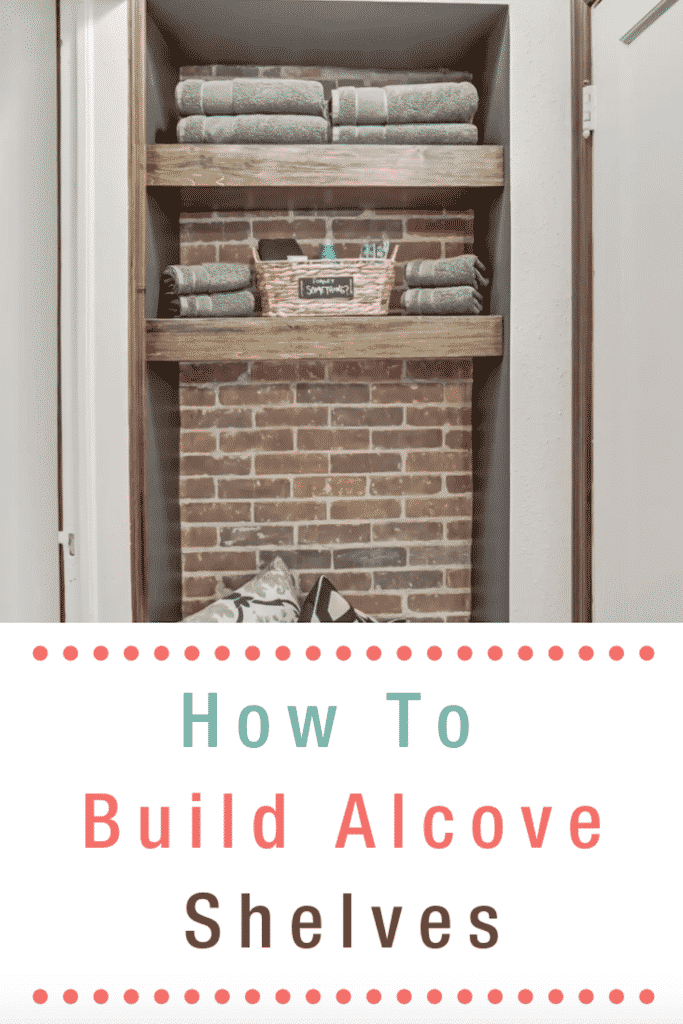 We don't like to waste space. We also love exposed brick. So when we noticed the chimney ran right behind an alcove in our Airbnb, we jumped at the opportunity to tear down plaster and build alcove shelves.
This Old Apartment
The idea behind these shelves was simple. We built a "frame" out of 2x4s by securing them to the walls and brick with masonry anchors and toggle bolts respectively. Then, we clad the 2x4s with plywood and complete the facing with a beautiful piece of poplar. Stain the entire thing and voila – alcove shelves.
But, as you can guess, there is nothing level or plumb about this 1940s apartment – which makes building custom shelving in a nook super hard.
What You'll Need
Measuring Tape
Pencil
2x4s (amount depends on your nook)
1/4″ plywood
Jigsaw
Table Saw
Miter Saw
Carpenter Square
Power Drill/Bits
Nail Gun
Level
Adjustable Wrench
Toggle Bolts
Masonry Anchors (if you're also dealing with brick)
Go With the Flow Of Your Old House
Our original plan was to make a square with our 2x4s and then slide it into place. However, our walls are so out of whack we had to install each part of the "square" separately.
No biggie – just triple check that each piece of your 2×4 box is level with the next.
We Heart Toggle Bolts
Listen, anchors are awesome and can usually hold a decent amount of weight. But when in doubt, use toggle bolts. We love them. They use the wall as an anchor and therefore can support a lot of weight. In many cases with 1/2″ drywall these babies can support up to 265lbs! And that's just with one! We use these when we hang flat screen TVs, floating shelves, closet systems, you name it.
Watch Us Create Our Alcove Shelves
We captured our alcove shelf building process with a YouTube video. This 13-minute video goes over how to countersink screws, how to install toggle bolts, and, of course, how we built our alcove shelves!