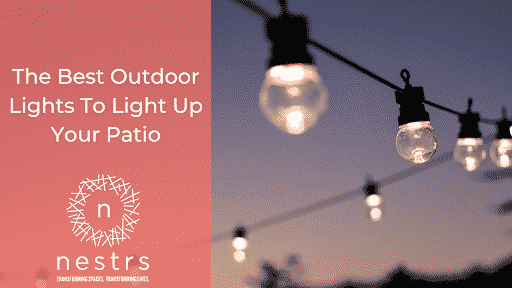 20 Aug

The Best Outdoor Lights To Light Up Your Patio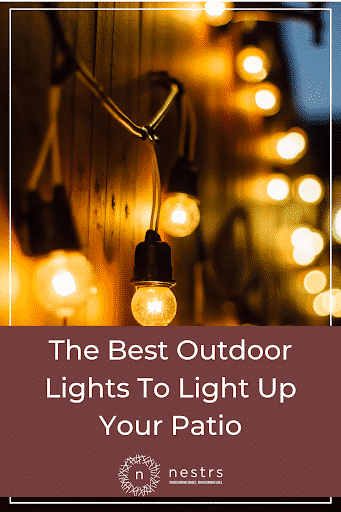 Picture this: summer is in full swing, and you have a really nice patio or outdoor space. You want to be able to spend these last remaining summer nights relaxing outdoors without the midday sun beating down on you. Maybe you just want to unwind after a long day of work with a nightcap, or maybe you want to take advantage of the nicer nighttime weather before it gets too cold to host a dinner with friends or family.
But you have a problem: you have no lighting!
You might stroll through the outdoor lighting section at Lowe's and feel overwhelmed with the possibilities. Let's help you narrow down what outdoor lighting is best for you so you can really take advantage of that outdoor space before it gets too cold!
Related: How To Install and Choose Lighting for Your Home
Best Outdoor Lights if You're on a Budget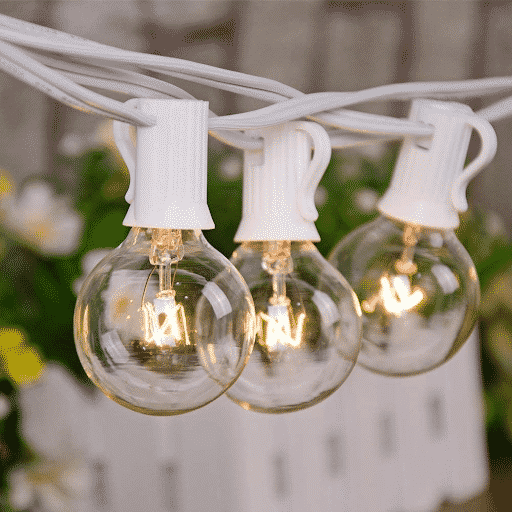 Where to buy: Amazon
Elegant and inexpensive, these dimmable lights are on a 24-foot, weather-resistant string. These would make the perfect addition to your outdoor space!
Do you want to transform your home? Explore our architectural drawing services and get started today.
Best Environmentally Friendly Outdoor Lights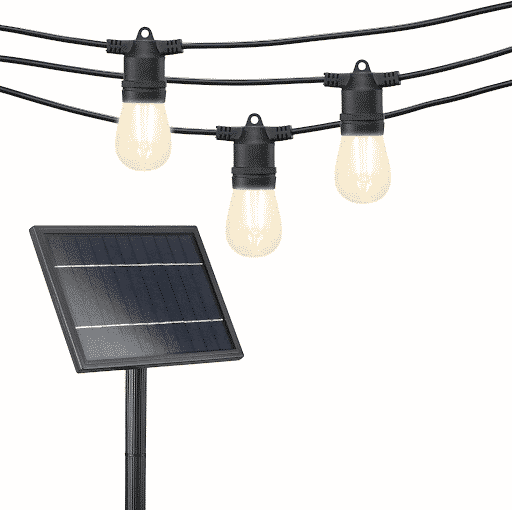 Where to buy: Amazon
For our environmentally-conscious friends, the good news is that when it comes to outdoor lighting, there is no shortage of solar-powered lights! Enjoy your eco-friendly backyard when the sun goes down with these solar-powered lights. 
Best Outdoor Lights if You Put Forward Extra Cash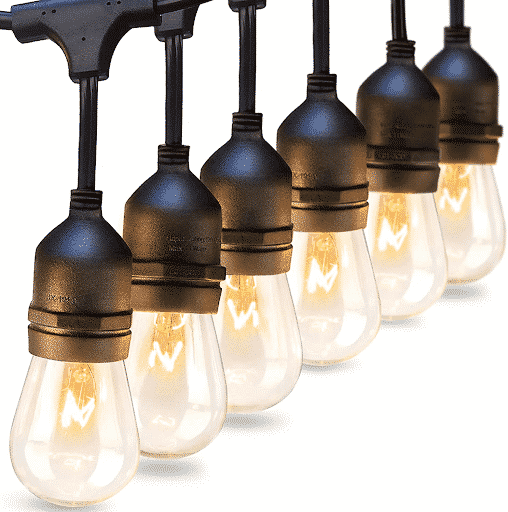 Where to buy: Amazon
Splurge a little with these weatherproof, heavy-duty string lights! These are also dimmer compatible and provide ideal outdoor lighting for both private and commercial use.
Best Outdoor String Lights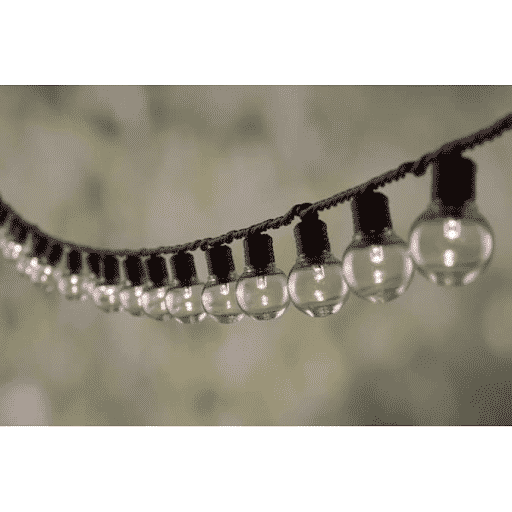 Where to buy: Lowe's
Perfect for porches, patios, umbrellas, and more! The possibilities are endless with these LED shatterproof string lights.
Best Outdoor Holiday Style Lights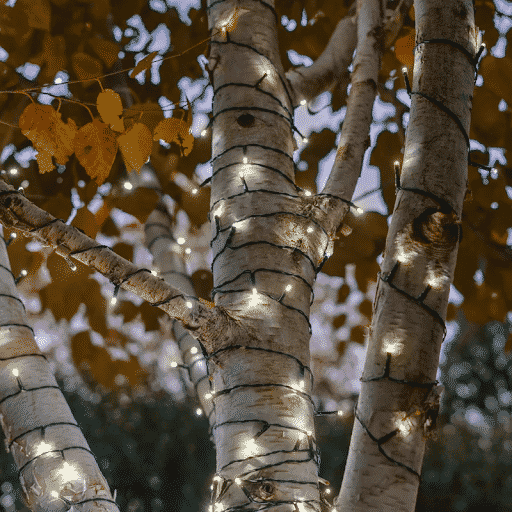 Where to buy: Wayfair
The best thing about these is that you don't have to wait until the holidays to use them! Wrapping mini string lights around trees is a year-round affair, but they can also be a nice touch around holidays when you're feeling festive.
Related: How To Lighten Dark Stained Wood Beams
Best Outdoor Led Lights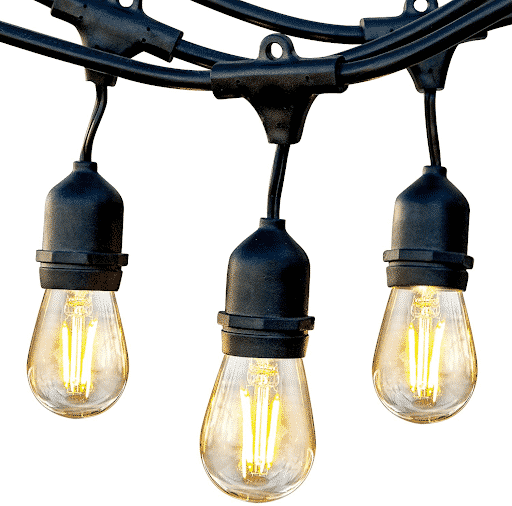 Where to buy: Amazon
LED lights don't use as much energy and they don't have to be changed as often! This set is waterproof and dimmable, is the perfect marriage of quality and price point, and has rave reviews on Amazon from their thousands of customers!
Best Edison Style Outdoor Lights 
Where to buy: Amazon
"Edison style" refers to any kind of light that harkens the look and aesthetic of Thomas Edison's original design. This style is tremendously popular, versatile, and adds rustic, vintage charm to any space. 
Best Outdoor Wall Lights
Where to buy: Amazon
These wall sconces come with all the hardware you need for a simple, easy installation. The matte finish complements homes of all shapes, sizes, and styles. With 5 full stars on Amazon with over 1600 purchases, it's safe to say that these will be a win for your home!
Best Outdoor Smart Lights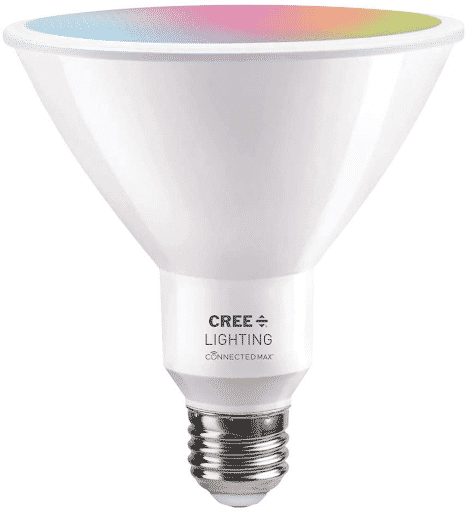 Save yourself from tripping or slipping, or shining the flashlight on your phone to see the walkway or dig for your keys with smart lights! Many options on the market are compatible with Amazon Alexa, Google, Siri, or Ring!
Outdoor Lighting Tips & Frequently Asked Questions
What Should You Be Looking for When Buying Patio Lights?
Find bulbs that unscrew from the string so that when one bulb burns out, you can easily replace it rather than buying a completely new string. If you really want to be festive, you can switch out the bulbs for different colors, depending on the upcoming holiday. Try to find LED bulbs, since they last longer and with more efficiency, and for safety, try to find lights that are shatterproof. All it takes is one nasty storm to come through to have your patio covered in glass! 
What Are the Different Styles of Pathway Lights?
Pathway lights are pretty self-explanatory: their purpose is to light a path. There are all different kinds of styles, but they all tend to illuminate downward. There are garden lights, downlights, bollard lights, and flush lights.
How To Hang Patio Lights Without Nails?
Bistro lights are trending right now, and they are a chic and inexpensive way to transform your yard. The soft glow will provide enough light without being overpowering and it can really help you get into the summer mood. The best part? You don't need nails! You can hang them with hooks, zip ties, or carabiners. 
How Can Lights Be Attached to a Tree?
Because depending on where you live, different types of trees have different kinds of bark, there are a few options for attaching lights to a tree. You can use a traditional cable clamp, but you might need a longer screw. You could also try inserting a C-hook into the tree, and then attaching the light to the hook.
What Are the Benefits of Pathway Lights?
The biggest benefit is being able to see where you're walking at night, especially over uneven or slick surfaces. Nobody wants to trip, slip, or fall! They also basically act like arrows that point to the path and say, "Hey! this is where you walk!" Pathway lights also add security by illuminating what would normally be a dark space, and aesthetically speaking, they add a nice charm and curb appeal to your home.  
Extra Patio Design & Makeover Ideas

We LOVE this idea! Grab a string or two of bistro lights and attach them around the bottom of your umbrella with zip ties and run the extension cord down the pole to add the right amount of lighting and ambiance to your outdoor dining space! If your umbrella is too far from an outlet, get the battery-operated lights instead.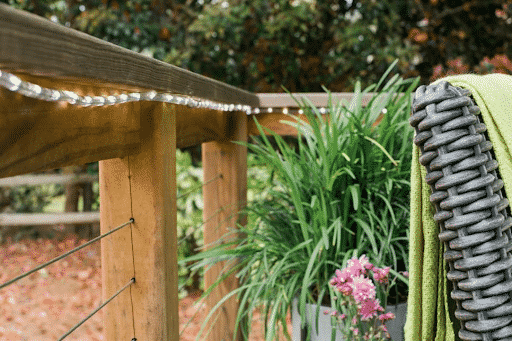 LED rope lights can add a lot of light and take up very little space. Add these under the railing of your deck around the entire perimeter. If you have a pool, even better! The rope lights make for a fun nighttime swim.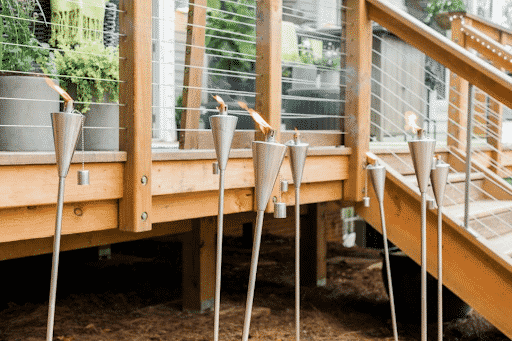 Got mosquitoes? No problem! While some outdoor lights attract bugs, tiki torches lit with citronella help keep the pesky bugs at bay. The flames give off a nice, warm light so you can enjoy your space without bathing in bug spray. Be sure to exercise caution when setting these up: give them plenty of space and have a fire extinguisher handy just in case!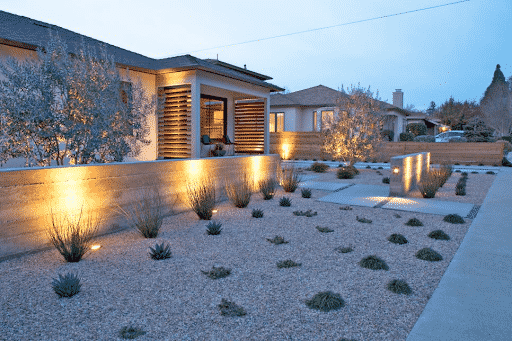 Don't underestimate the power of a subtle uplight! Adding a soft glow to your concrete, fencing, or walls, can really transform the overall look of your space. 
Related: Outdoor Kitchen Plans To Elevate Your Backyard
Closing Thought 
Lighting up your space doesn't have to break the bank, and it's one of the quickest and easiest ways you can transform your outdoor space and increase its versatility! Give it a try and give your patio, porch, or yard an illuminated makeover this weekend!
Are you having trouble getting started with designing your space? Look into our consultation services and we will help you with what you need.