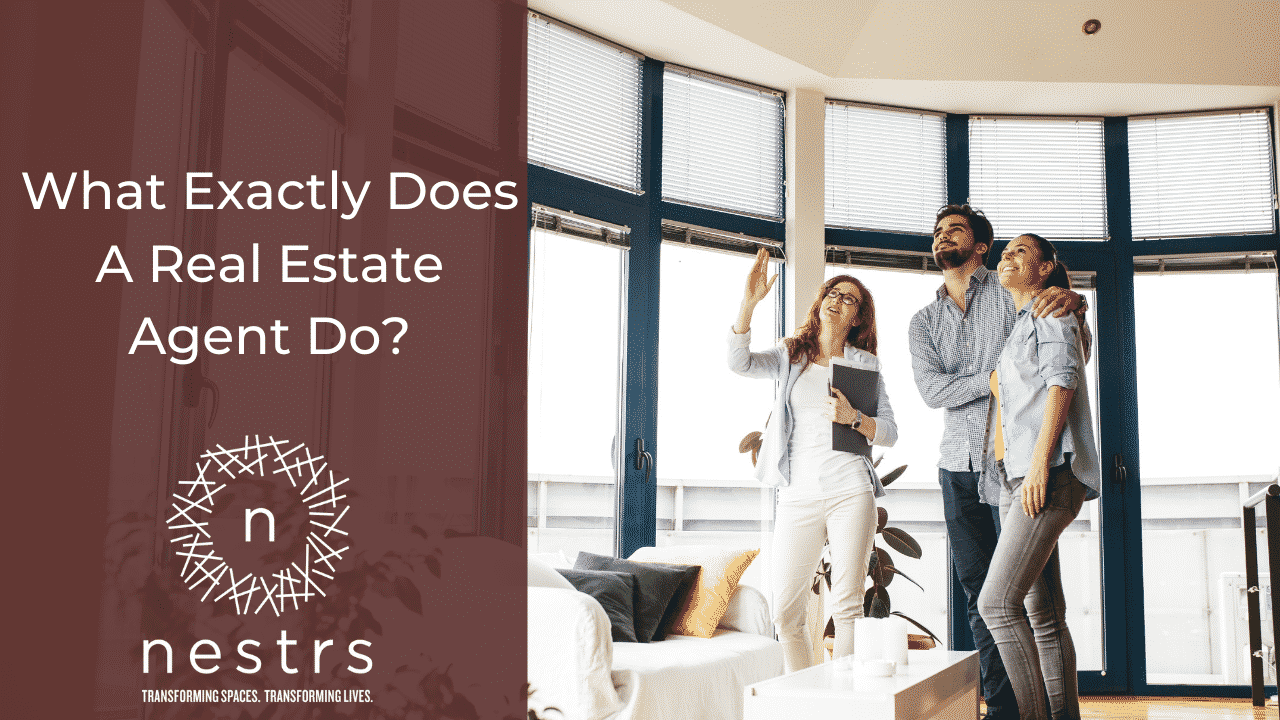 13 Aug

What Exactly Does A Real Estate Agent Do?

What Is a Real Estate Agent?
We drive by their signs, we see their commercials, we've heard the term, but what exactly is a real estate agent?
What do they do?
A real estate agent is essential to the process of buying, selling, and renting property. They act as advisors and guides for their clients on the conditions of the real estate market, they facilitate property viewings and walkthroughs, they assist in the buying and selling process right up through closing, and they communicate with all parties involved. They're able to answer questions that come up along the way and can provide guidance and expertise to help their clients make important decisions.
Related: Real Estate Financial Planning Tips You Should Know
What Is the Difference Between a Realtor and a Real Estate Agent?
Did you know that there is a difference between a REALTOR and a real estate agent?
Most people don't!
The terms are often used interchangeably but there is a small distinction, and what it comes down to is certifications. The word REALTOR basically means that someone is an active member in the National Associations of Realtors (NAR), and a REALTOR can be home appraisers, counselors, property managers, and brokers. Not all REALTORS are real estate agents, and not all real estate agents are REALTORS.
If you need more than a real estate agent or a REALTOR to guide you through your next project, consider hiring us as well.

What Does a Real Estate Agent Do?
Photograph properties
To be honest… how many of you browse Zillow? Come on, hands up! Chances are, those photos you're browsing and swiping through may have been photographed by a real estate agent, either on their own or by a photographer they hired. Real estate agents are usually keyed in on real estate photography strategies.  
Create brochures and marketing materials
Real estate agents are often responsible for the marketing of their properties and writing up the listings on the MLS (Multiple Listing Service) databases. They are responsible for the advertisement of the properties and distributing brochures and information throughout the community on the listing and any potential open houses. 
Host open houses
Since real estate agents act as the liaison between buyers and sellers, they also host open houses for prospective buyers, as well as private viewings. During the open house, the real estate agent will be well-versed in the facts and features of the property. 
Network
Networking is important in any job, but it's especially important in the real estate agent. Real estate agents can easily build their clientele by word-of-mouth, or by attending networking events. 
Attend inspections and appraisals
The average person is not well-versed in the real estate jargon, nor would they know how to navigate inspections and appraisals. A real estate agent will ensure that you are prepared and educated on anything that might come up during this process. It's important that your agent is there so that they can best represent your interests. 
Communicate with title & escrow companies
There are often many different parties involved in the buying and selling of real estate, and your agent will attend these meetings and communicate on their clients' behalf. It is the responsibility of the real estate agent to always represent the best interests of their clients.
Related: Shocking Reasons Why These Two Real Estate Investors Are Renting Their Home

How Does a Real Estate Agent Help Buyers?
Pre-approved buyers for a loan
A real estate agent will help you get pre-approved for a loan to help facilitate the home buying process and show sellers that you are serious about buying a home. 
Help you find the right home
Your agent will comb through local properties that will match the client's requirements within the ascribed price range, which can be done both online and in person. 
Negotiate offers
A real estate agent will submit bids and negotiate on behalf of the buyer.
Assist in-home inspections
As noted above, a real estate agent will utilize their connections in the industry to make the home inspection process as smooth as possible for all parties involved
Negotiate inspection and repair requests
During these inspections, the real estate agent will have the knowledge and experience to be able to foresee potential problems and ensure that all necessary repairs are made. 
Communicate with other agents and attorneys
Once again, since the buying and selling of real estate tend to have a lot of "cooks in the kitchen," it is the responsibility of your real estate agent to represent you in these meetings and communicate on your behalf. 
Monitor commitment
It's easy for loan approval to fall through, and it can happen if anything changes between the time you were approved to the time you're ready to buy. A good agent will monitor any changes that might cause you to lose your approval. They will also advise you on how to protect both your approval and your deposit. 
Finalize the closing of your new home
Your real estate agent will be there with you throughout the whole process, even after the sale is finalized. There can be several loose ends that your agent will take care of so you can finally enjoy your beautiful new property!
How Does a Real Estate Agent Help Sellers?
Price your home correctly
This is probably one of the most important parts of the process. A competent agent will price your property in a way that it is competitive in the local market based on the other properties in the area. Beware of pricing it too high, thinking you can just lower it later! This is not as effective as you think it might be, which is why having an agent to price it accurately is crucial. 
Market your property
Let's go back to your Zillow browsing… what's the first thing you do? You swipe through the pictures, and then you scroll down and read about the property. A real estate agent will be intentional in the photos and description of the property to entice potential buyers.
Communicate with sellers about offers
Your agent will let you know when offers come through and will help advise you on the next steps.
Make sure that buyers are qualified
When a sale falls through, it's no fun for everyone involved. The best way to ensure that the process will go smoothly is for your agent to make sure that the buyer is qualified, probably because their agent helped them with their pre-approval! See how that works?
Help negotiate
Your agent wants the best for you and they want to make sure you come out with the best possible terms for your sale. Real estate agents are very skilled negotiators, and they'll also be in tune with your needs to make sure you get the best possible scenario.
Attend the home inspection
Since your agent represents your needs, it's important that they are privy to the facts of the home, so that they can be prepared if the buyer brings up any issues.
Attend the home appraisal
This is an important step in the process, and your agent will be there to help facilitate the appraisal and answer any questions the appraiser may have.
Get the best price
Of course, this is what most sellers want, right? But it's not just about getting the best price, it's also about making sure the sale is closed in a timely manner, and that all your needs as the seller are met. 
Is Hiring a Real Estate Agent Worth It?
If you don't have an agent, just take a look at everything listed above and think to yourself whether or not you could take on all those responsibilities on your own. Chances are… the answer is "heck no! I can't do that!" If you don't have experience in real estate, your best bet is to hire an agent. It's not impossible to do it on your own, but we think this one is best left to the professionals.
Yes. It's worth it.
But remember, not all agents are created equal. Make sure you find a reputable, trustworthy agent in your area.
Related: How To Be a Successful Airbnb Property Manager in 2021

Closing Thoughts
There is so much that goes into buying and selling homes that most people don't really think about. From research and marketing to negotiating and mediating, a real estate agent has many skills and can often wear many hats. The best agents work tirelessly for their clients and go above and beyond to ensure that their clients' needs are met.
Do you need help with interior design and space planning? Reach out to us and we will help you in every state in your next project