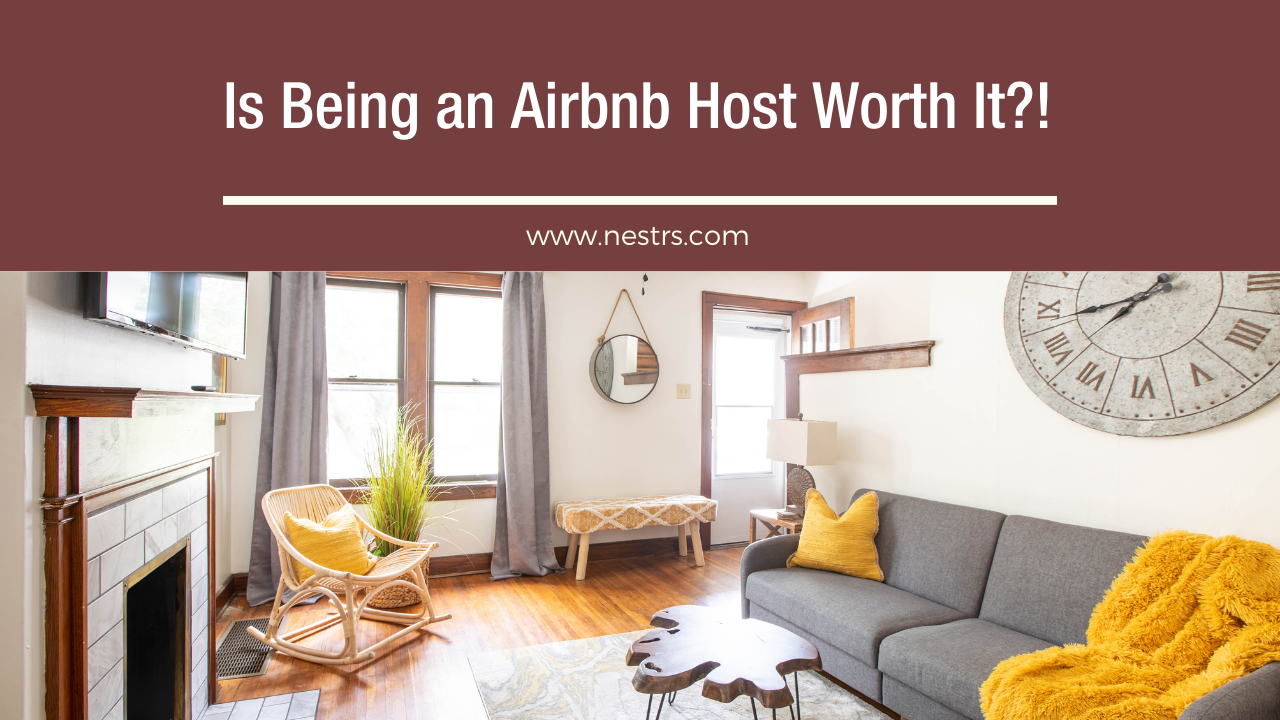 16 Oct

Is Being An Airbnb Host Worth It?

I've been getting this question a lot — "Is Being an Airbnb Host Worth It, Sarah?" I'm assuming what they want to ask me is if being an Airbnb Host is profitable.
Am I making good money?
Good money can mean different things to different people, and I have no issue telling you everything I've learned, how much we've made, and what you should consider when deciding if you should be an Airbnb Host or not.
Looking for more great insights and tips to help your Airbnb thrive check out the Nestrs Blogs
What exactly is Airbnb?
8-10 years ago, this section would have needed a lot more details but, in case you've been living under a rock. 😚 Airbnb is essentially an online travel agency (OTA) where third-party property managers and owners can list their rental properties. People can rent these properties —or rooms within properties— for one night or more. Properties can be homes, apartments, condos, boats, treehouses, train cars —if you can sleep in, it can be listed on Airbnb!
How Does Airbnb Work?
On the Host's side —and the Host is the person who is managing the property and taking care of the guest's stay, the Host lists a property on the Airbnb website. They are pretty much in control of most things, including the calendar, the price, and what services or amenities are included for that price. When the Host's property is booked, 3%-5% of the booking goes to Airbnb.
Airbnb takes care of all the financial transactions. They take money from the renter and then process the payment to the Host.
Airbnb makes money from the guest too. The guest is charged a "service fee" that goes to Airbnb. That fee depends on the price of the stay.
Guests can peruse Airbnb.com and set different filters that include stating details like dates, location, and amenities desired. The entire booking process happens online.
Related: How to Create an Airbnb Business Plan
Making Money With Airbnb
You can either be a property owner who lists their property on Airbnb. Or, you can manage properties for property owners. I do both.
We own four 1-bedroom apartments, and we list all four of them on Airbnb. To make these apartments Airbnb ready, we needed to furnish them with every possible traveler. After that, it's essentially like running your own hotel. The apartments need to be cleaned, the bedding and linens need laundering, and guests need to connect with customer service —YOU! The more of those tasks that you handle yourself, the more money in your pocket. So if you clean the Airbnb, do the laundry for the Airbnb, and manage all the online logistics, other than the 3% that goes to Airbnb and whatever taxes your city requires you to pay, the rest goes in your pocket!
Related: What it takes to be an Airbnb Host here
You can apply the same strategy and manage other people's Airbnbs too! There are different ways you can structure that partnership: You can charge them a percentage of the gross revenue, you can pay them market rent and whatever else you make is yours, you can structure some sort of profit sharing —and I'm sure there are more ways to partner up on managing other people's properties on Airbnb!
Deciding on Your Airbnb Space
Airbnbs have gotten increasingly more popular since their launch in 2008, which means that more people know about thinking about renting on Airbnb than ever before. And that means that more places are suitable for Airbnb!
It used to be that Airbnbs just made sense in large urban markets with tons of tourist attractions or vacation spots. Suppose there is a reason for a hotel to be in town. It stands to reason that there is also a reason for an Airbnb to be in town!
There are a TON of things to take into consideration when deciding on what to Airbnb. If you own the property, your monthly expenses are going to be a big concern for you. If your mortgage and other monthly costs will be high, then so better be your nightly rate!
Are you an experienced Airbnb host who can manage the property from afar? Do you want to live close to your Airbnb? Do you want to Airbnb an apartment within a building you own? Or maybe you want to run an Airbnb within the building your landlord owns!
Each situation is different, but the bottom line is you need to know what will cost you to run this sucker. Then you can estimate your profits —I'd err on the conservative side and figure out what your take-home will be.
Then YOU decide. Is that number "worth it"?!
Legalities and Permissions
Every city/county has its own rules for running short-term rentals. You need to know the rules for whatever area you're considering hosting in. Being an Airbnb Host won't be worth it if you're shut down within a month or two of opening your doors!
Nowadays, Airbnb knows, based on your listing location, if you require a permit to operate. If you do, you will have to enter your permit number onto your listing before making your listing live! To find out more about the short-term rental rules in your area, I'd do an old fashioned Google search with something like "short-term rental rules in Columbus, Ohio" and see what pops up!
We also wrote a post on this topic . . . Here.
Market Research
Above I talked about figuring out what your monthly income will be. To do that, you will need to do some market research. Head on over to Airbnb.com and search for properties near the area you're thinking about running your Airbnb. I'd save some listings that have the same baths and beds as you do —and then find some that have one less and one more bed/bath than you do. Then, write down the nightly rates. See what these Hosts are charging for weekday stays vs. weekend stays. Jump a few months ahead and see if their pricing changes.
Look at their calendars —are they pretty full? If they are, see if most of their reviews are recent. If the reviews are recent and their calendars are full, they are likely full-time Airbnbs. Do the math, and you can get a good idea of how much that listing is pulling in each month.
You can also look into data websites like AirDNA.co.
Related: 11 Things to Consider When Pricing Your Airbnbs Nightly Rate
Should You Become a Host?
Should you become an Airbnb Host? I don't know.
Do you love creating beautiful and memorable spaces to share with the world? (And I mean…the WORLD!)
Do you love making people happy? Even when that means righting a wrong at 2 am.
Do you enjoy cleaning up after people? Or managing people who enjoy cleaning up after people?
Being an Airbnb Host is absolutely a side hustle or career in itself. Do you like the work it takes to be successful? If so, then pick the right property and apply the correct nightly rates, and YES! Being an Airbnb Host is absolutely worth it! But to do be fair, this is coming from a full-time, short-term rental Host. I might be biased.
Top 3 Pros
You can make a lot more money than with long-term rentals. There is a more significant "buy-in" as you have to furnish the home —and please don't do a half-ass job furnishing the house. Make it beautiful and safe. Do it once and do it right, mmkay? Need more info about what I mean?
Related: 7 Step Checklist to Make Your Airbnb Feel like a Home Away from Home… Free Checklist Included!
If you have the right systems in place, you can Host your short-term rental from anywhere. Most of the job is done right from a laptop or smartphone.
If you own the property that's being Airbnb'd, there are SO many tax shelters. Investing in real estate is almost always smart. Make more money by Airbnbing and BAM! You've got a winning combination!
Top 3 Cons
Hosting is a ton of work. And someone needs to be on call pretty much 24/7. If you set the right systems up, you can minimize the number of times you're contacted —but someone does need to be available should a guest need something. If a guest can't get a hold of their Host, be prepared for a poor review —which can lead to fewer bookings in the long run.
Even if you don't own the property, you're hosting, and someone needs to furnish it, which can be a decent upfront cost. Any business worth running usually has some upfront costs. If you build a stable business and foundation, it'll all be worth it!
There are a lot of legal considerations to pay attention to. You not only have to know what taxes are, how to obtain a permit, among other logistics, you also need to remember you're responsible for guest's safety. Knowing the International Building Code is essential to being a responsible host. And you must must must have the property insurance in place to be an Airbnb Host!
I love hosting, or I wouldn't host the 21+ properties we have in our portfolio! I love it when people tell me their experience in our spaces made a significant impact on their "trip to visit mom and dad," "trip to visit their daughter in college," "trip to just get away and explore." I feel like it's then that I'm making a difference in the world!
Is being an Airbnb Host worth it? Absolutely. If you love people and making an impact on their lives. If you're not a people person and not a "systems" person, then it's likely you won't enjoy the gig and will probably hate the process no matter how successful you are.
For more great insights, tips and tricks have a look at the Nestrs website.