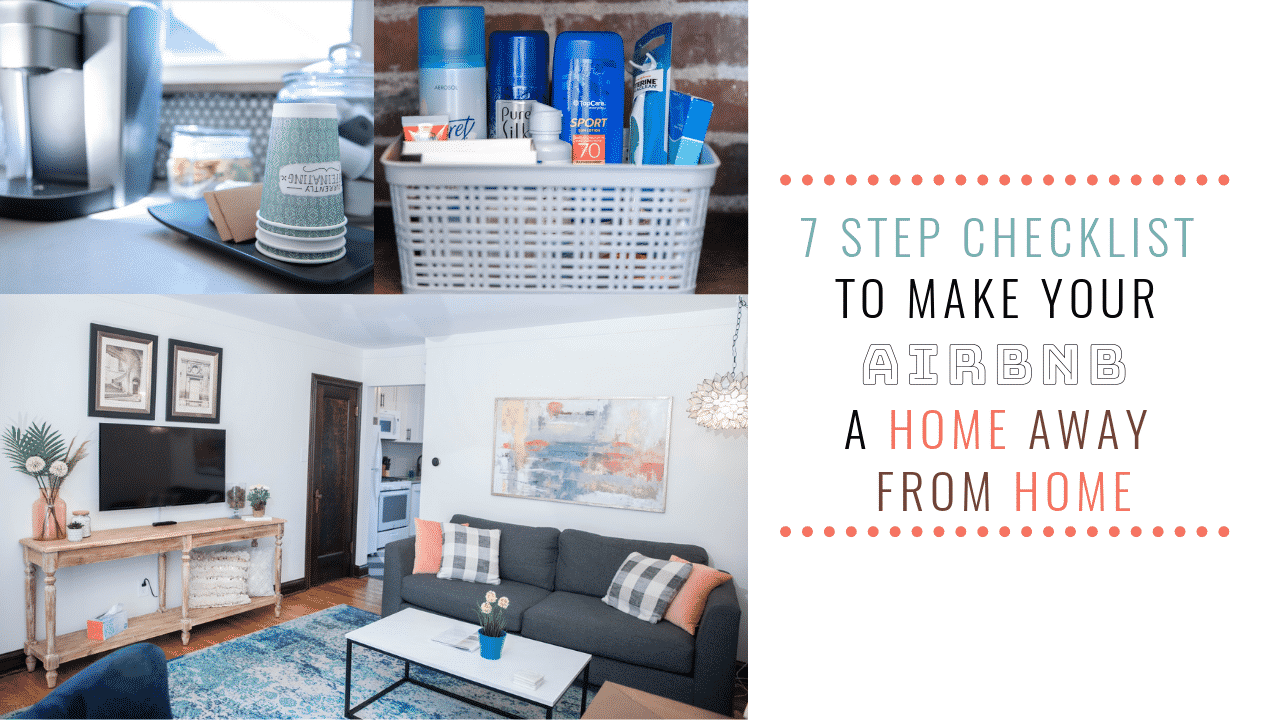 12 Aug

7 Step Checklist to Make Your Airbnb Feel like a Home Away from Home… Free Checklist Included!

Below is just a sneak peak of our comprehensive checklist that we use to furnish all of our new Airbnbs! Keep reading to see how you can get a FREE copy of the entire thing!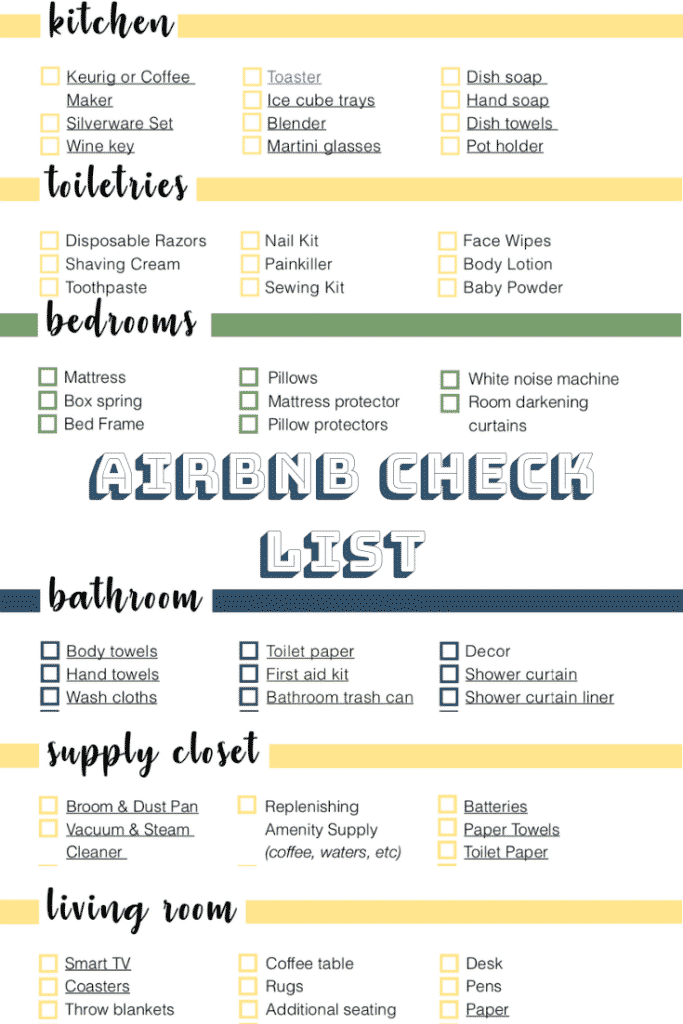 Opening an Airbnb…
When you first start getting involved in the short term world, it can be a little bit overwhelming…you have to get ALL THE THINGS to make sure guests will not be needing to reach out to you at all times of the day or night because you didn't provide something standard…
Or, if you're looking to stand out in your community, we can help you go above and beyond with what you provide your guests -I'm telling you, the 5-star reviews will ROLL IN and they will be singing your praises.
Let us help you with this FREE ?Start-Up Checklist ?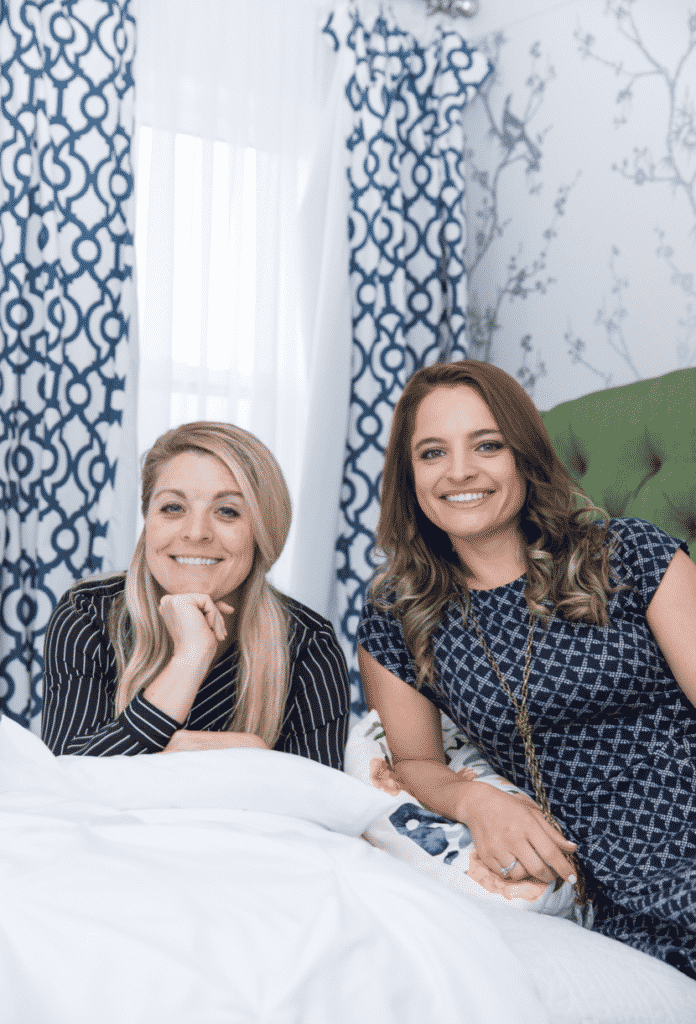 Words to Live By…
This is what I tell everyone who asks me for advise when they're setting up their Airbnbs:
If they go to reach for something…it should be there!
Below is a little glimpse of items you might need in each room of your space… for the full checklist in a PDF form, click here.
The pictures are from Nick and my fourplex… Link to listing is here
1. The Kitchen
Every guest staying in your space is different. Some might like to eat out while traveling, while others want to stay in and use your kitchen.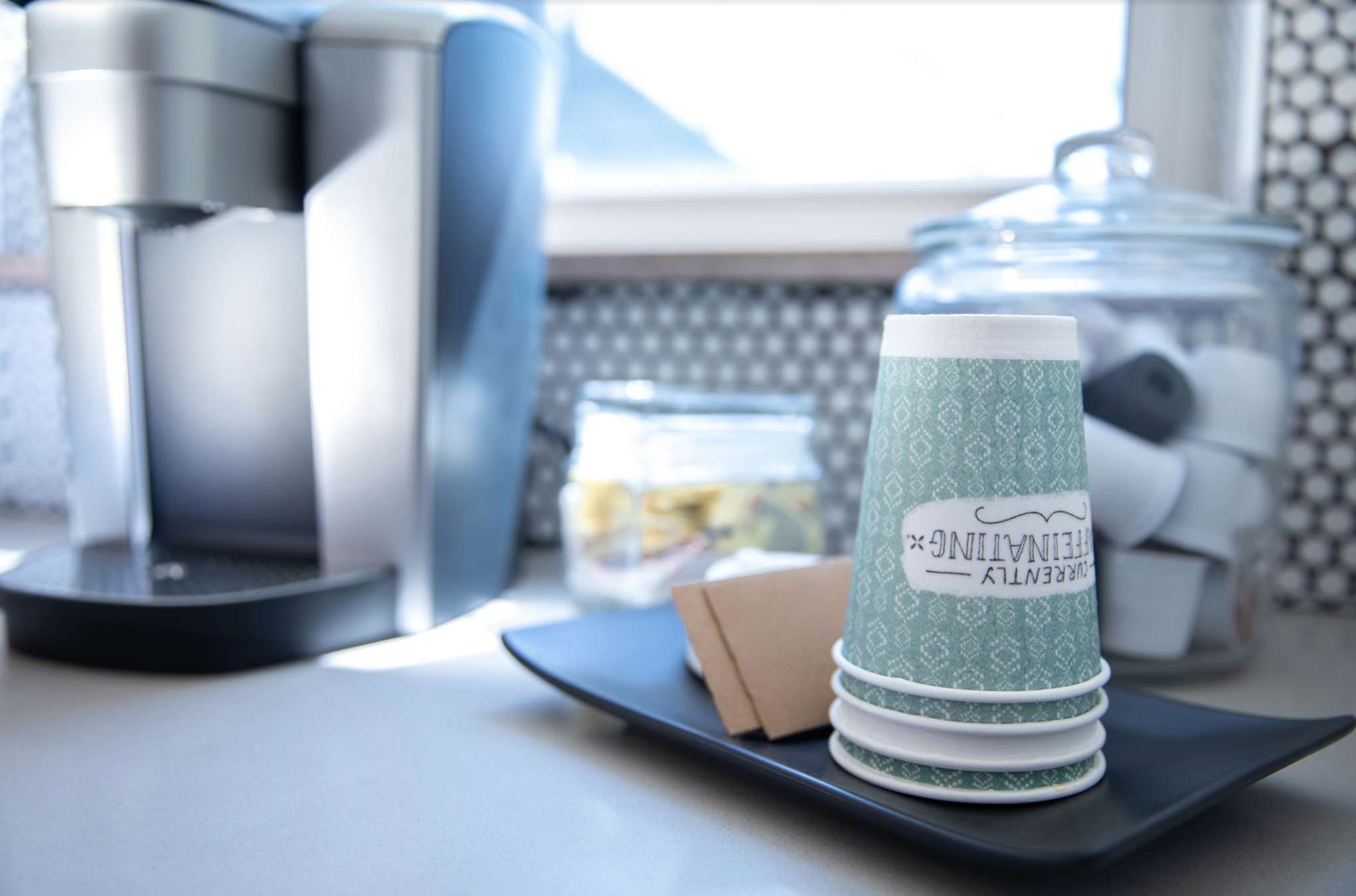 What if they went to boil water and didn't have a pot? Or wanted to take something out of the oven but you didn't provide pot holders?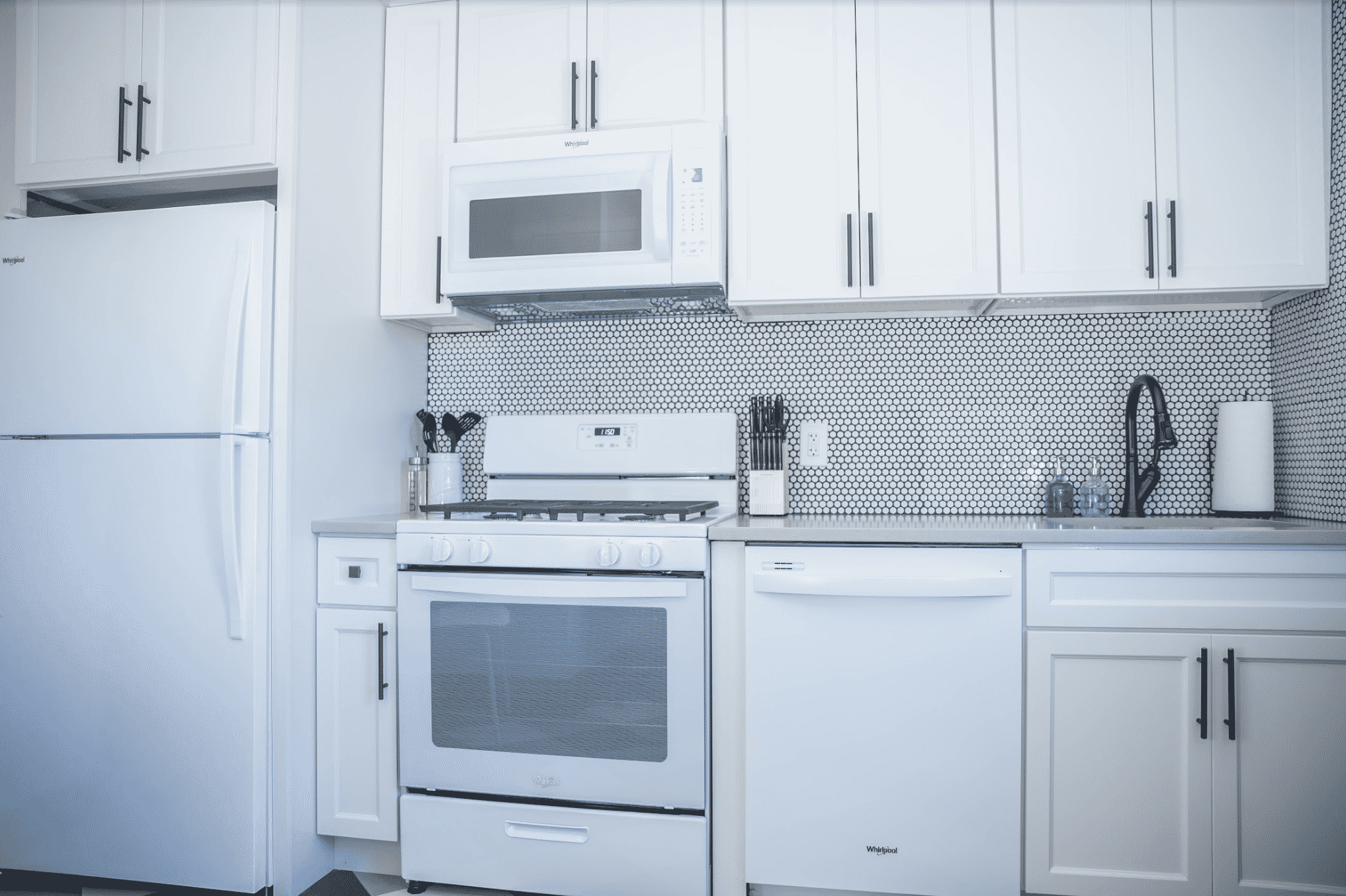 You want to avoid letting guests down and provide the items they'll need before you open your doors for business.
2. The Bathroom

These details truly make a difference in your guest's stay! A clean area for them to get ready is a MUST…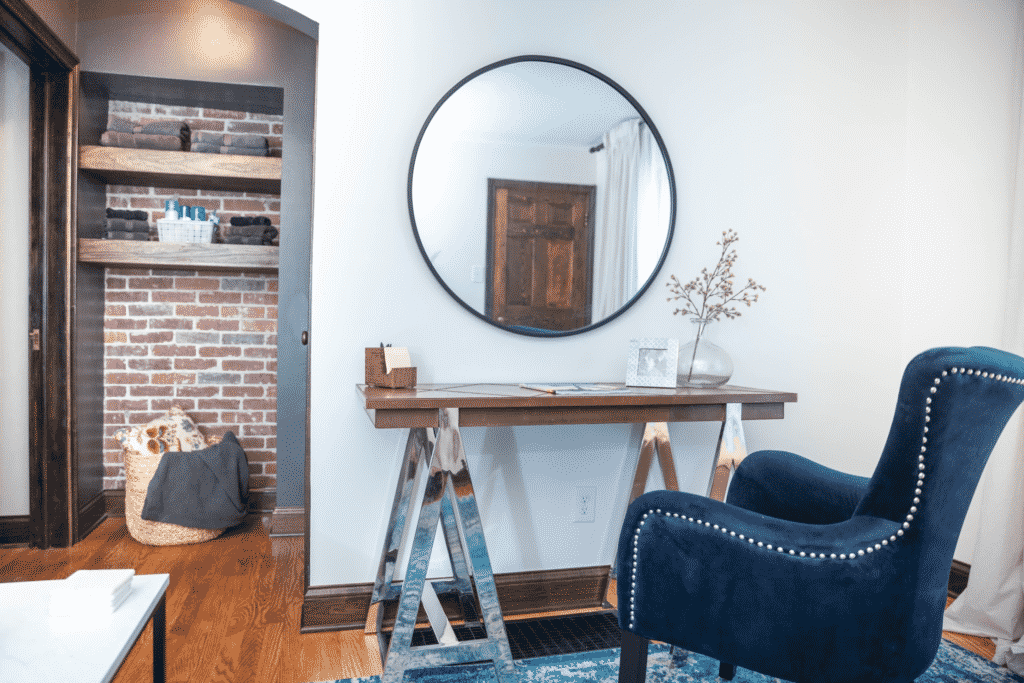 Always provide clean towels and washcloths. BONUS – fold them nice and neatly for them as shown above! And have a standard! If you like to tri-fold your towels in thirds -ALWAYS tri-fold your towels in thirds. Create a brand standard for yourself so your space always looks the same!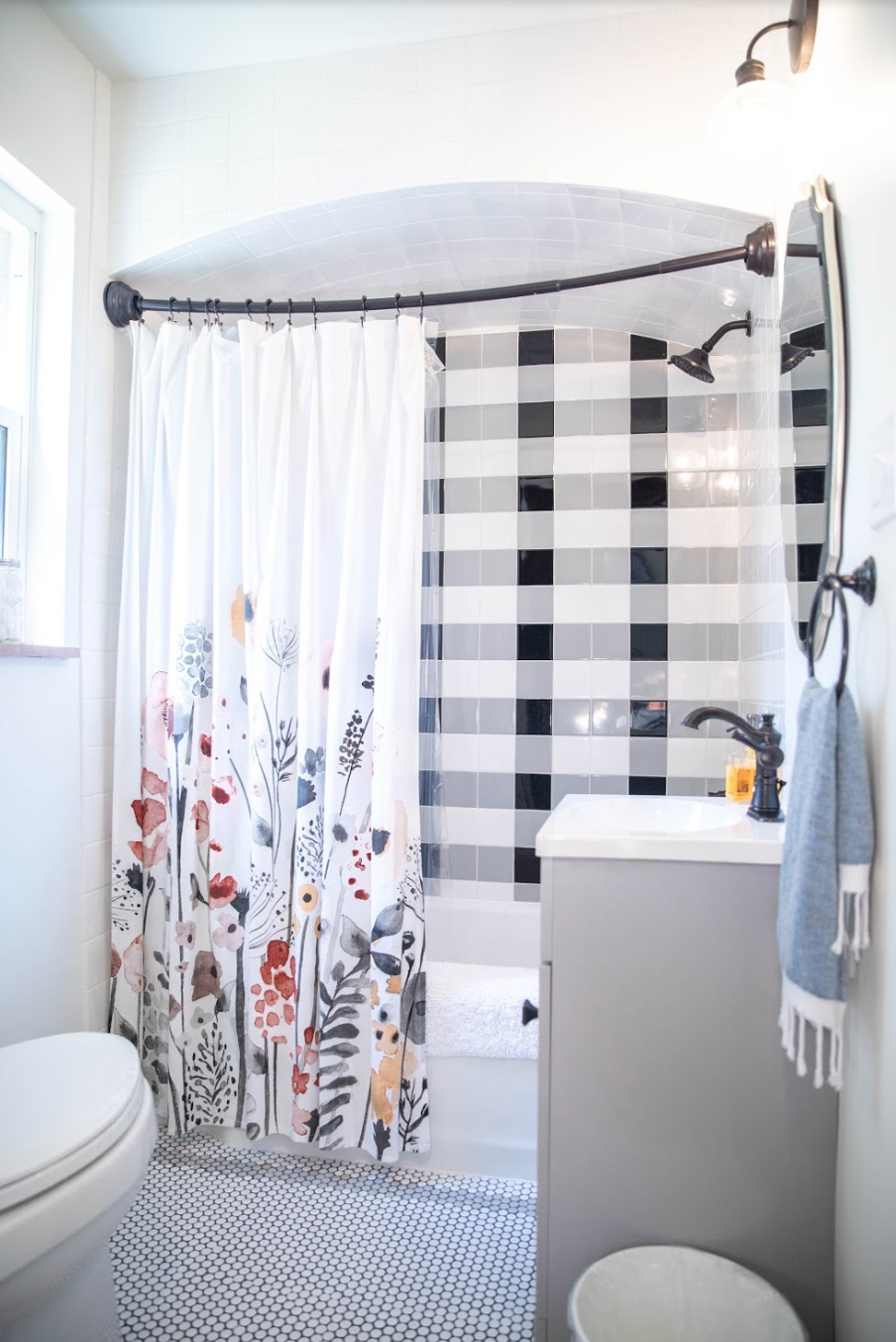 Your space should look just like the listing photos. It's weird that I have to say that, but I can't tell you how many times guests comment how pleased they are that the space actually looks like the photos!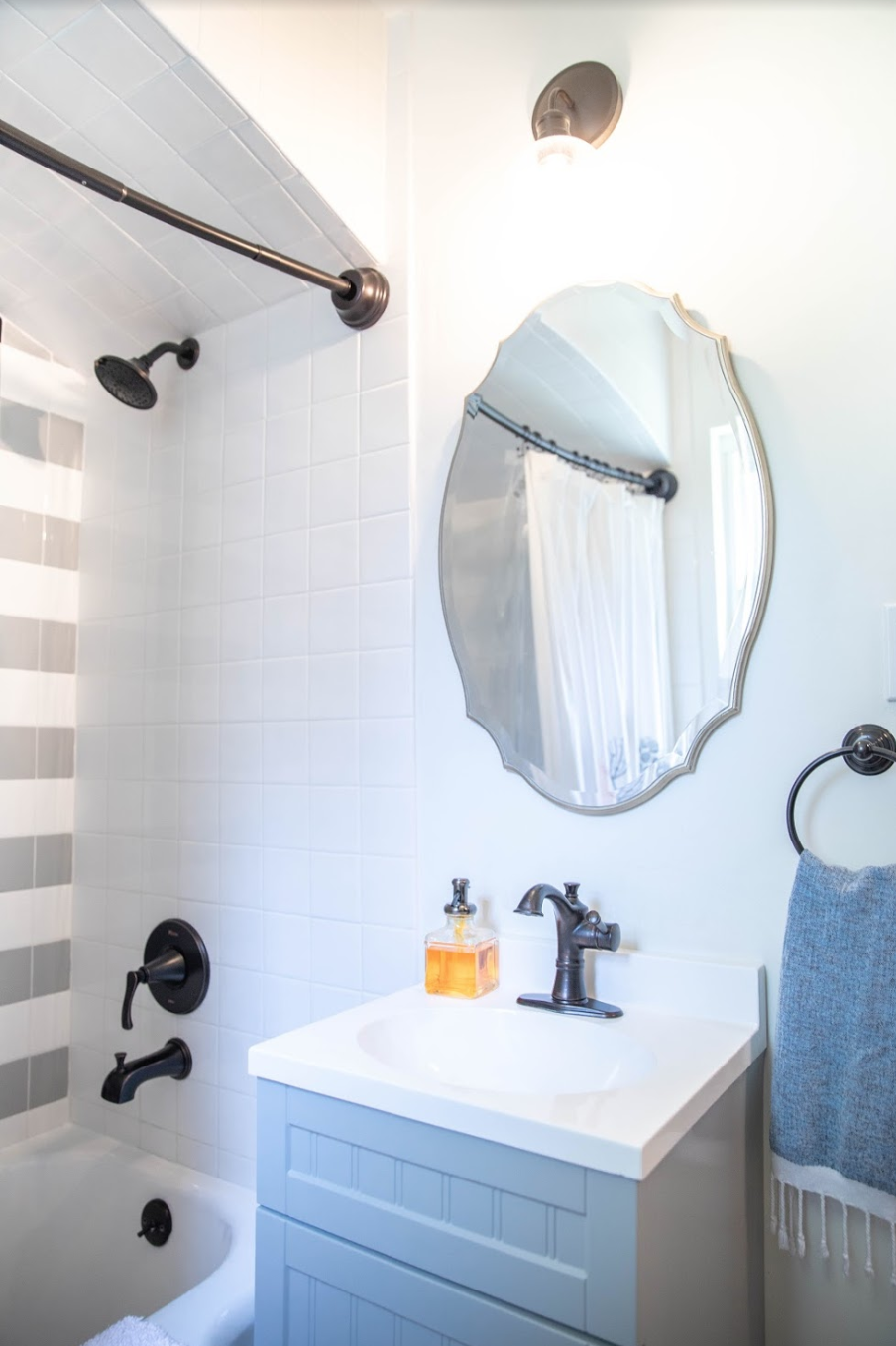 Create a check-list of the items you decide to provide for your guests and where they're located. That way you can audit your cabinets and shelves and keep track of what you need to stock up on!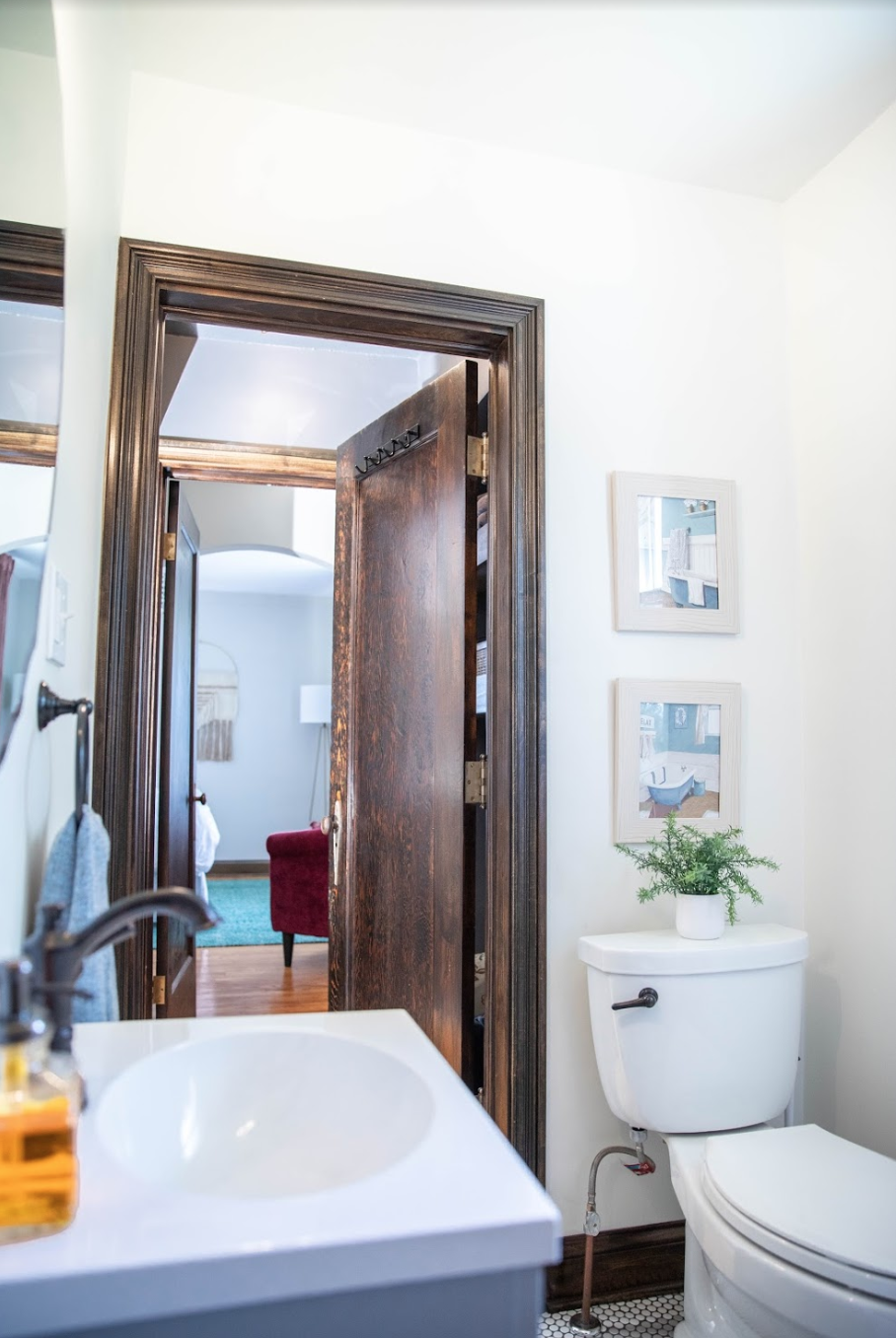 Design tip – add greenery to your bathroom!
3. The Living Room

What do you do when you are watching a movie and get cold? You go grab a blanket! Provide throw blankets for your guests since they probably did not bring one with them!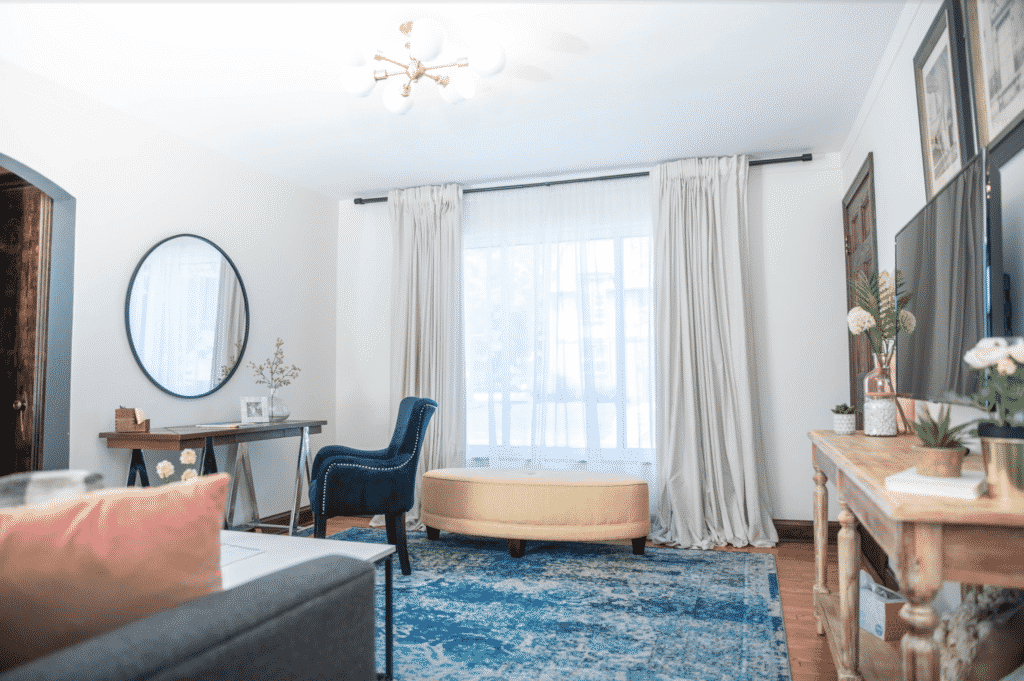 In order to show up on Airbnb for Business guests, you have to provide a desk in your space …and fast WiFi!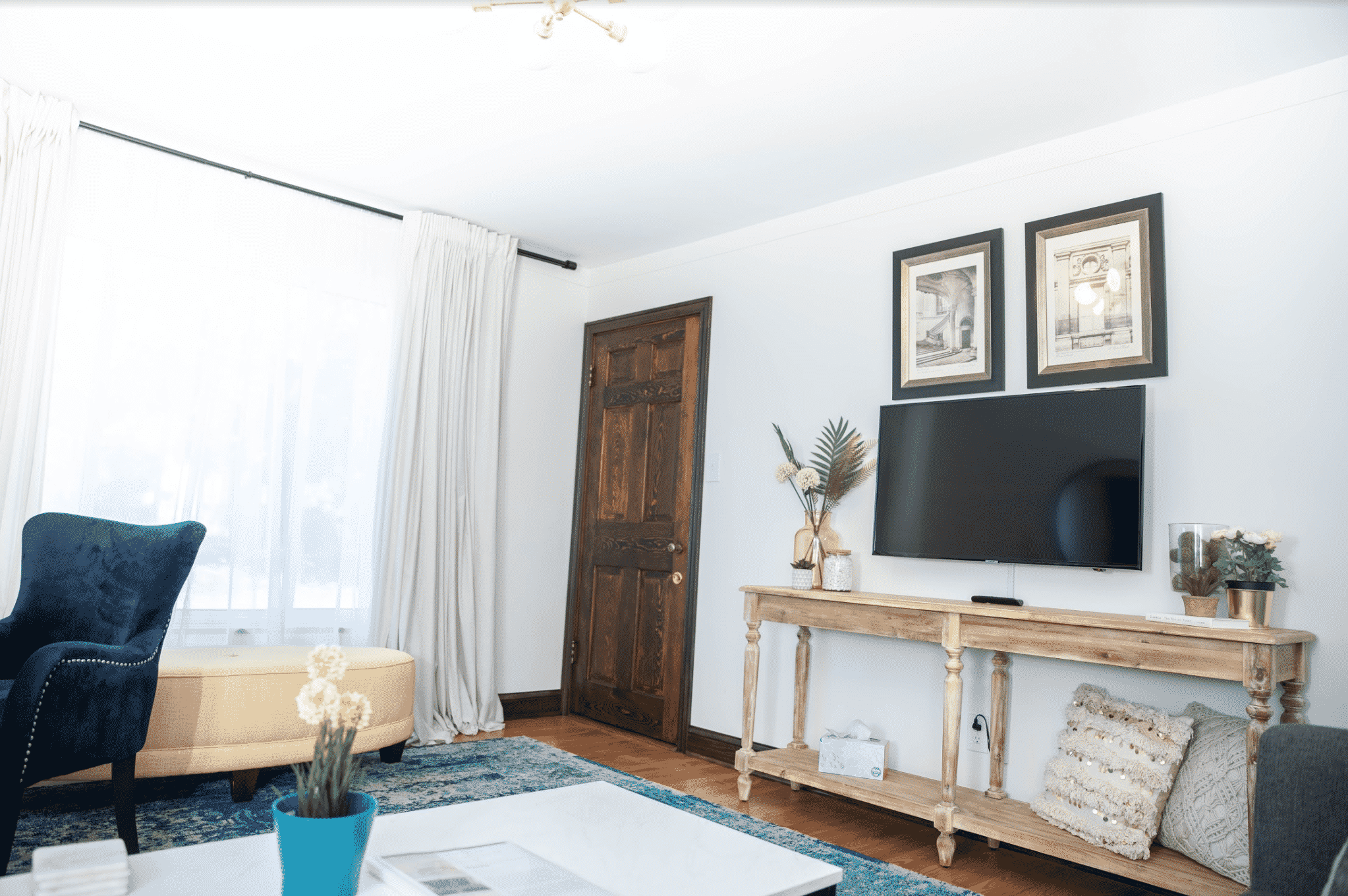 See the remote under the TV? Always place it in a spot guests can easily find!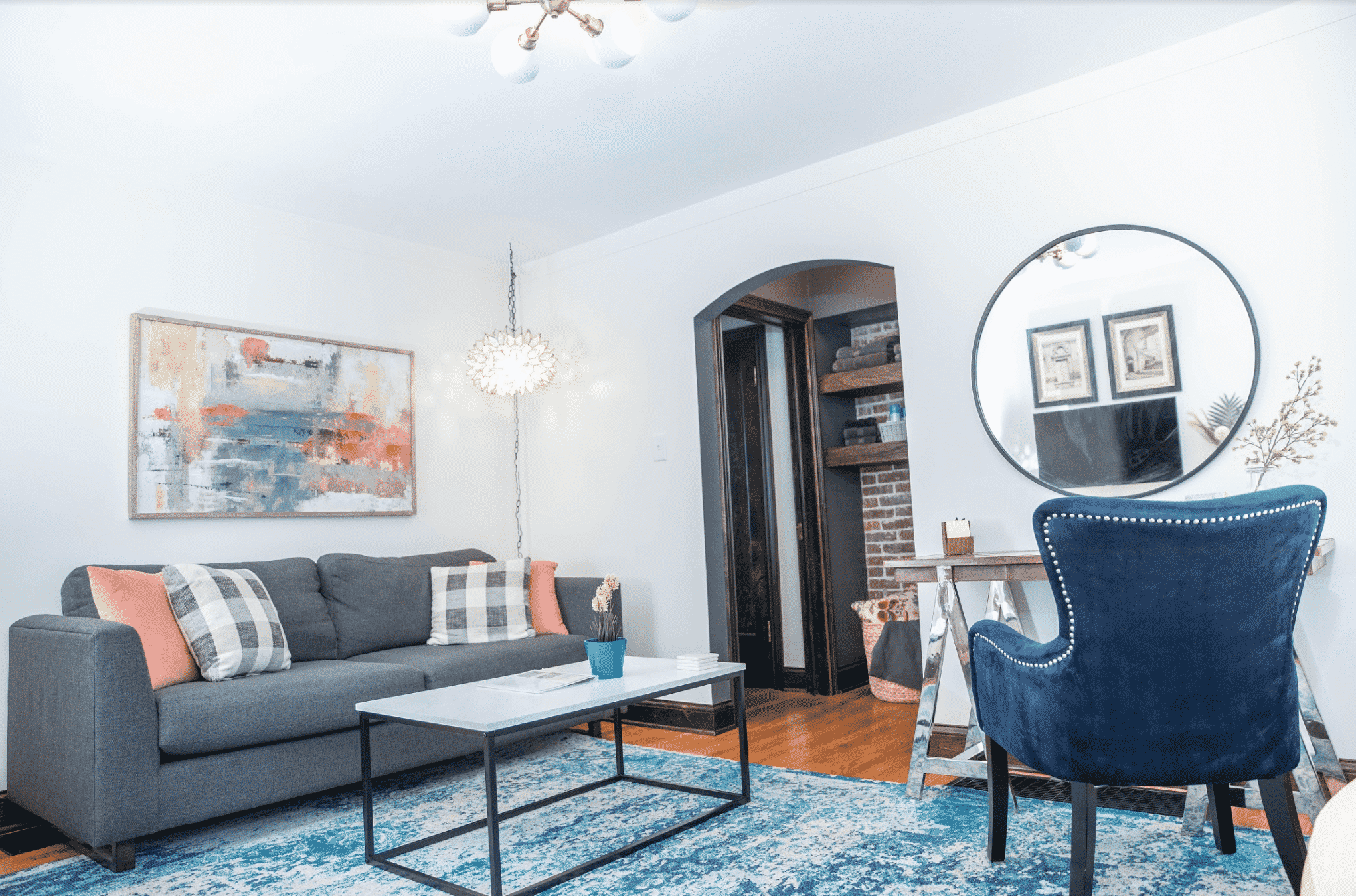 Throw pillows and wall art add life to your space! Oh, and while cleaning don't forget to vacuum under the coffee table and schedule times to actually move it and clean under it as well!!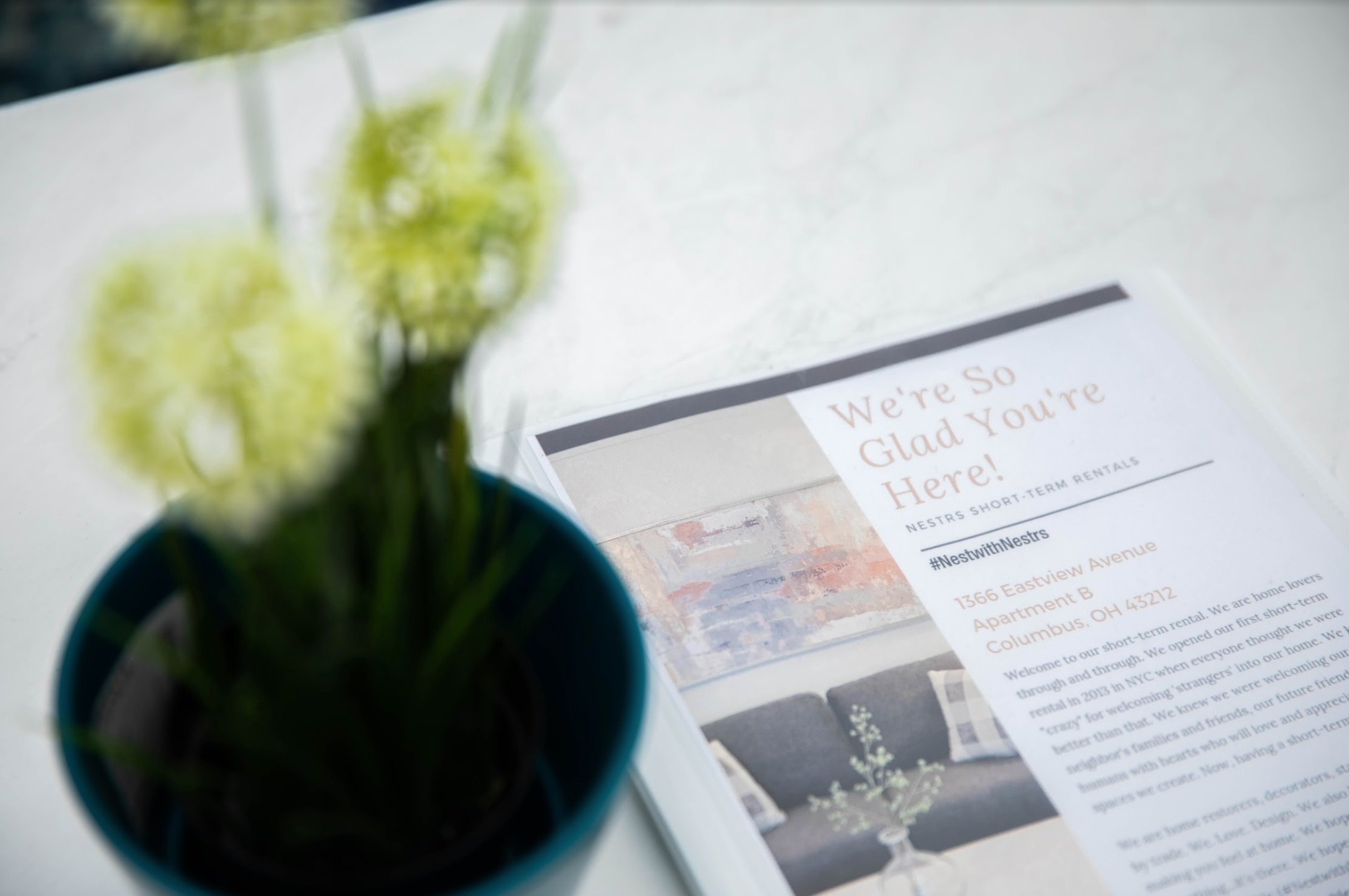 Annnnnnddddd… don't forget about the welcome book! Place it on the coffee table in the living room so your guests find it right when they walk in!
4. Bedrooms

Always have room darkening curtains!! Guests may be sensitive to light, especially if your space is in a city that never sleeps… 🙂 Your guests will really appreciate being able to sleep without the light bothering them!
See the dresser and mirror below? Great to provide for guests so there is another space to get ready!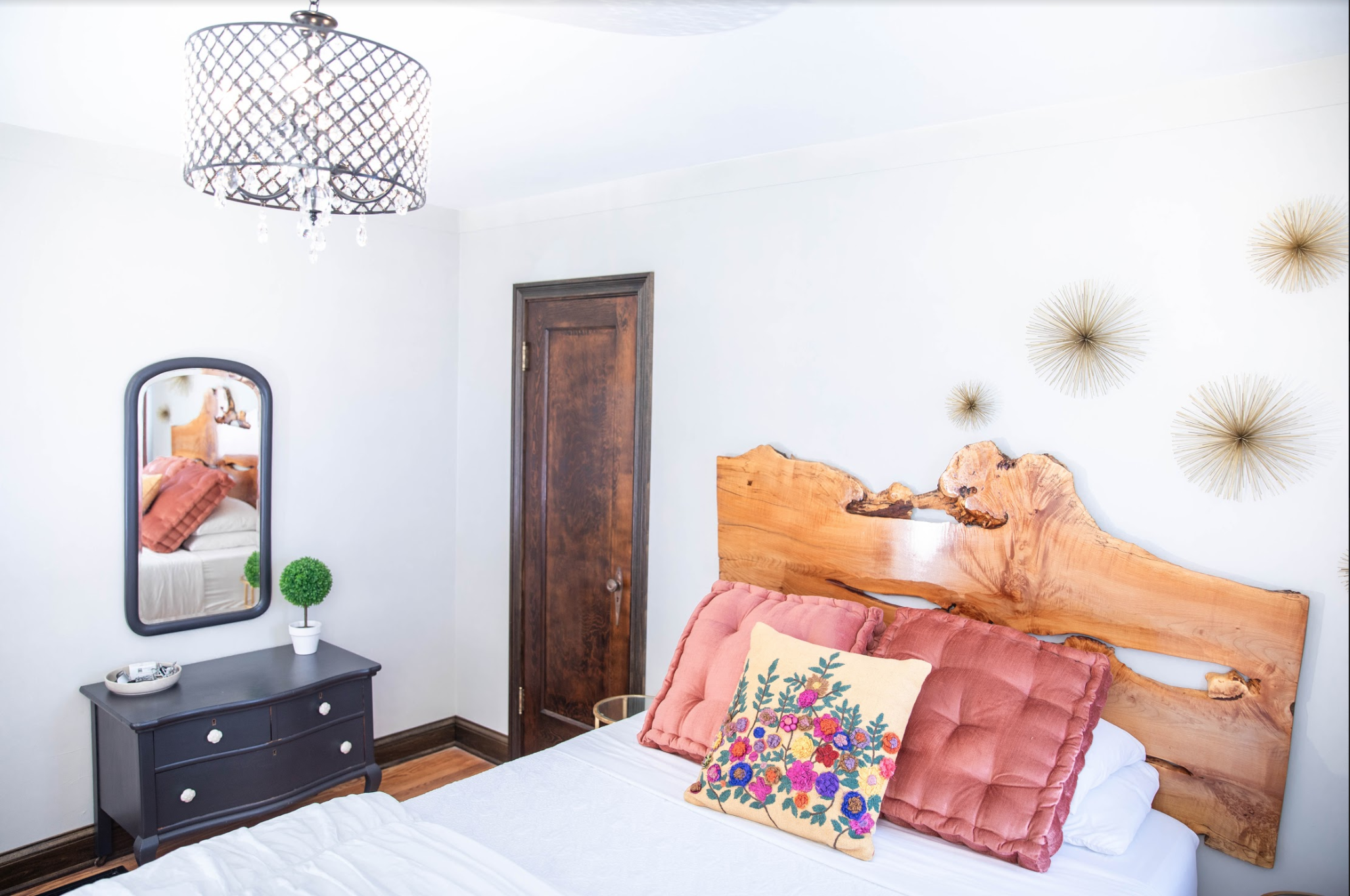 5. Home Essentials

See that dish in the picture below? It is full of multi-device chargers! Using a dish keep everything looking tidy. It's also a great way to remember if something is missing.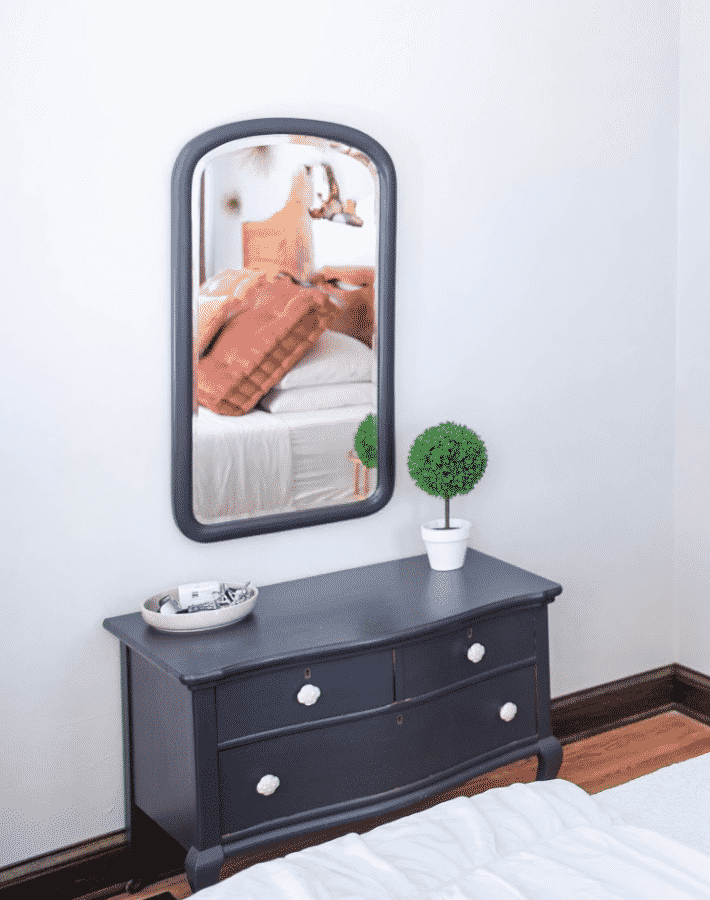 6. The Supply Closet

This is the part of your space that your guests might not see. In fact, you might want to have it locked up so guests do not have access to it.
Buying these items in bulk, restocking when needed and keeping up with the laundry will be a lifesaver while running your short term rental.
7. Toiletries

Let's face it… we have all been traveling and forgotten our toothbrush.
Think ahead about the things that your guest might have forgotten that would put a burden on their stay. Your guest will thank you…by leaving you a 5-Star review!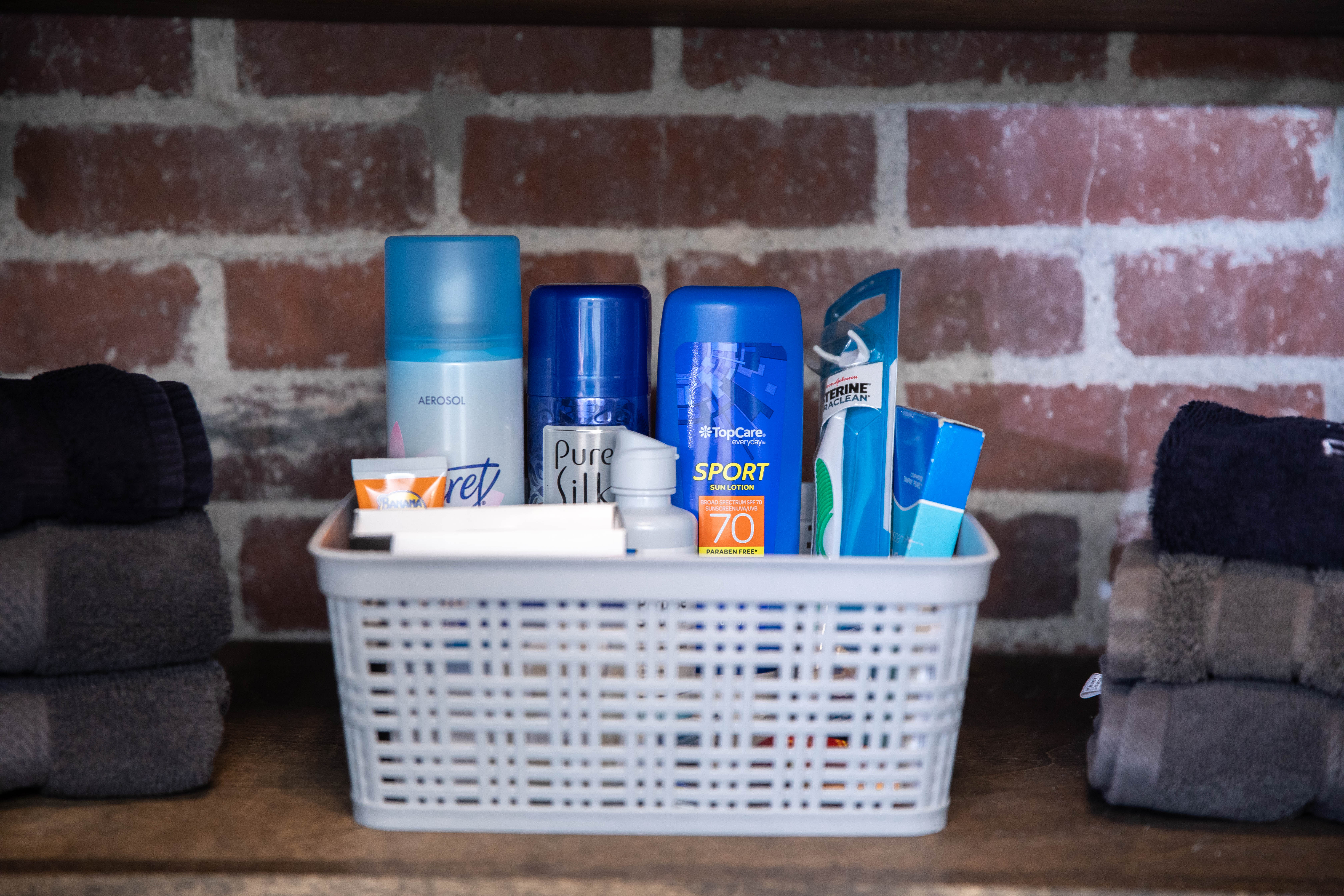 The Full Check List
Ok! Are you ready to rock out your Airbnb and provide all the things? Click here for the list of every item you will need per room of your short term rental!