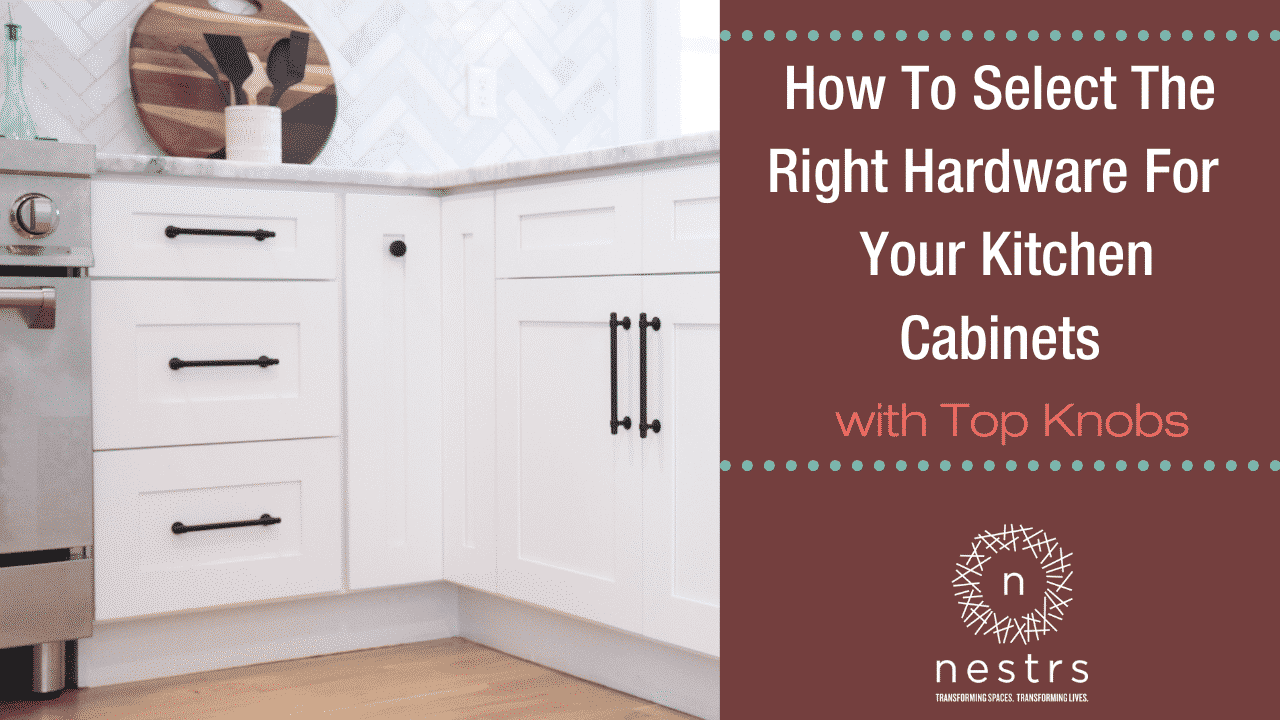 19 Feb

How to Select the Right Hardware for Your Kitchen Cabinets with Top Knobs | Nestrs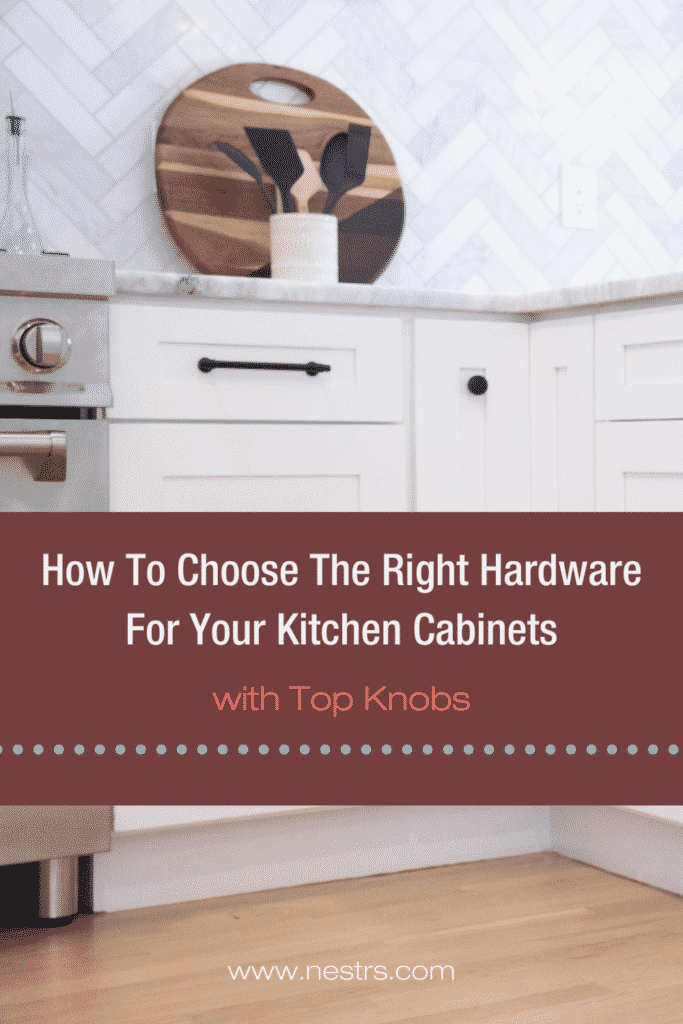 This post is sponsored by Top Knobs.
Disclosure: Some of the links in this post are affiliate links. This means if you use them to make a purchase, Nestrs will earn a commission. Using the links is no extra cost to you; it only helps our small business! We want to share these products because we recommend them and stand by their quality. We got your back! 😉
When renovating your kitchen, you might start out thinking about the cabinet color, the backsplash design, or the countertop. But what about the hardware? Whether you choose cabinets all in the same color or something two-tone, the hardware is what's going to keep your wall of cabinets from blending altogether. With our latest flip #RuthIsInRehab, we partnered up with Top Knobs to make our kitchen cabinets stand out!
Assessing the Situation
When it comes to cabinet hardware, there are so. many. options. This is exciting because you can pick something unique or simple, but this can also make your head spin, wondering where to start.
Think of the hardware as the jewelry of the cabinet. It can elevate the cabinets you spent so much time picking out and really make them stand out! We don't want all that hard work to go unnoticed!
Related: How to Choose Affordable High-End Kitchen Appliances
Choose the Color
The first place we start is the color. This will help narrow down your options. 
We kept it light and bright for Ruth's kitchen, with all white cabinets and countertops, and a herringbone marble backsplash from countertop to ceiling. We love the all-white look, but when it came time to choose the cabinet hardware, we needed something that would break up the white cabinets so they didn't blend together. We decided silver or brass just wasn't enough contrast, so we went with all flat black hardware. Sometimes an all-white room can feel sterile and cold, so the black accents broke up the sea of white and helped to ground the kitchen.
Do you need help with home renovations, DIY, or designing? We're your ultimate resource. Contact Nestrs today.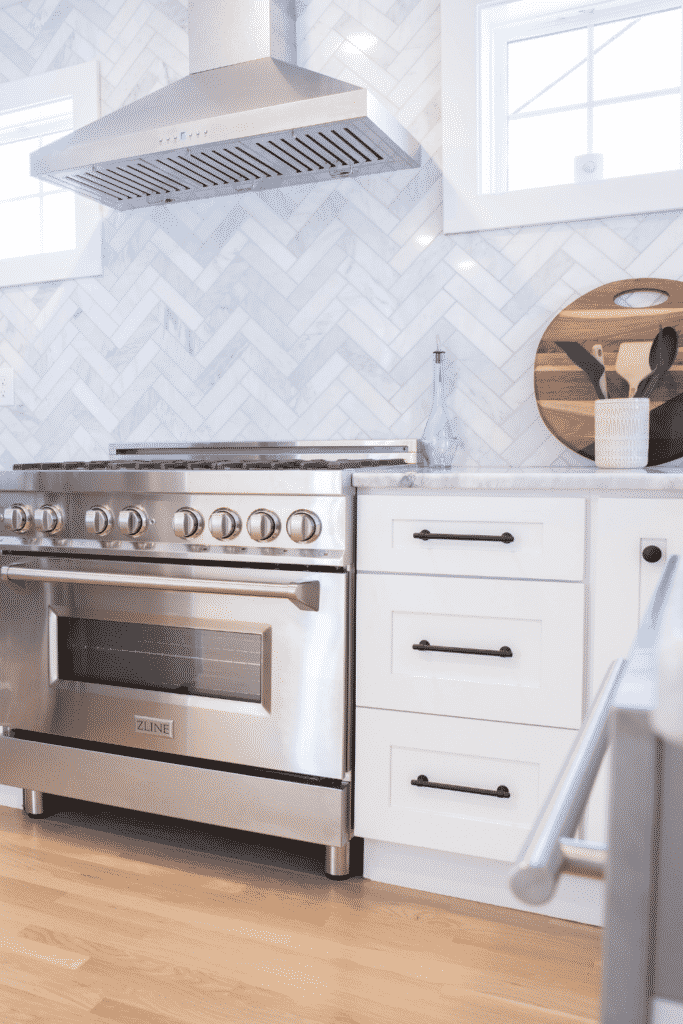 All Shapes and Sizes
This next part can be a little overwhelming because, holy shit, there are so many shapes and sizes … so let's simplify it and talk about some categories.
The shape categories include rounded edges, squared edges, cup or tab, open/closed edges, and, I, of course, have to throw in a miscellaneous category for the out-of-the-box designs. I know, I know "lions, tigers, and bears, oh my," but STICK WITH ME! 
It's important to think about the style of your kitchen and what kind of vibe you want. If you're looking for a more modern look, try choosing hardware with clean lines such as a squared edge or a tab to add a sleek finish. If you're going for something more cozy and warm, try out something rounded.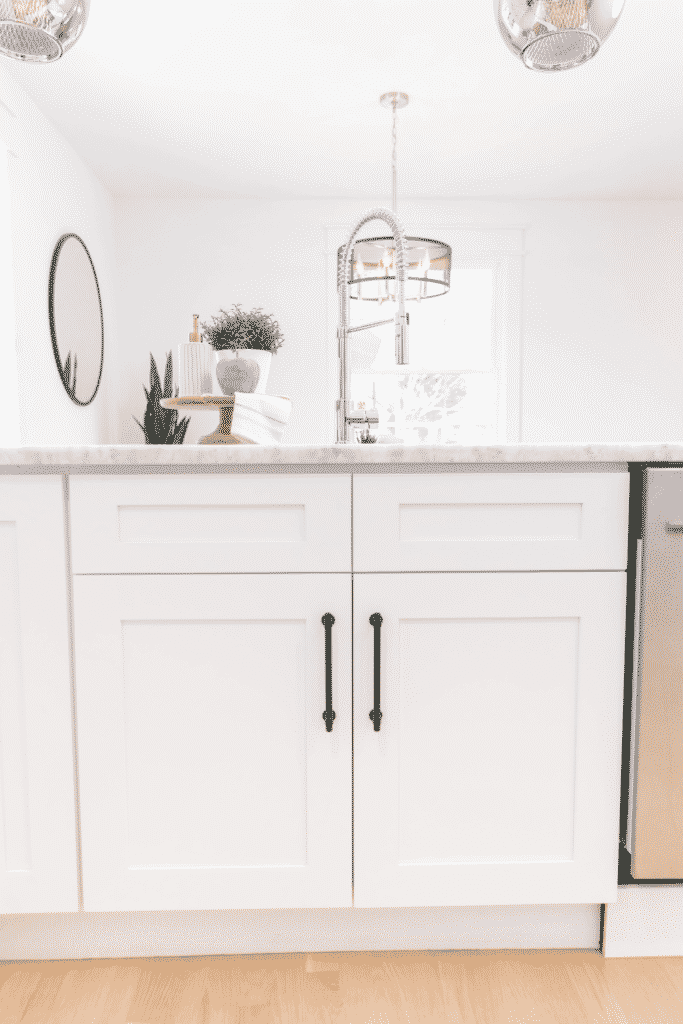 The shape of your hardware can also be used to contrast the style of your kitchen. Remember how I said we went with an all-white kitchen and marble backsplash? Well, Ruth was looking fierce and fancy and modern. And while we love a sophisticated queen, she needed hardware that made her say I'm cool and fancy, but I'm also relatable and approachable. That's why we chose…drum roll please… you guessed it, the Ellis Pull in Flat Black and the Ellis Knob in Flat Black. The round edges softened up the kitchen, and the skinny bar complemented the sleek white cabinets. 
Related: How to Choose the Right Light Fixtures for Your Home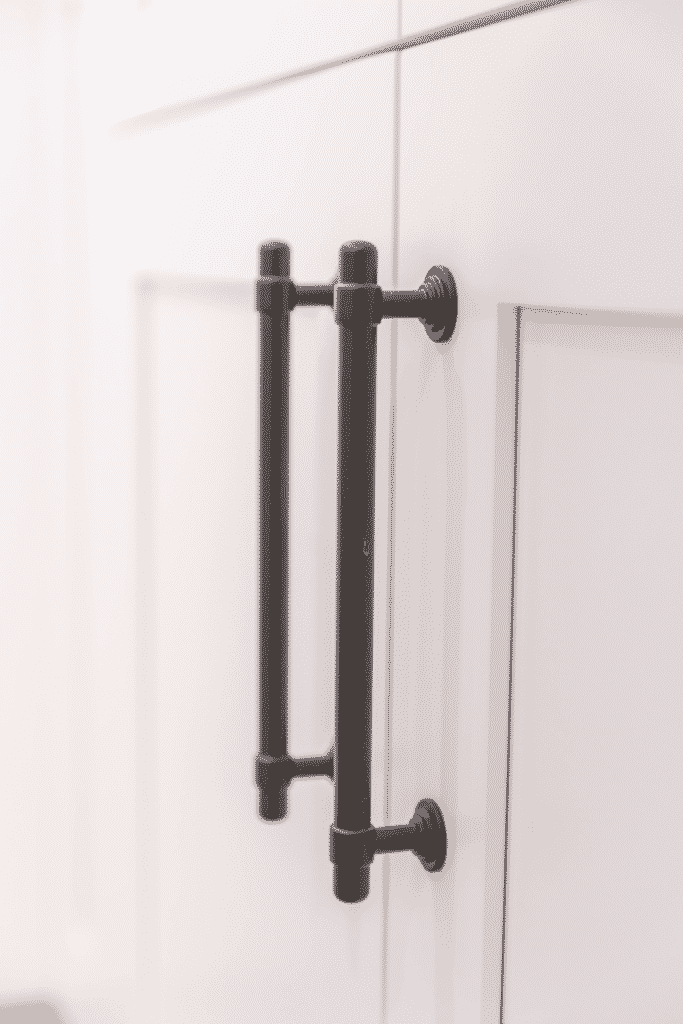 Does Size Matter?
Yes, size does matter…it matters that you find the right size for you and your cabinets.
You definitely don't want hardware that's too big, but you also don't want anything too small. My first suggestion is to stick to pulls for cabinets. As far as the length of the pulls, don't be afraid to choose more than one size. Many kitchens have those random extra-wide drawers, and installing the same standard-sized pull may not do the drawer justice. We went with 6 inch pulls on most of our cabinetry, but we had one of those extra-wide drawers under our microwave. To make this lone drawer stand out, we went with a 12-inch pull!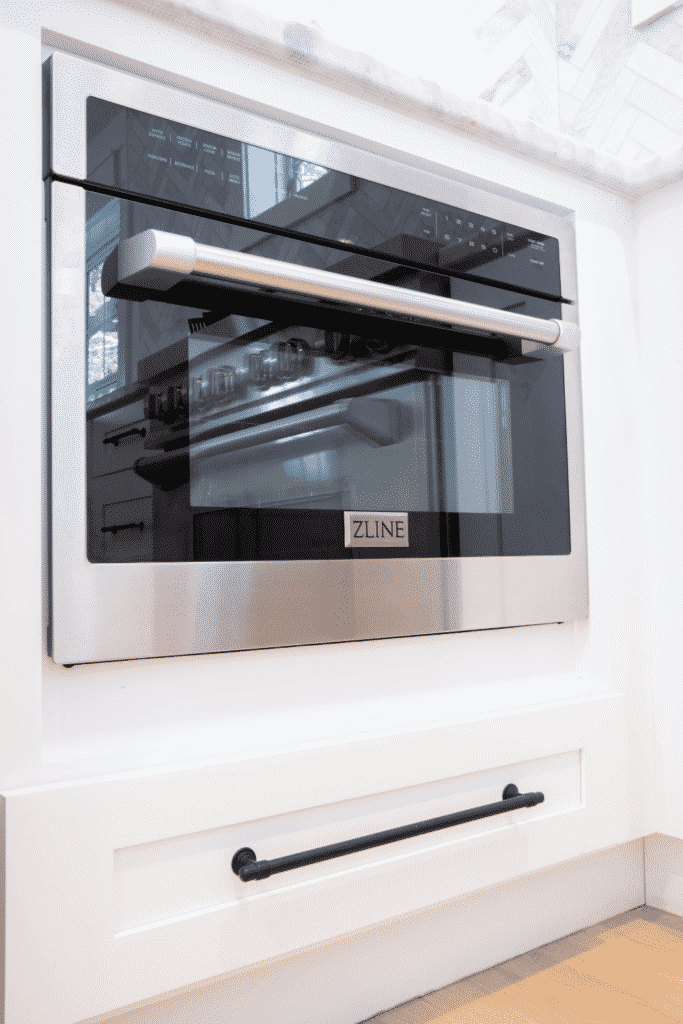 I'm a super visual person, so while you can always buy one knob to see the size against your cabinet, you could always try cutting a piece of painter's tape to size and sticking it to your cabinet. Nothing fancy, just quick and easy, but it could be helpful if you're visual like me!
Related: Kitchen Lighting Tips and Trends You Should Know About
I'm Indecisive
If you're still stumped, and I just opened up a can of worms with all the shapes and sizes, I have a CRAZY COOL RESOURCE for you! Top Knobs has this baller "Find My Style" Quiz on their site. I know how much y'all secretly loved taking Buzzfeed or Facebook quizzes back in the day, but this is even better. They help you narrow down color and shape and even give you the option for more filters such as easy to clean and comfortable for someone with arthritis !! Wild!! Click here to check it out for yourself!
If you liked the hardware we chose and are ready to do some online shopping of your own, here are the links!
Are you interested in home styling, designing, or organization? We can help you make your space more beautiful, function, and even profitable. Check out Nestrs today!