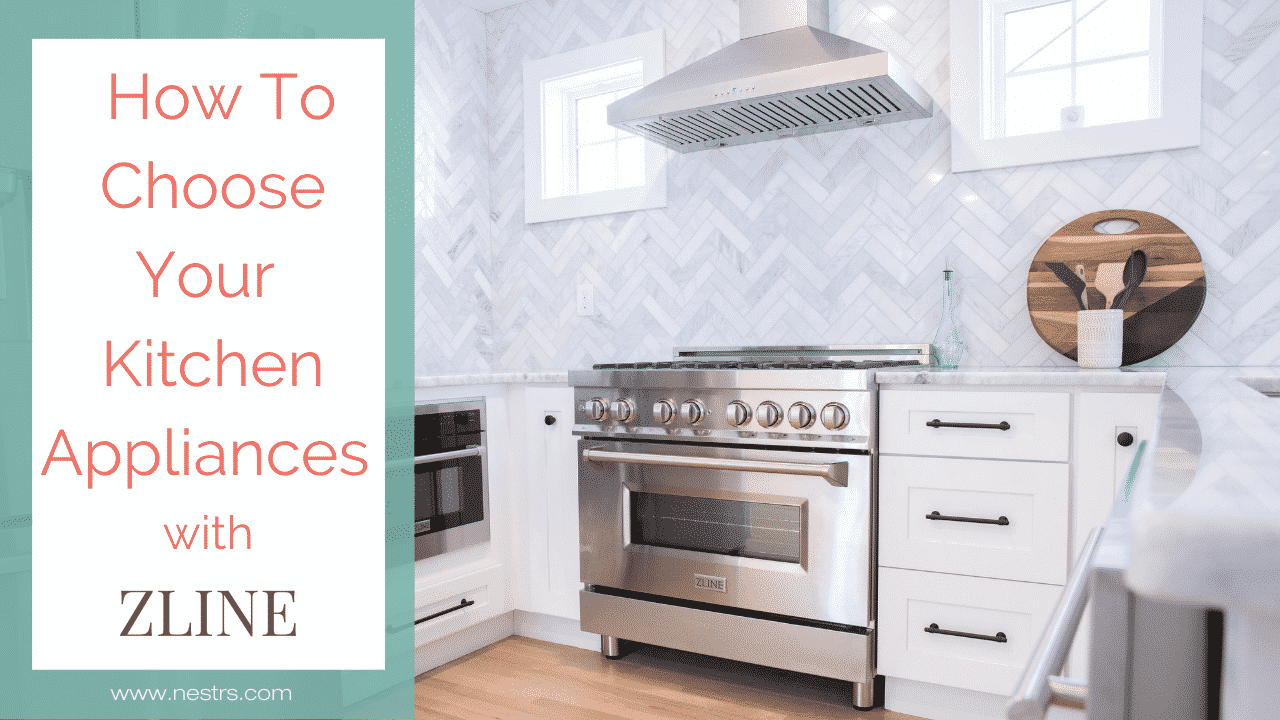 31 Dec

How to Choose Affordable High-End Kitchen Appliances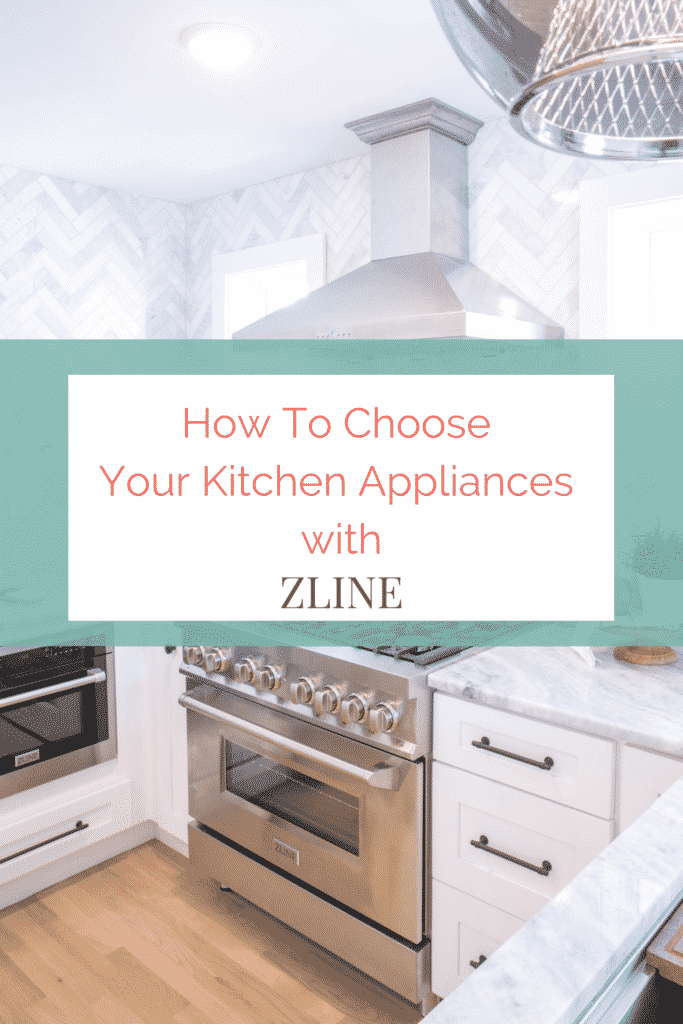 How To Choose Your Kitchen Appliances
This post is in paid partnership with ZLINE Appliances.
Disclosure: Some of the links in this post are affiliate links. This means if you use them to make a purchase, Nestrs will earn a commission. Using the links is no extra cost to you; it only helps our small business! We want to share these products because we recommend them and stand by their quality. We got your back! 😉
Check out our 6 minute video tour of this space here!
All those canvases lining the wall decor aisle at Home Goods or At Home aren't lying when they say "The Kitchen Is The Heart Of The Home." It's an important room! Whether your kitchen is big or small, you want it to be functional AND look good. How you decide to design your kitchen is up to you, but I'll be honest, the most important thing in your kitchen are the appliances!
Whether you're a Michelin star chef or a frozen pizza connoisseur, the appliances you choose for your kitchen are a big deal. When we choose appliances, we are thinking about how easy they are to clean, how reliable they are/will they last, and do they LOOK GOOD. There are a TON of options, and the decision can be pretty overwhelming. So I want to share our experience on our latest flip, #ruthisinrehab, and show you why we decided to partner with ZLINE on the appliances.
Related: 9 Decorating Trends to Throw Out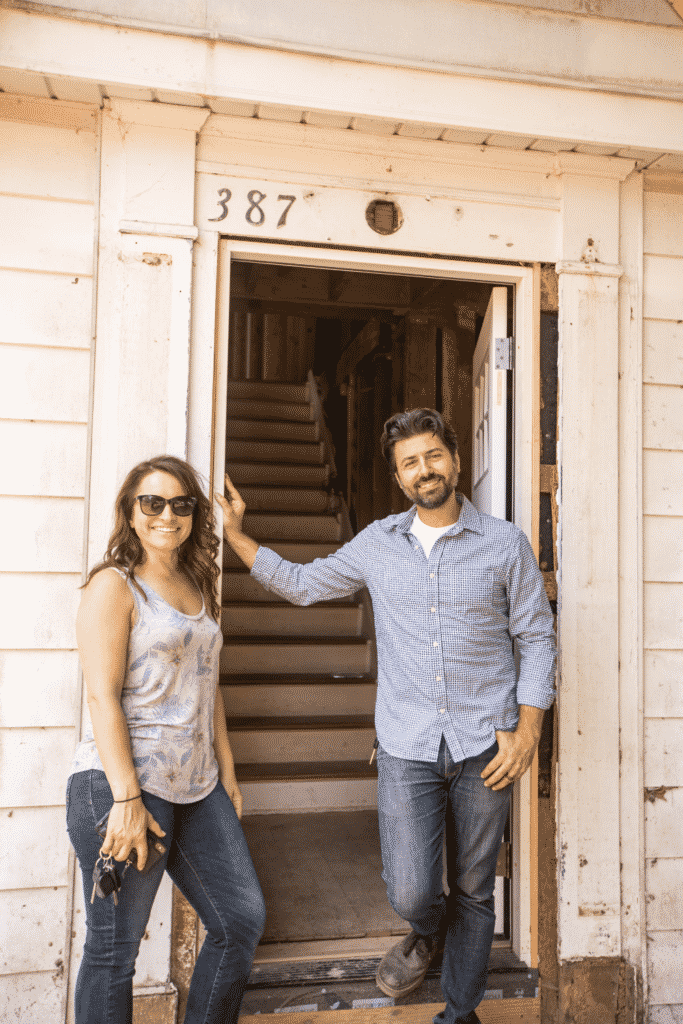 Alt text: Sarah and Nick from Nestrs
Surprise! You thought I'd start with the oven, right? Nope! First, let's talk about the oven's crown, its jewels, if you will, the range hood. We wanted a durable range hood, but we didn't want any old hunk of metal in our kitchen. Ruth's kitchen is a focal point of the home, so we needed a range hood with elegance. Not only does ZLINE have this incredible smudge-proof DuraSnow® Stainless Steel finish, but their range hood is literally CROWNED with a design to mimic crown molding… hello elegance! And she is more than just her looks. This hood has safe dishwasher filters, built-in LED lights, and it ventilates your home efficiently and quietly.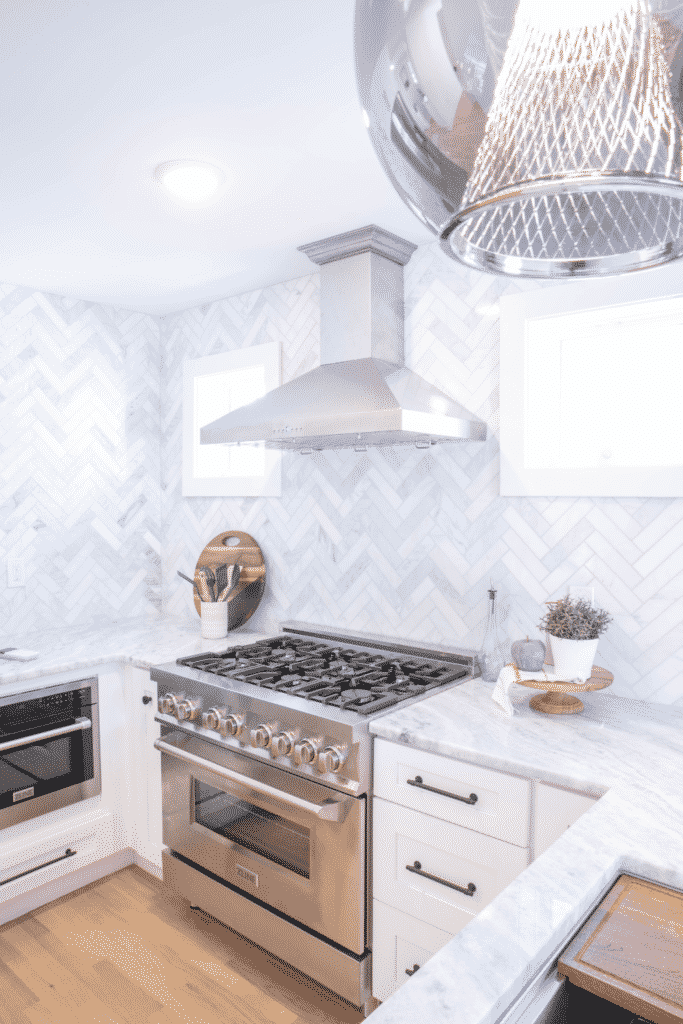 Alt text: 6 burner convection oven by ZLINE
I have to point out that Ruth's kitchen isn't the biggest kitchen you've ever seen. A lot of people may think a smaller kitchen means playing it safe and choosing smaller appliances… but I'm here to tell you, hell no, you don't (and you shouldn't)! Even for our frozen pizza connoisseurs, we need an oven that cooks that Digiorno Rising crust evenly, and why not choose a statement piece. We went with ZLINE's 36in, 6 burner convection oven. That's right, 6 burners! Just like the range hood, she has that DuraSnow® stainless steel finish, aka durable and smudge-proof.  
Have I mentioned STUNNING?!
The burners are imported from Italy (she's ~fancy~) and made of cast iron, so those babies are built to last. Okay, I realize I'm gushing over an oven, but I have to tell you my favorite part! The oven racks are on ball-bearing tracks.. so they roll right in and right out. Okay, stop, go back and read that again, and join me in my "heart eyes emoji" state.
Are you looking for someone to help with your decorative style, check out NESTRS!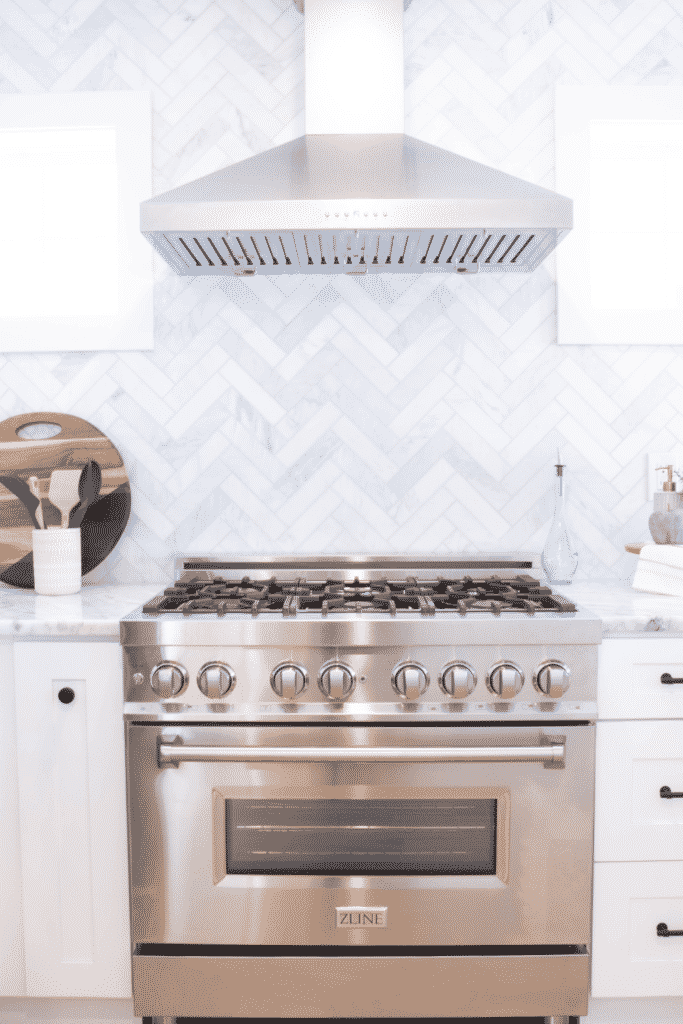 Alt text: 6 burner convection oven by ZLINE
The most apparent function of a sink is the place to wash dishes, but think about all the other ways we use our sinks: washing fruits and veggies, peeling potatoes, draining our pasta, washing our hands…bathing babies? As I said before, don't be afraid to go big, especially when your sink functions more than a sink. We went with a 33in Garmisch Undermount Single Bowl sink.
Truthfully, I'm not sure whether to call this a sink or a transformer….she comes with ACCESSORIES. The cutting board, utility rack, basket strainer, and drying rack all fit perfectly in the sink. Gone are the days of balancing a colander in the sink to wash your veggies or making a mess all over your counter with wet dishes.
Related: Kitchen Lighting Tips and Trends You Should Know About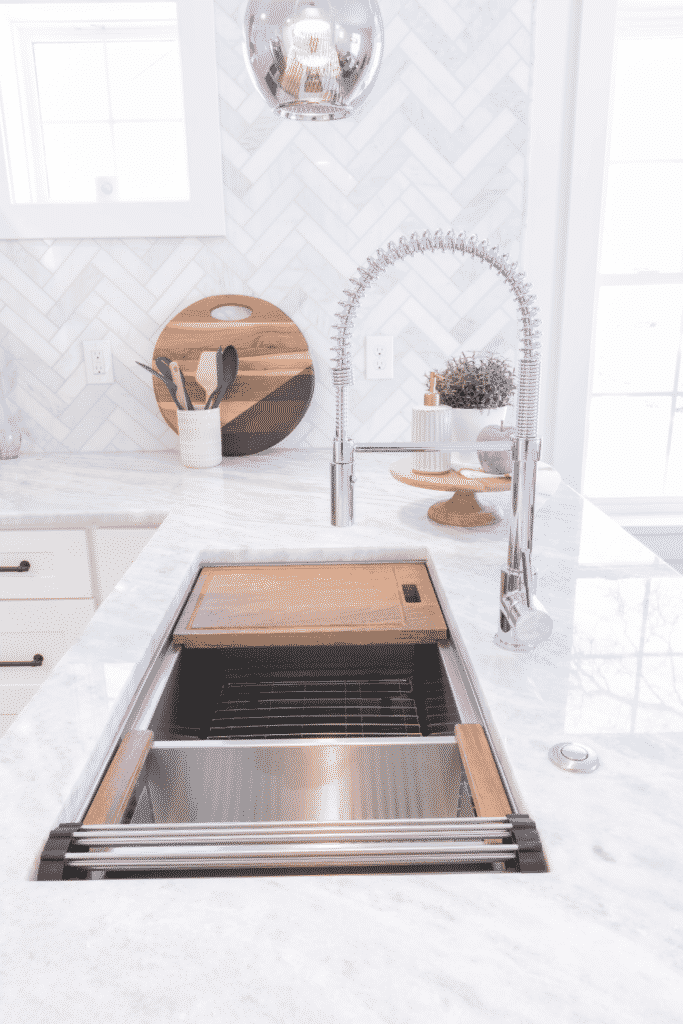 Alt text: Garmisch Undermount Single Bowl sink
I'll be honest. I am guilty of falling in love with a product that is beautiful and getting heartbroken when I realize it's shitty quality. BUT, no heartbreaks here, my friend! I was surprised when I learned ZLINE also sold faucets, but I was not surprised when I learned how insanely high quality they are. A lot of faucets with a pull-down spray nozzle are made with plastic. This makes it lighter, but it also means lower quality. This faucet is entirely metal.
Oh, I also need to mention that this faucet swivels all the way around!
That means our sink can function as a workstation, and we don't have to do a little dance with the faucet.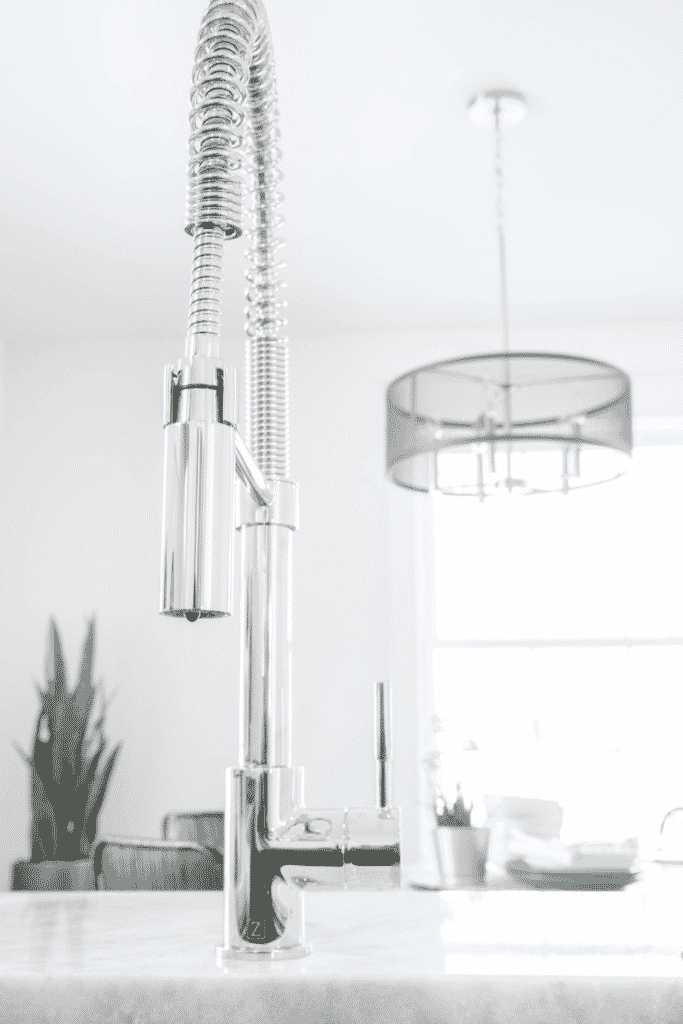 Alt text: a Kitchen pull-down spray nozzle Faucet
I don't know about you guys, but the microwave is the MOST USED appliance in my house. The more it can do, the easier my life will be. Okay, I know I sound like I'm on a game show announcing, "you've just won an all-inclusive trip to the Bahamas"', but these appliances deserve their game show moment.
I mean, this microwave!!!!
Ooo baby, this microwave… yeah, she pops popcorn and heats those frozen dinners, but she also has a standard, broil, AND convection settings.
Related: IKEA KITCHEN STORAGE IDEAS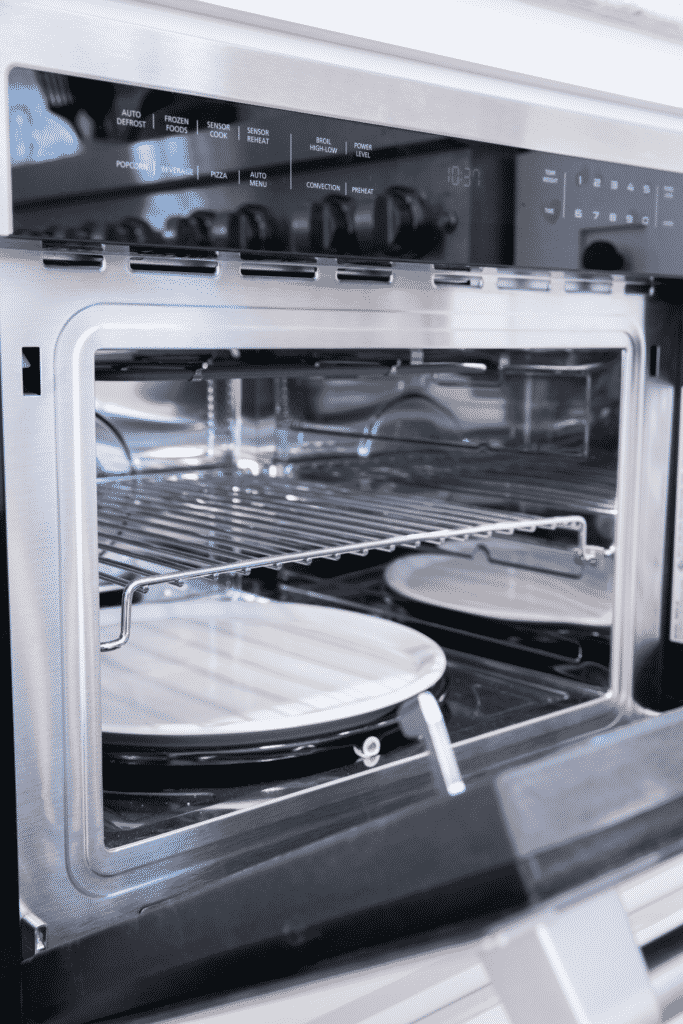 Alt text: an open microwave
Can we all agree that the dishwasher is THE most important appliance? When looking at dishwasher options, we wanted a ROCKSTAR dishwasher. Ya know, one that cleans all the shit off doesn't sound like it's giving birth in the kitchen and holds more than a dinner's worth of plates!! If you agree, your search is over. We found our rockstar. Please welcome to the stage the 24 inch Top Control Dishwasher in DuraSnow® Stainless Steel. Twenty place settings (yeah, I said TWENTY), super quiet and has multiple filters for an efficient clean.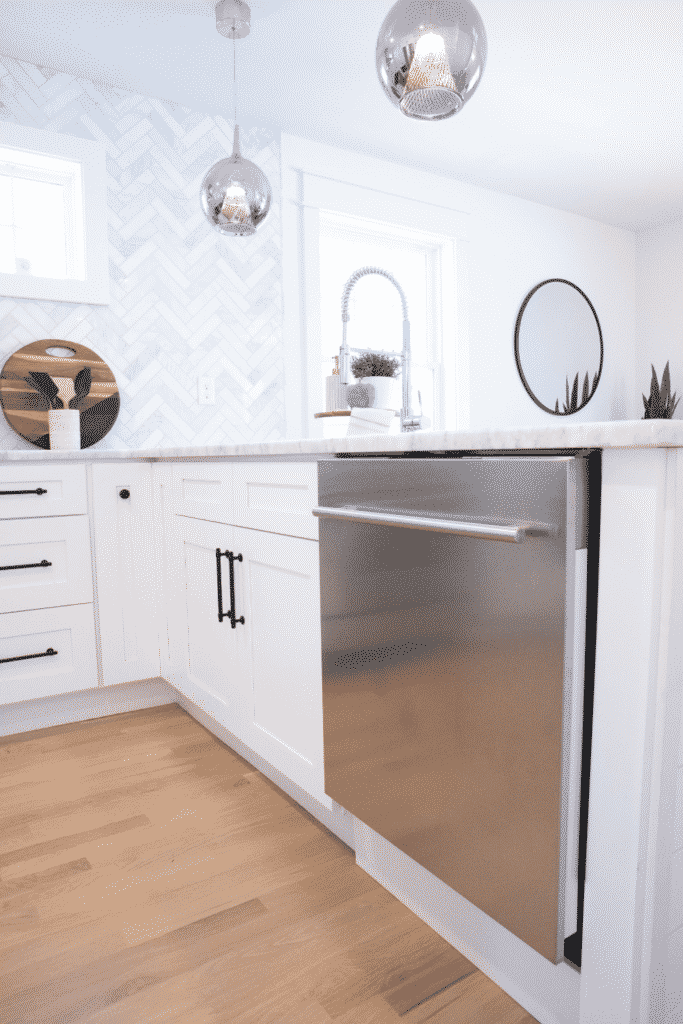 Alt text: a stainless steel dishwasher installed in a kitchen
This final space functions as the pantry, laundry room, wet bar, mudroom, and even dog bath area, so we needed something that could handle just about everything. We loved the kitchen so much that we knew we needed to add another ZLINE faucet and sink to the wet bar/messy kitchen area. Continuing the use of ZLINE products in other spaces helped us continue the level of quality and tie our whole design together.
Are you looking for more tips and insights on how to upgrade your home? Have a look at the Nestrs Blog.
Alt text: a kitchen sink
If you loved any of the appliances, check them out here!
View our 6-minute walkthrough video here: