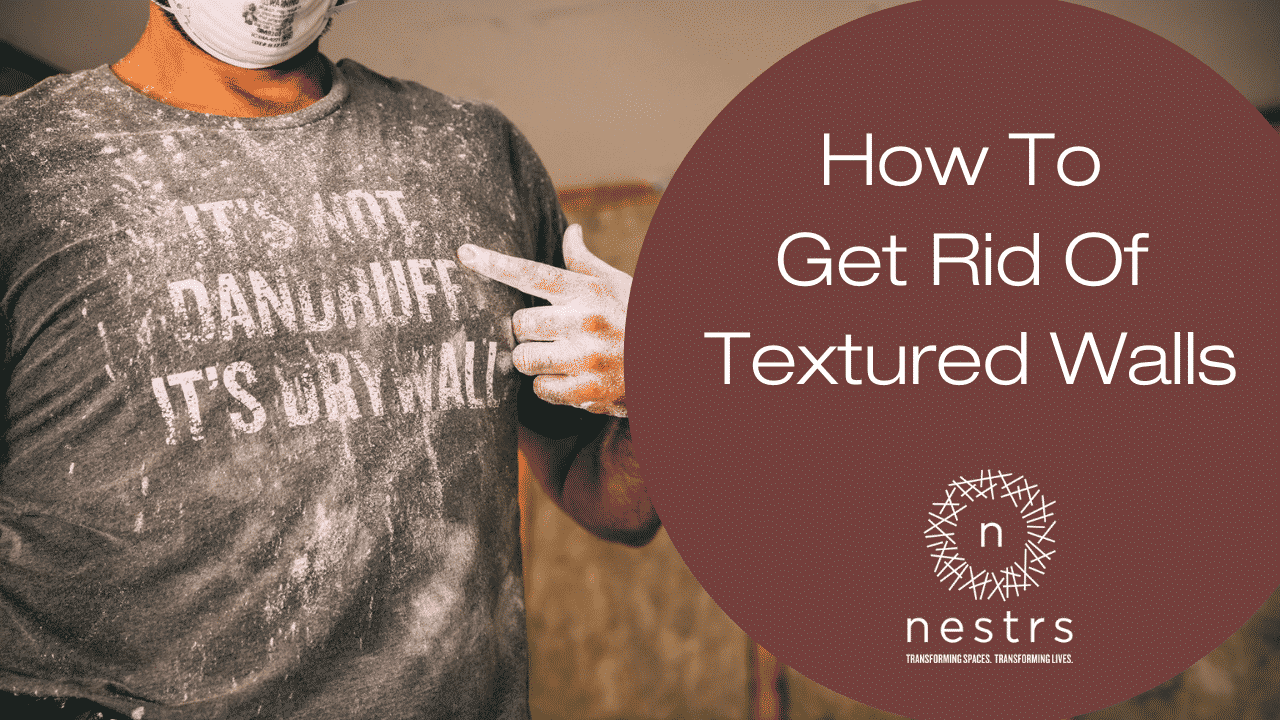 04 Jun

How to Get Rid of Textured Walls
When you buy a new home, painting an ugly colored wall is easy peasy. But, what if that ugly wall is textured? While it may not be as easy as slapping another coat of paint on top, the baby smooth wall is just around the corner. Let's talk about what kinds of textured walls there are and HOW to get rid of the eyesores! 
What Are Textured Walls
If you're a little lost when I say texture, think of the stucco look, popcorn, and orange peel textured walls. Ahhh it's all making sense now!
So were these textured walls trendy at some point in history…? While some homeowners might have enjoyed the textures to add depth to their wall, it's mostly used because it's a much cheaper and faster way to finish a wall.
The texture is great for hiding imperfections and is more durable than smooth walls against any minor wear and tear. This is why you may see more textured walls in commercial or rental buildings.
Related: Living Room Lighting Ideas You Need to Know About
How Did  They Get There?
Each kind of texture is achieved with different application methods. Oftentimes a sponge, soft brush or rag is used. Sometimes the paint is already textured and can simply be applied with a regular roller. Think of easy applications.
At Nestrs we make spaces beautiful. We are a husband and wife design and reno team creating trendy, comfortable, and functional living spaces. Check out our work to learn more!
Methods for Getting Rid of Textured Walls
While the texture is easy and fast to add, the removal process can be time-consuming and MESSY! But not impossible!
Cover the walls with another material
Covering the textured walls with another material may seem like the easiest method. Wood paneling has become more popular and maybe even metal if you're in the industrial style. If you do decide to cover your walls with another material, don't forget about your baseboards! Adding another material means you will have to remove your baseboard and reinstall after the second material is in place. 
Apply a skim coat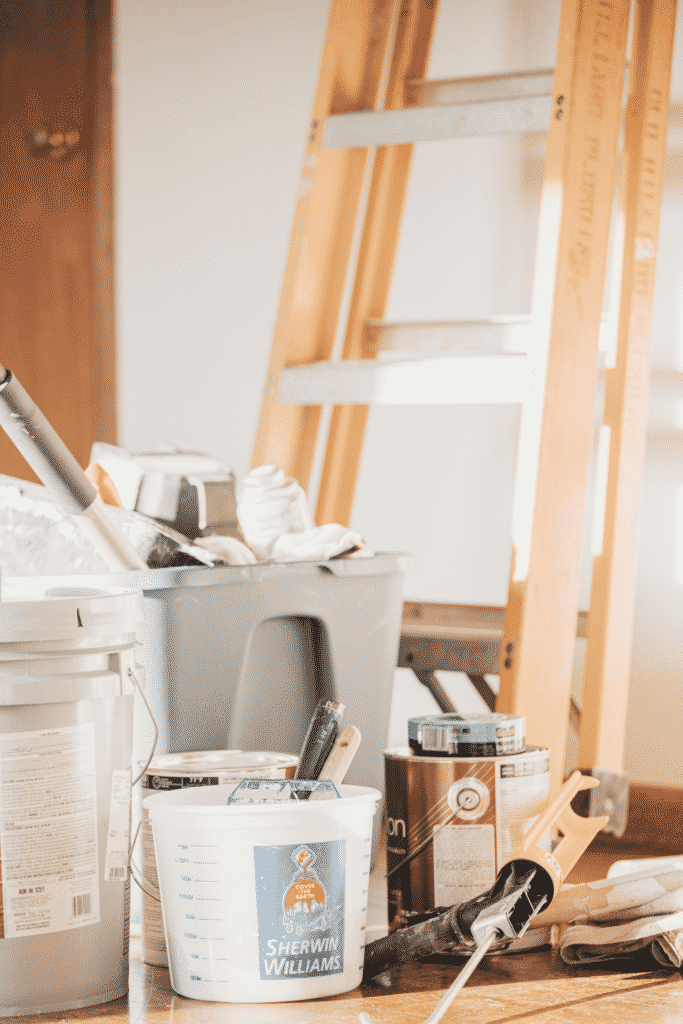 Before the texture was added to your walls, the drywall was installed, taped and fastened, skim coated on the seam, then joint compound or "mud" was applied. That same process is how you can remove the texture!
Skim coating an entire room takes a whole lot of time so you may want to hire a professional. Professionals usually have figured out ways to keep all the sanding dust out of every square inch of your home.. I'm all for learning new skills and giving it a try but be prepared to do a major clean up!
Once the skim coat has been applied, dried, and sanded, you can seal with a primer and paint or apply wallpaper as usual!
Related: How Much Does it Cost to Paint a House in 2021

Replace the textured drywall with new drywall
Skim coating can end up costing a lot of money….so if your texture isn't too intense, you may want to think about replacing it with new drywall. Unfortunately, you won't be completely out of the woods because once the drywall is installed, you'll have to skim coat the seams to get that smooth surface. Calculate the costs to help you decide which option is best for you!
Soak and scrape the unpainted texture
If you just want to get rid of the texture without any more layers, time to soak and scrape! 
Okay first, we highly suggest laying down canvas drop cloths to protect the rest of your home and furniture because it's about to get messy. Spray your walls with warm water and let it soak in for 5 minutes. Then you'll use a drywall knife to GENTLY scrape away the texture. If the texture is chipping, peeling or breaking away, you're good to keep scraping. If your walls were textured using plaster, water won't help it. You'll need to sand the texture away.
Once you've scraped the entire surface, it's time to sand. Be careful not to use too intense of a grit, you don't want to damage your walls. Go with 120- 150 to be safe! If your walls are plaster, you'll have to use some elbow grease!
After sanding, you'll need to level out the surfaces with drywall compound, and once dry maybe apply a second coat. Leave it to dry and then sand and paint!
Related: Creating the Perfect Dressing Room: Here is How You Do It!
Make your peace with it
If all of this sounds like WAYY too much work for just some texture on a wall, time to make your peace! Textured walls are not the end of the world. 
If you're painting your wall, be sure to use flat paint. Anything with gloss or shine will bring attention to the texture. With the right furniture and artwork, you'll barely notice the texture!
Final thoughts
Whatever removal method you choose, beautiful walls are just around the corner! (Even if you've made your peace!) Let us know what you did with your textured walls!
At Nestrs we are obsessed with creating beautiful spaces. Sometimes those spaces have texture and sometimes they don't! We are here to help you save your space from some unwanted texture. Contact us today to get started!