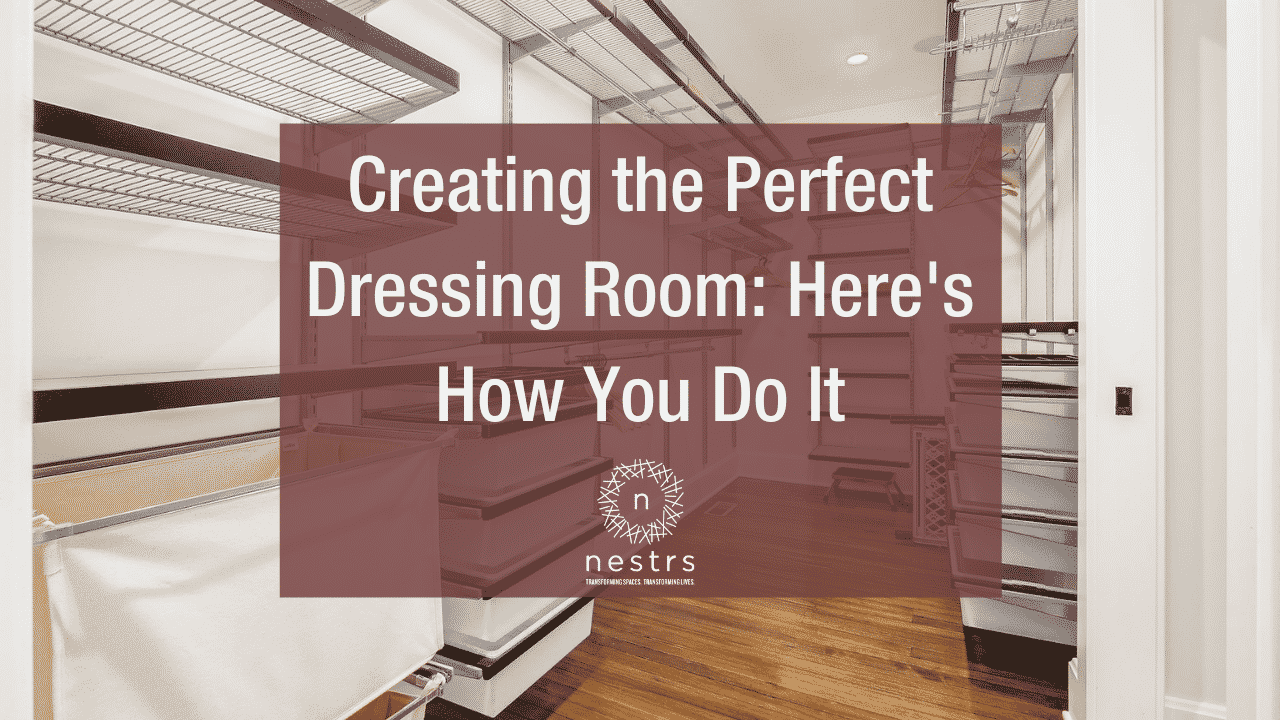 10 May

Creating The Perfect Dressing Room – Here Is How You Do It

If you're anything like me, your Pinterest boards are overflowing with walk-in closet ideas. The dream is to have everything organized, visible, and separate from your main bedroom. Not only would our closet dreams extend the life of the clothes and declutter the space but adding a dressing room or walk-in closet does more than just add function, it adds value! 

Now I know what you're thinking, "I don't have a massive house, so why am I even wasting my time reading this post?". Even if your bedroom is on the smaller side, stick with me!!

Related: How To Best Light A Living Room Using No Overhead Light
How To Create Your Dream Closet Design
While we daydream of the ultimate Carrie Bradshaw wardrobe, most of the time we don't already have that luxurious dressing room space. So how do we fulfill those pinterest board dreams within the walls of our own home? We'll show you! Let's walk through where we can create that perfect dressing room in your own space, and just how to do it!
What is your ideal dressing room? 
We all have our own style and preferences, so remember that your dressing room is a personal space. You'll want the design to reflect who you are while also remaining practical and functional.
First things first, you'll need to figure out how you need the dressing room to function. This means assessing how much stuff you have and what space you really have to work with. If you have a smaller space, do you have an open stretch of wall or an alcove in your room?
There are many kinds of wardrobes from open fronts with everything hung and color-coordinated, to separate rooms that feel like a personal boutique with shelves and a designated space for accessories. Do you prefer folding or hanging your clothes?
What are some inspirations? 
Now for some FUN! Open up Pinterest and Instagram and save closet ideas that speak to you! Try searching keywords like, "walk-in closet ideas", "dressing room ideas", "Closet organization", "small closet ideas", etc.
Pay attention to how furniture and accessories are used in the photos you like. This means shelves, drawers, mirrors, stools, etc. Especially if your space is small, we'll have to get creative to make the dressing room feel larger. 
No matter what the size of your space is, it's a good idea to save as many pictures as possible. This will help you feel confident about how to create the perfect dressing room for your style and space. Once you have a boatload of ideas you like, then you can go back and sift through to get a clear idea of what you really want.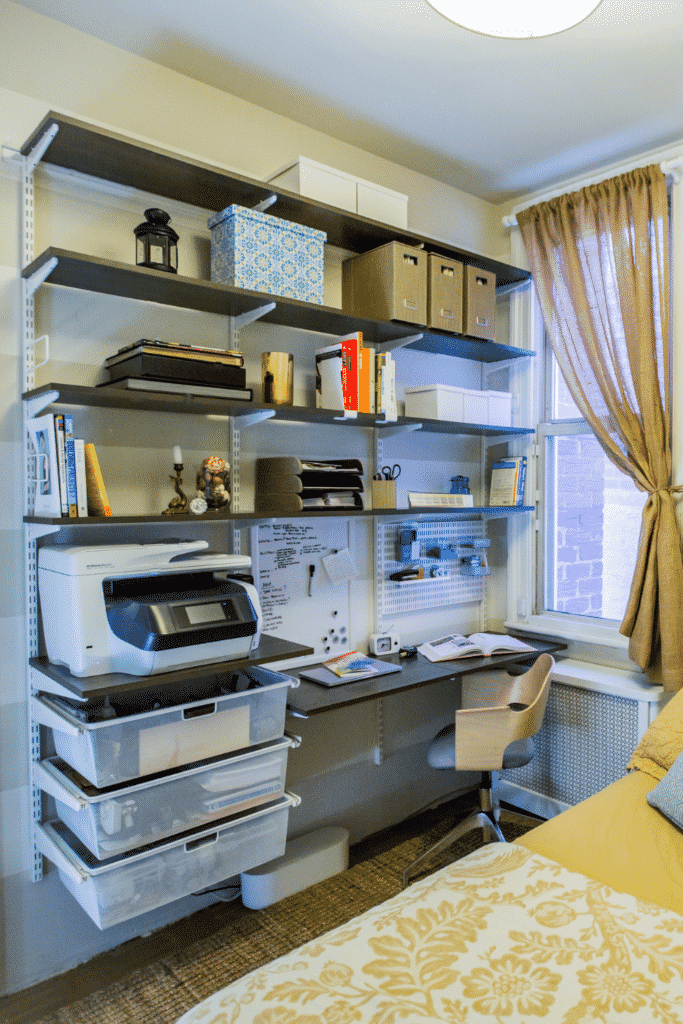 Where to locate it? 
I know this is probably your biggest question. So let's get into it!
The simplest option is to use a spare box bedroom, take it over, and use it as your luxurious dressing room. This really keeps things separate and can be great if the spare room is right next to your room. If you're wanting to do a full renovation and have a large budget, you could close off the door to the bedroom and knock down the wall you share with the spare room. 
If the spare room isn't an option, look for an alcove in your room. Is there room to place a partition and make it a dressing area? 
For the final option, I need you to bear with me and throw away your standard idea of a closet that you just walk into. Do you have a large open wall? By using a long bank of wardrobes and shelving, this could be an option that will feel grand while also giving you a visual of everything in your wardrobe. If you're afraid of your clothes being on display and not looking perfectly organized 24/7, you could also add curtains or use wardrobe units with doors.
Are you looking to start a home redesign or renovation project but need a little help figuring out how to begin? Take a look at the quality resources offered by Nick and Sara over at Nestrs today.
Dressing room design basics 
Now that you have a basic idea of where you want to put your dressing room, let's talk about some design basics. Hopefully, ideas are flowing from all those Pinterest boards, however, I know it can be difficult to translate a picture to your own space. 
The first step is deciding between open or closed storage systems. In open systems, you'll use railings and shelves. This option takes up the least amount of space and is great if you want to be able to see your clothes.
In closed systems, you typically have sealed cabinet doors. This option does take up more space so it may not be the best option for smaller spaces, however, your clutter will be hidden!
Once you've decided, it's time to measure! Some shelves and rails can be cut to size so you can maximize your space, but a lot of closed systems are fixed-sized. Remember to measure twice to save yourself a headache in the future!
Related: How to Choose Affordable High-End Kitchen Appliances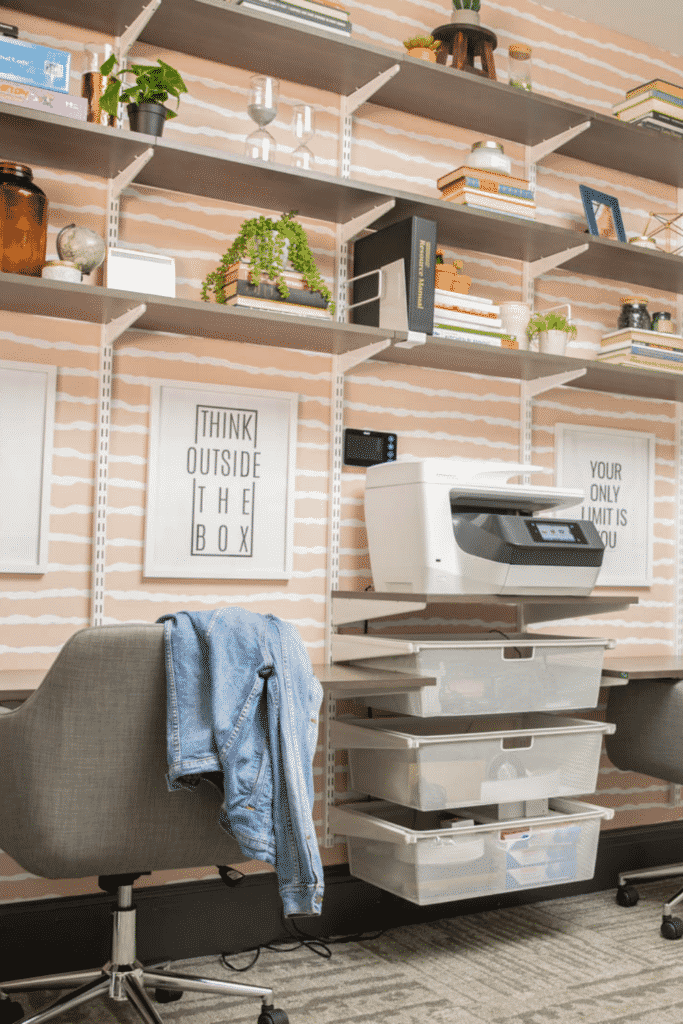 Getting Started 
I know I said searching for inspiration was the fun part, but this is the REAL fun part! Time to let your creativity flow!
Wall color 
If your space is small you may want to stick with more neutral colors. This will keep everything light and bright and overall make your dressing room feel larger! Maybe a light gray or white? Remember that your clothes will typically be all different colors, so a neutral-colored wall can be the perfect backdrop. 
If your dressing room is larger, maybe you were able to use that spare room, you do have a little more wiggle room on the wall color. Personally, I would keep the majority of the walls neutral and then maybe add an accent wall? There are some really fun wallpapers out there that can easily add personality to your space!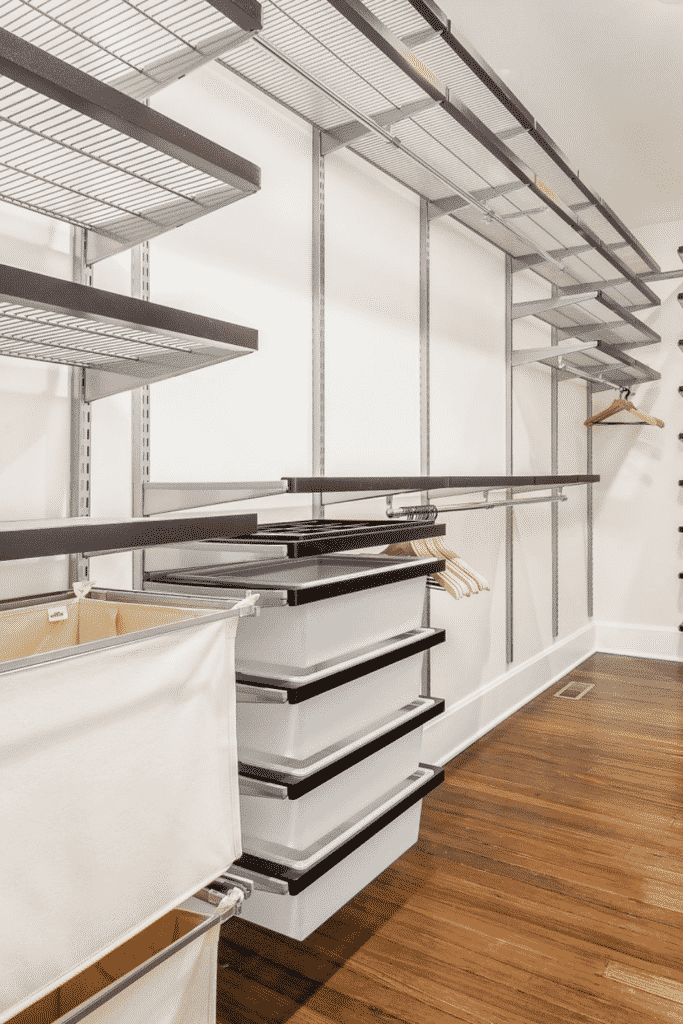 Flooring 
Just like the walls, you should probably keep the floors neutral too…
If you have carpet or wood flooring in your bedroom already, it's best to stick with the same flooring in your dressing room. If you want to add a little flare to your wood or hard flooring, think about adding a runner to soften them up!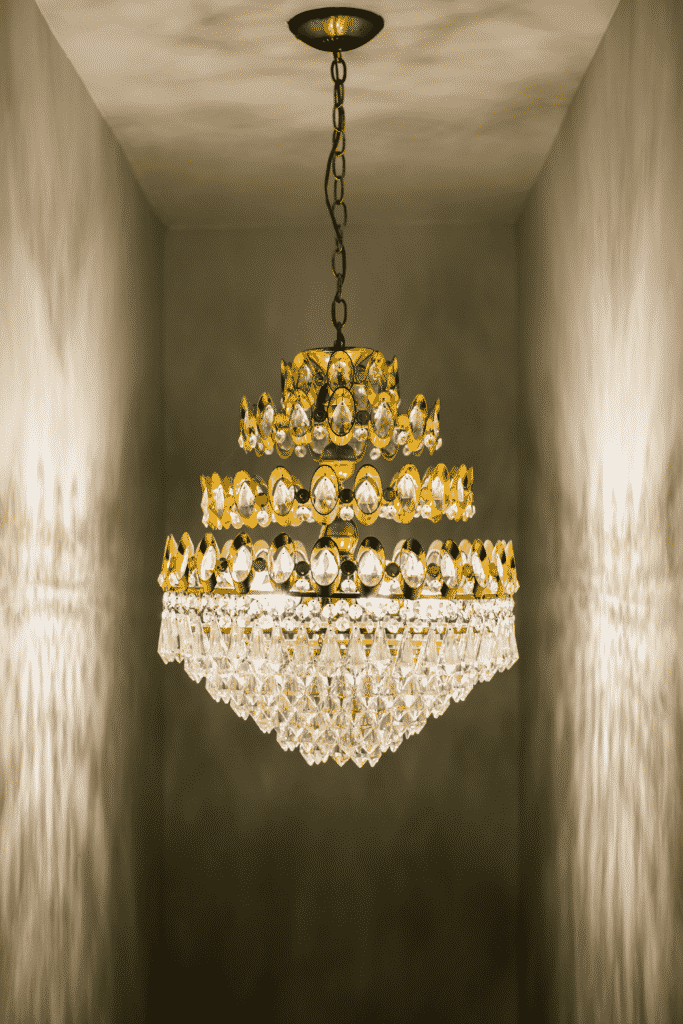 Lighting ideas 
Lighting is SUPER important in your closet because you want to be able to SEE your clothes. If you are lucky enough to have a window in your dressing room, this is golden. We love natural light. Either way I would suggest layering your lights.
Pendant lights are great because they cover a lot of ground and can be added styling pieces. But don't stop there, we need layers! Next you'll want to add LED strip lighting under cabinets and railings. You can also add this strip lighting to your mirror!
Related: The Best Kitchen Ceiling Light Fixtures For Your Home
Final Word 
We hope you're feeling inspired to make your Pinterest boards and Carrie Bradshaw dreams come to life! Remember you don't need a mansion to have the perfect dressing room. As long as you're willing to get creative, you can truly make something that will fit your style and taste while also giving you all the functions you need! 
Do you want to renovate your home or even prepare it to be used as an Airbnb? Check out the quality resources provided by Nestrs today to learn some of the best ways to go about these projects.