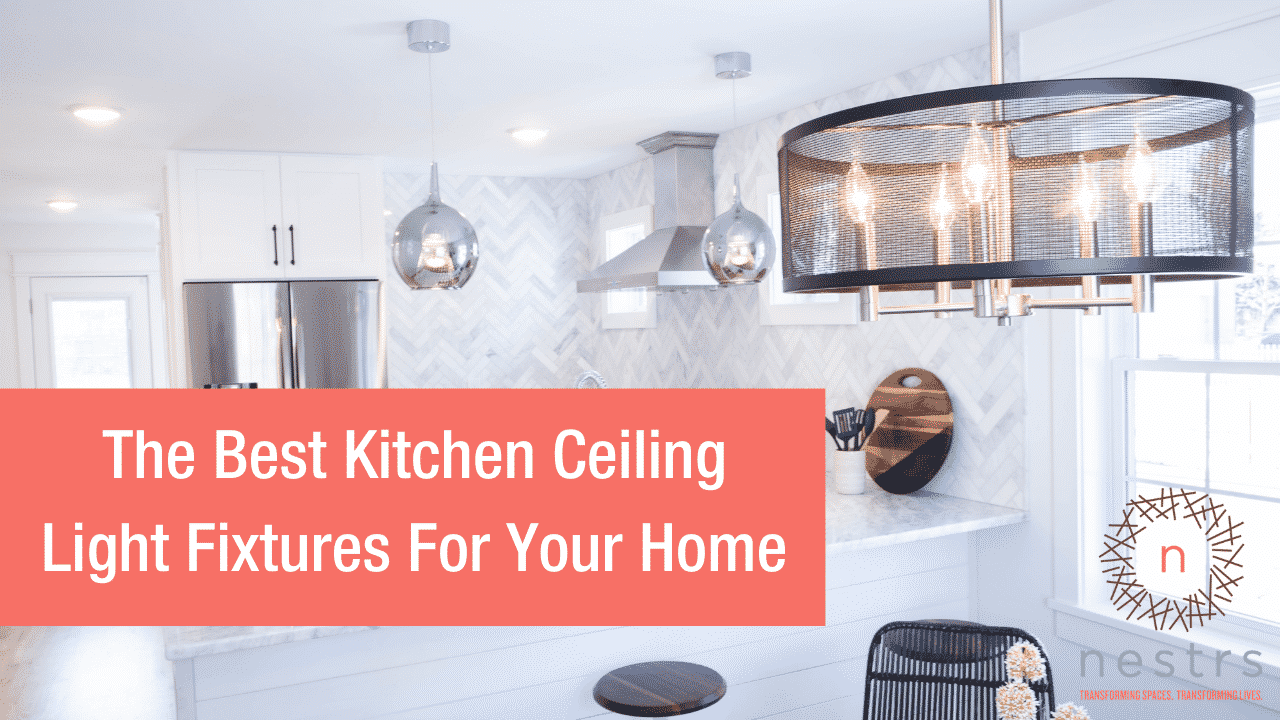 03 May

The Best Kitchen Ceiling Light Fixtures For Your Home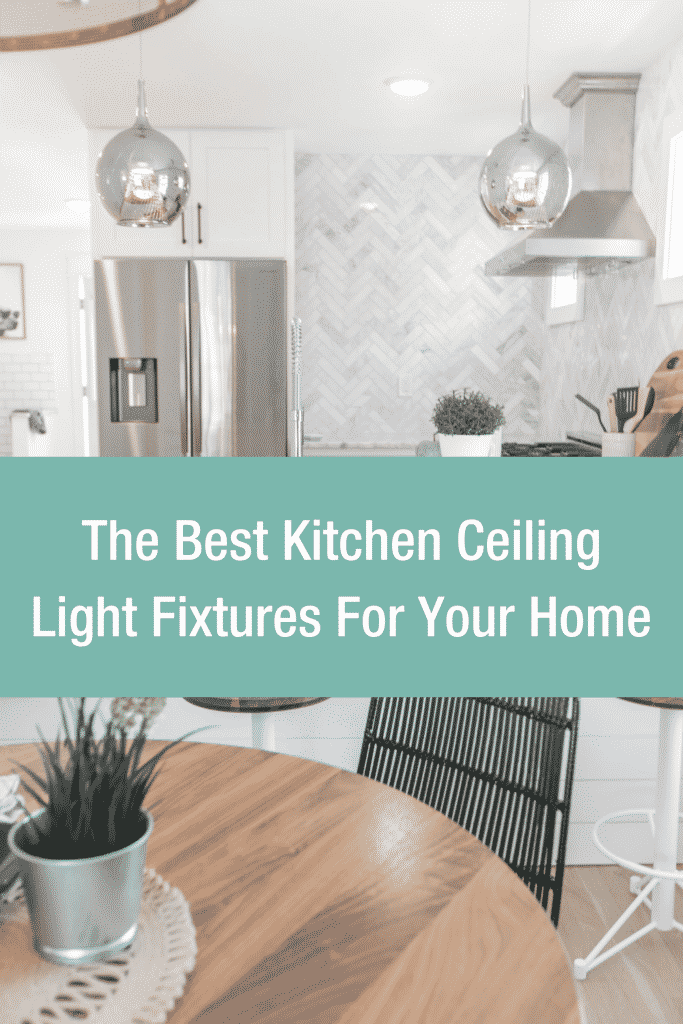 Lighting plays a significant role in the look and feel of a space. In the kitchen especially, lighting needs to be as functional as it is appealing. 
What lighting you choose depends on your priorities, whether that be general or more specific illumination. 
Here we'll break down the best kitchen ceiling lighting fixtures and give you the pros and cons of each.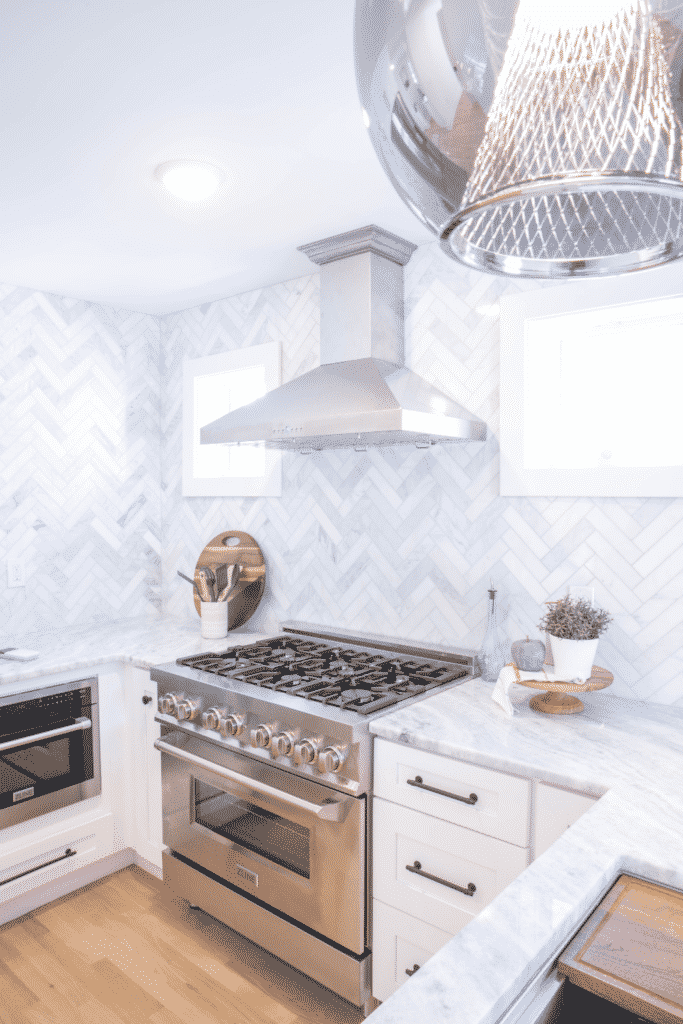 Recessed Lighting
One option that is popular in a lot of kitchens or even living rooms, is recessed lighting. These are light fixtures built into a hollow opening of the ceiling with typical diameters of 4-6 inches. 
There are three components to any recessed lighting fixture: the bulb, trim, and housing. The trim is the visible part of the light, ya know the part you see. The housing is what gets installed in the hole part, or of we're being technical, the hollow part of the ceiling. This is the "fixture". The bulb is just your typical bulb, what you'd find on any light, and there are many bulb choices for recessed lighting.
This type of lighting is popular for many reasons but one big appeal is that it illuminates different areas in the kitchen, acting as a spotlight. Since the kitchen is a functional space, this helps light up work areas such as the sink or oven.
You do have to be careful of the placement for recessed lighting. Because they point downward, there is a chance of shadowing if placed directly above a high traffic area such as a sink.
Flush-Mount Fixtures
Flush-mount fixtures are the overhead lighting you see in many rooms. They light a room well and extend light in all directions. A great place for flush mount fixtures, is an entryway or hallway. The light kind of spreads out. 
This means the lighting doesn't illuminate focused areas in your space. They aren't great for workstations such as the kitchens because the light isn't focused on specific areas like the sink or fridge. Further, the lighting isn't adjustable.
Related: How To Brighten Up A Room With These Simple Tips
Track Lighting
Inspired by recessed lighting, track lighting is similar but solves some of recessed lighting's most significant problems. Track lighting isn't installed along the ceiling; the lights are installed along a track and are adjustable.
While this version of overhead lighting still creates shadowing like recessed lighting, the fixtures can be moved to solve the issue of intrusive shadows. You can also add or remove fixtures from the track, depending on your lighting needs. 
Overall, track lighting is more adjustable and customizable depending on what your situation calls for. If you want to move forward with track lighting, note that fixtures using energy-efficient LED bulbs are small but mighty. They also produce less heat and waste less energy, which is always a plus!
Pendant Fixtures
Hanging pendant fixtures are common in kitchens. These are the fixtures that typically hang towards the front of the kitchen, over the bar or island. These can be fixed, or they can move if installed in tracks. These are often vertically adjustable and sit just above head-level.
Hanging pendant lights need to be installed sparingly. While recessed lighting can be multiplied, pendant lights hang down and can look crowded if you use more than three or four. When installing these fixtures, consider how spaced out you want them to be. You can test out different configurations to determine which best illuminates your kitchen.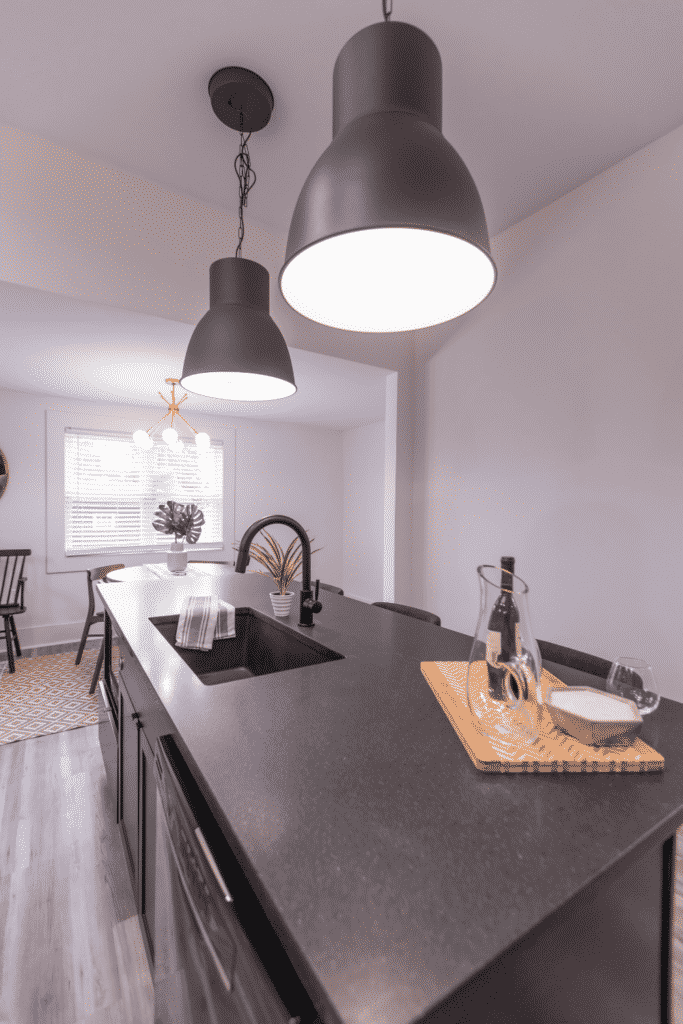 Under-Cabinet Lighting
Under-cabinet lighting is a sleek option that accompanies ceiling lighting. As the name suggests, under cabinet lighting is installed beneath cabinets and shines down onto countertops. This light is often bright and focused, helping illuminate dark spots that the ceiling fixtures can't reach.
Under-cabinet lighting doesn't cause shadowing, meaning it more conveniently illuminates countertops. After installation, this lighting is almost unnoticeable. The only thing you'll be able to see are the crumbs you left behind!
Not quite sure if under-cabinet lighting is for you? Nestrs specializes in home renovation and design. We can help you install the best lighting for your kitchen. Learn more!
Alternative Lighting
While the above options are excellent choices, they aren't necessarily statement pieces. It's not uncommon for other areas of the house to hang chandeliers or other unique fixtures that capture people's attention, and there's a growing push to do so in kitchens.
These statement fixtures are most functionally hung over islands and dining areas to act as a central light source. These pair nicely with recessed lighting or track lighting. 
These statement fixtures can be chandeliers, or you can opt for a modern look using some funky and unique shapes. Whichever options you choose, you'll want to ensure it ties the space together and fits with the rest of your kitchen.
Work from the ground up
Profile lighting is installed below cabinets or the kitchen island, and it creates a more desirable feel for some. 
When choosing kitchen lighting, you want to work from the ground up. If you decide to install profile lighting, that will significantly impact your kitchen's ambiance. Likewise, if you pass on profile lighting, that creates an entirely new feel. This informs the rest of your lighting decisions.
After deciding on profile lighting, move to under the cabinet lighting. Those decisions will impact your overhead lighting choices, whether that be recessed, track, pendant, or anything else. 
Related: How To Select The Right Hardware For Your Kitchen Cabinets With Top Knobs
Highlight Features
Which areas of your kitchen are you most proud of? The answer to this question can impact your lighting style and placement. Perhaps this feature is your kitchen island or a nice appliance in the kitchen. Let's show it off!
To highlight a feature, you'll want to use overhead LED lights that illuminate brightly. LED lights are more efficient and last longer, so you'll get more bang for your buck.
In a nutshell
When it comes to kitchen lighting, there's no one-size-fits-all. Your decision depends on the type of illumination you want to have and what you feel works best with your overall kitchen design.
Ultimately, you want your kitchen to be functional and enjoyable, and the lighting you choose has a significant impact on that.
Still aren't sure which lighting to choose for your kitchen? Nestrs can help! We style and design homes that are as beautiful as they are functional. Learn more today. 
Related: IKEA Kitchen Storage Ideas