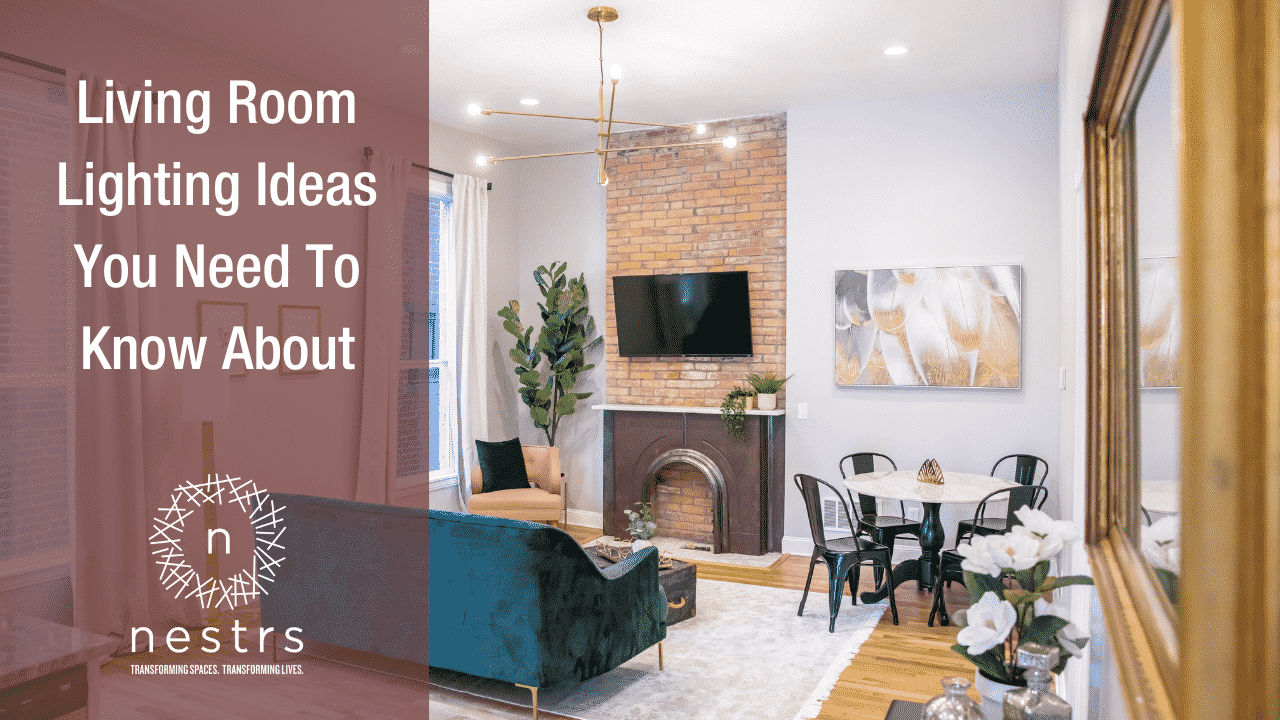 17 May

Living Room Lighting Ideas You Need To Know About

While lighting is oftentimes overlooked when it comes to the design and style of a room, it should not be underestimated. Yeah, we all know we need lighting, so we aren't living in darkness, but it's more than just a thing we need. 

Lighting is all about layers and adding interest to your space. We always say, "lighting is the jewelry of a room" and your entire home. I don't mean flashy or sparkly necessarily. If that's your style, cool, but I'm talking about that final touch that makes it feel complete and put together.

So let's start with the living room and talk about how lighting can elevate your space!

Related: How to Best Light a Living Room Using no Overhead Light
Moroccan Light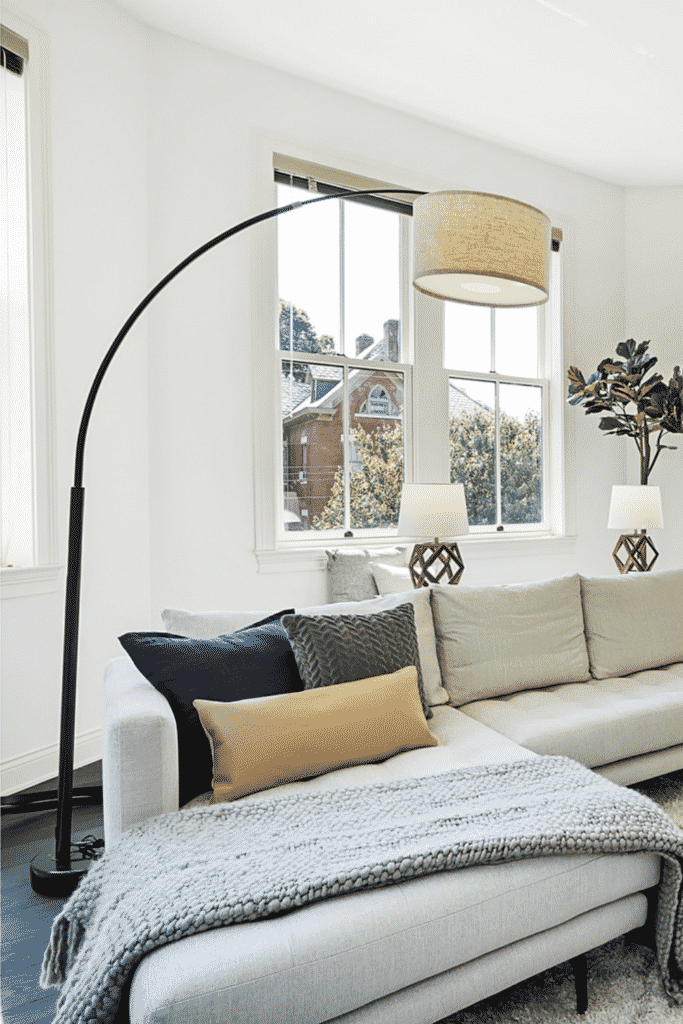 If you're looking to make a statement with a single light, look no further than a Moroccan-inspired light fixture. You don't need Moroccan-style decor either! These lighting options have intricate designs that can create some amazing patterns with shadows. The designs play with the light to create an overall cozy, eclectic ambiance in your living room.  
Oversized Statement Light
It's all in the name, but you can make lighting a statement, and you can make lighting a STATEMENT. If you have space, perhaps high ceilings, go big and bold with an oversized statement light. 
Old and New
If your living room is more of a contemporary style, consider adding a vintage-inspired light. Mixing the old and new is a great way to keep it from feeling cold and stuffy. Not only will it make your living room feel more curated and styled, but it'll also warm up your space and feel more welcoming overall.
Wall Light as Art
If you have a lot of wall space but need more light, consider killing two birds with one stone. Using a wall light as art can do just that. Wall lights aren't usually enough light for the entire room, but they can add lighting layers. This is a unique option if you want to change the mood of the space, possibly for a movie night or a little Netflix and chill? 
Sculpture Light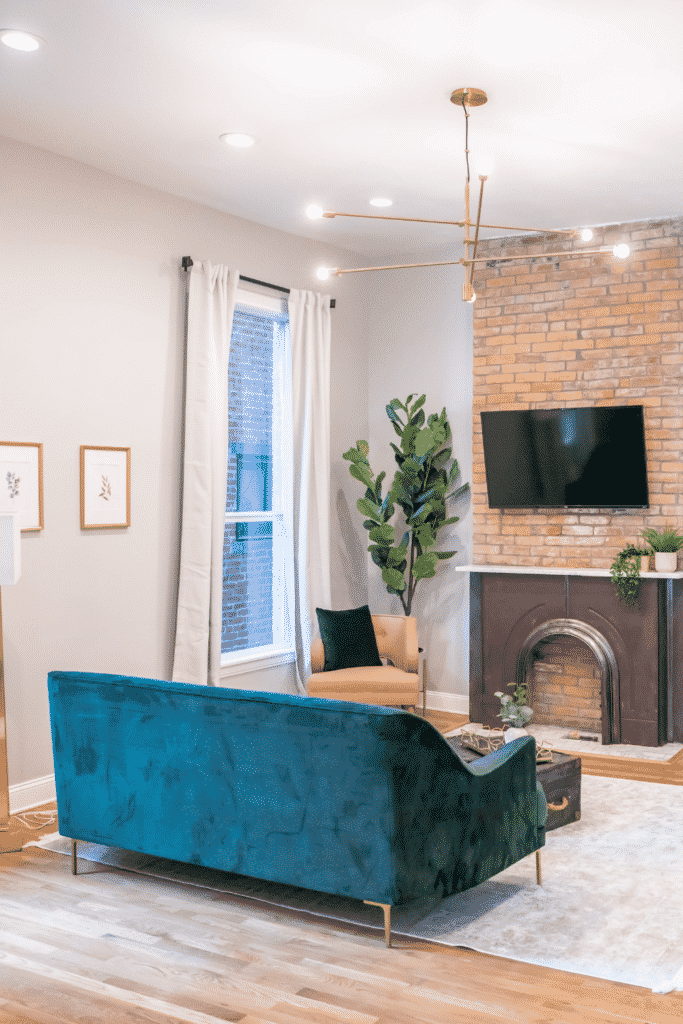 Choosing a sculptured light serves two different purposes. Not only does it light up your space, but it's art! It looks just as good when it's turned off as when it's turned on. Play around with angles, shapes, and proportions and go BOLD!
Colorful Lights
Colorful lights can create an entirely different atmosphere in your living room. If you're someone who loves color and bold choices, go for it! Say your walls and overall color scheme have a lot of pinks and purples. Try pairing lamps and sconces with similar tones to add to the look!
Mismatched Lights
Especially when choosing lamps for the ends of your couch, don't think you need to buy two of the same thing! Mismatched lighting can honestly be the perfect match for your living room. I don't mean just two different lamps either. You could do a table lamp on one side and then a hanging pendant on the other! This adds some personality to your space with the unexpected element. 
Built-In Lighting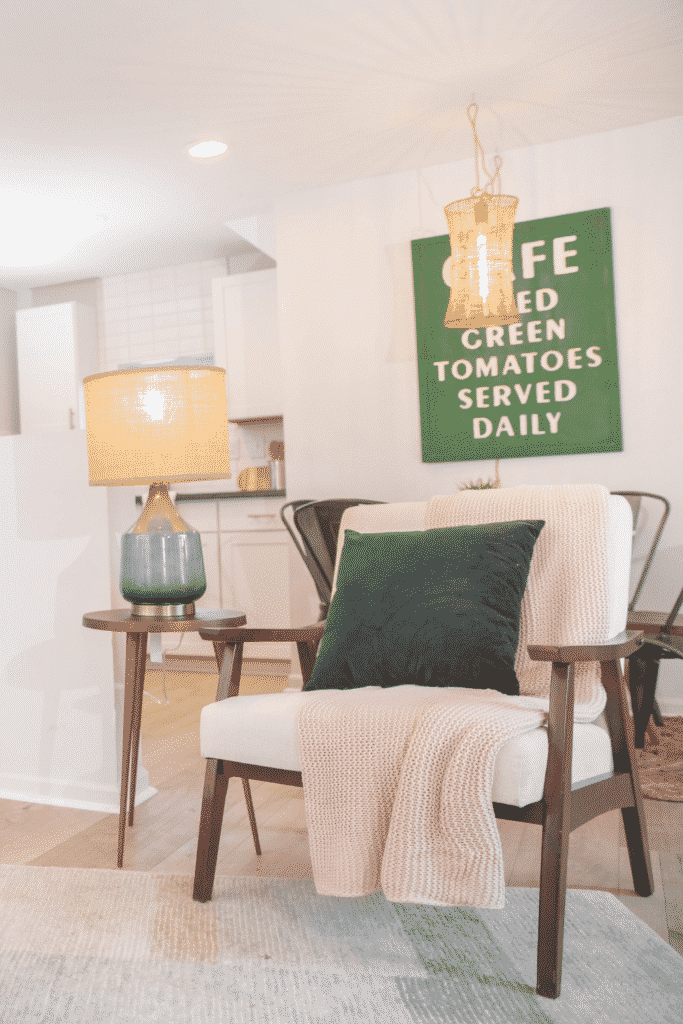 Another way to add jewelry to your space is through built-in lighting. By built-in, I mean the lighting you don't typically see unless it's turned on. Try adding under cabinet lighting to bookcases or led strip lighting to illuminate a console from underneath. While these lights aren't the room's main focus, they elevate and light up those dark corners.
Related: The Best Kitchen Ceiling Light Fixtures for Your Home
Transparent Lighting
If you're lucky enough to have plenty of windows in your living room, let's work with them, not against them. Consider adding fixtures that don't obstruct the light by choosing transparent lighting. Maybe a chandelier with crystals? Or if that isn't your style, perhaps table lamps with clear glass bases?
Are you considering renovating your home but aren't sure how to get started? Check out the quality resources provided by Nestrs today to learn more about what you'll need to do.
Candlelight
Talk about MOOD lighting. But even more than that, candlelight is feel-good lighting. No matter your style, adding candles (lit or unlit) makes your living room feel inviting and comfortable. Try alternating heights and different kinds of candle holders to add some extra special touches.
Highlight Existing Architecture
Look around your living room and look for the existing architecture you want to highlight. Maybe you have some intricate molding for archways or some fabulous built-ins. Perhaps you have a mix of things! Lighting is a great way to highlight those existing features to make everything come together. 
Fireplace
Ahh, the warm glow of a fireplace. If you're fortunate enough to own a fireplace, first off, TOTALLY jealous, but for real, what a cozy light source. When the fire is going, we all know that's the focal point. But what about when it's not lit? If you're adding lighting to your living room, you want to highlight that beautiful feature. Consider choosing a fixture with warmer tones. Also, have you ever considered adding some eco-friendly LED pillar candles? Those flickering flames are pretty convincing!
Chandelier for Glam
If you want to take the "jewelry of the room" a bit more seriously, consider adding a chandelier. They can be very glamorous without being the outdated version we're used to seeing in older homes. If you pair your chandelier with styling that has deeper, richer tones like emerald green and darker blues, it can make your living room classy and luxurious.
How to Use Living Room Lamps
The secret weapon to making your living room lighting feel complete is to use lamps in creative ways. Let me tell you how!
Brighten alcoves and dark corners
Take a look around and find those corners or hidden spots of the room where your pendant light or overhead light doesn't seem to reach. This is where you add a lamp! It can help your room feel bigger and add depth. It's all about the layers!
Related: How to Choose The Right Light Fixtures for Your Home
Create a reading corner
If you want to add depth to your living room, or maybe you have a larger nook that doesn't get a lot of light, add a reading corner! All you need is a chair and a reading lamp. This brings extra value to your space because that unused dark corner is now a cozy place to read a good book!
Mix Materials
We are ALL about mixing materials. I know your first instinct is to pick one and stick with it, but trust me! Mix metal and glass and even wood. They all can complement each other and truly make your living room feel curated and expensive.
Consider symmetry and order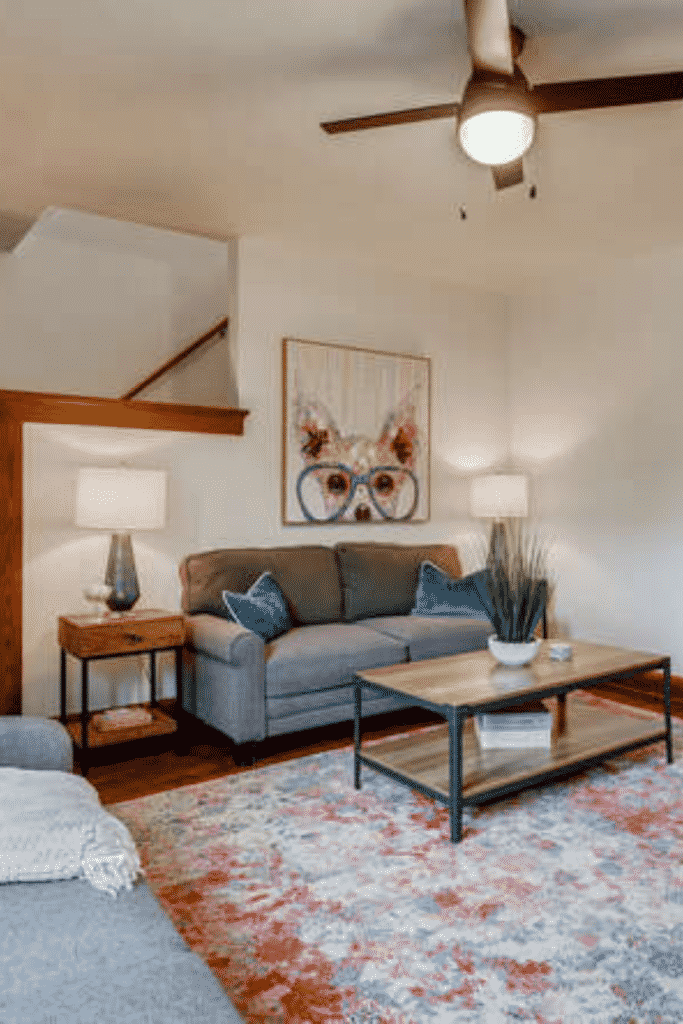 I know we already covered not making things the same, BUT symmetry and order aren't a bad thing! If this is your style, run with it! Identical lamps, say on the other side of the sofa, can anchor the room and bring together all the different elements. If you'd like to take it one step further, set those lamps on identical tables!
Experiment with color and patterns
If you want to add some fun, colorful elements to your room but don't want to commit to painting a wall or buying a patterned sofa, experiment with your lamps. This is a great way to dip your toe into bold color. And guess what? If you hate it, it's just a lamp. You can change it out as frequently as you want!
In a nutshell
In a nutshell, the way you light your living room can either flatten or elevate your overall space. Don't be scared to try out some new ideas and push yourself outside of your comfort zone! 
Are you trying to turn your home into the perfect money-making Airbnb but aren't sure where to get started? Take a look at Nestrs today and check out their vast array of top-quality resources.