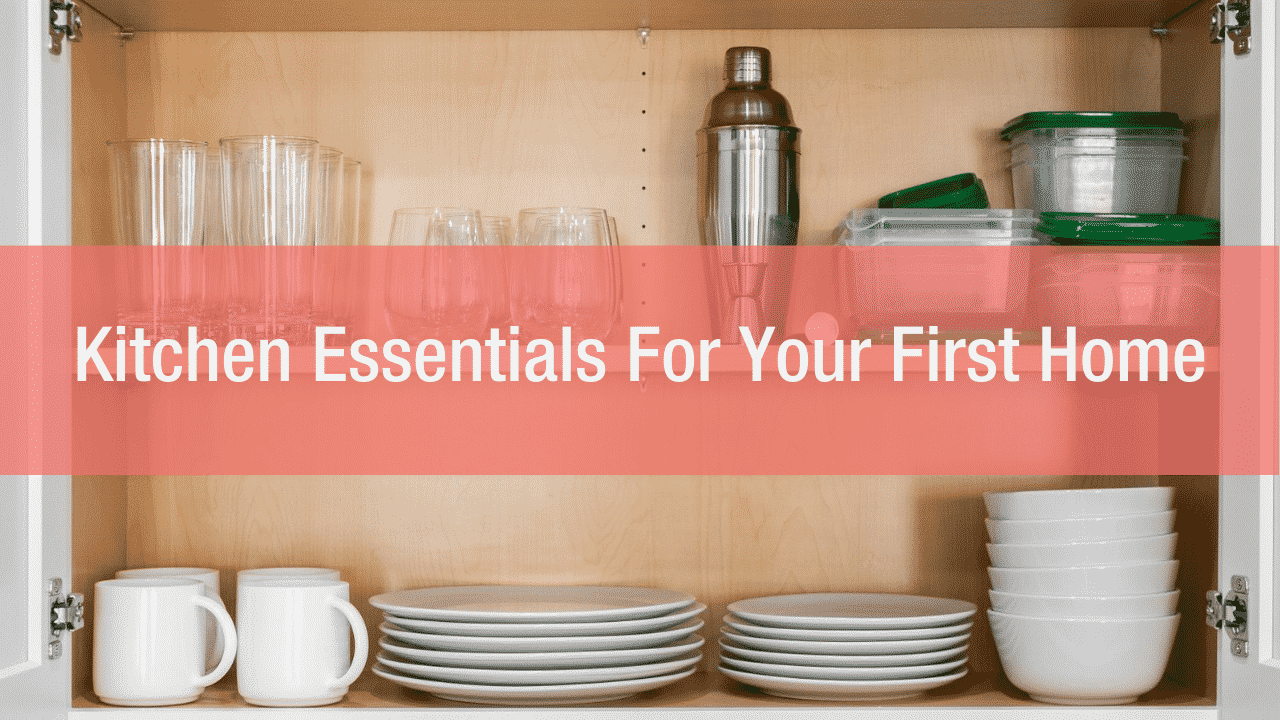 19 Jul

Kitchen Essentials For Your First Home

commission if you use them to make a purchase. Using the links is no extra cost to you; it only helps our small business! We want to share these products because we recommend them and stand by their quality. We got yo back!

Whether you're opening a new short-term rental, bought a new house, or just really wanting to start fresh and start over in the kitchen, we got you. After several years, we've stocked many kitchens and we'll let you in on what really is a basic essential and exactly what to get!

Related: The Ultimate First Apartment Checklist
What Are Kitchen Basics
The first real question you're probably wondering is what exactly is a "basic." We're talking tools and gadgets, all the "STUFF." Whether you prefer frozen pizzas or love to cook gourmet meals, there are some gadgets and tools that should be in every kitchen! Your favorite mug and one trusty plate are not going to cut it, and no, you can't eat everything with your favorite spoon!
Kitchen Essentials for Your First Home
Let's start with the most obvious items and work backward!
Pots and Pans 
The brand and type of cookware depend on your budget and how much you cook. However, I highly recommend getting a set, so you have a variety of sizes! 
Amazon Basics Non-Stick Cookware Set
Cuisinart Stainless Steel Professional Set
Bakeware
Trust me, you'll need more than just one cookie sheet! Again I suggest getting a set of different sizes!
Amazon Basics Non-Stick Oven Bakeware
Farberware Non-Stick Steel Bakeware
Dishware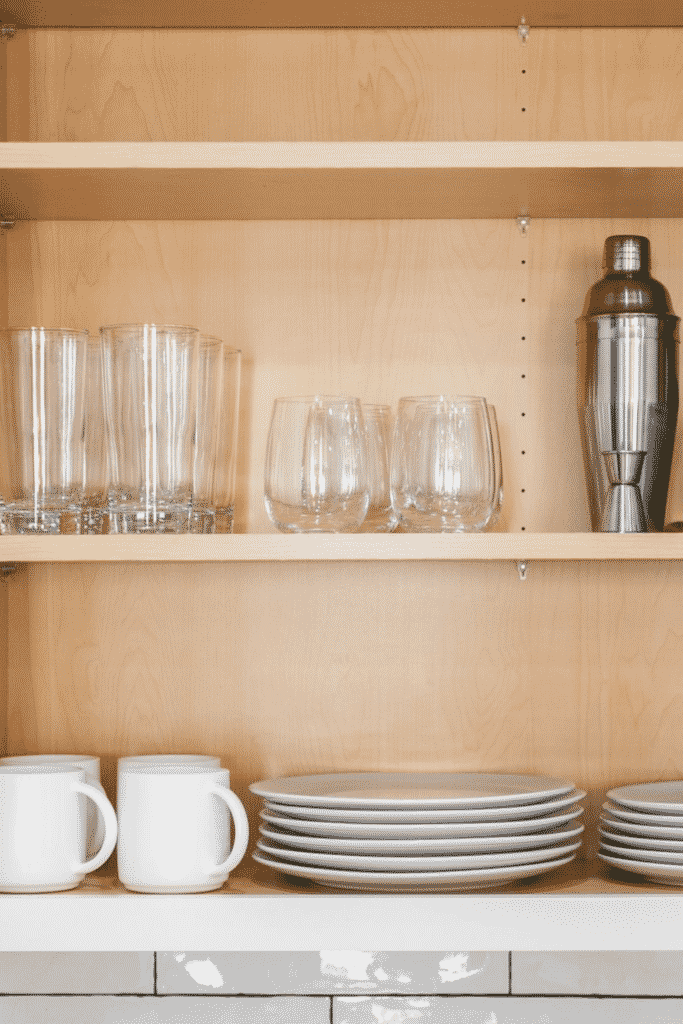 This is where you can get creative and show your style! Again, the more sets, the better. It'll either mean you don't have to run your dishwasher as often because you ran out, or you'll have plenty of matching sets when guests come over. Oh, and don't forget to make sure your set is dishwasher and microwave safe!
Stone Lain Coupe Dinnerware Set
Glasses
More opportunities to show your style! We recommend getting both short and tall glasses!
16 Piece Tumbler and Rocks Glass Set
Mugs
If you didn't get a dinnerware set that includes mugs, grab a couple of matching sets. If you're anything like me you have a bunch of random mugs from travel or with cute sayings, but it'll be good to have matching ones for guests!
Eating Utensils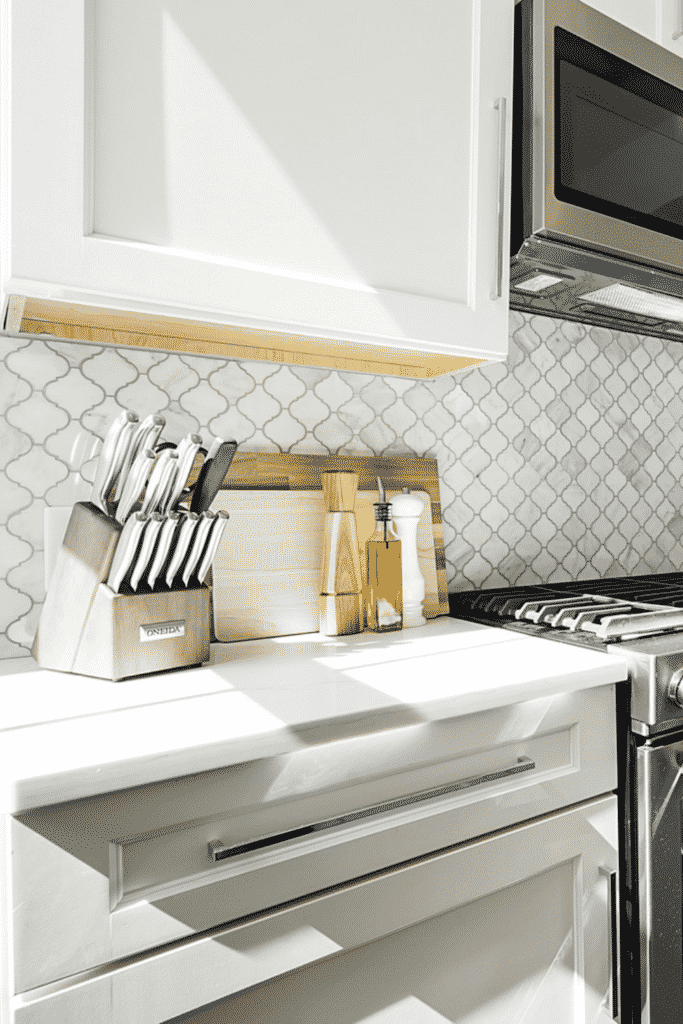 You'll want extras, trust me! 
Silverware Cutlery Flatware Set
Bottle Opener & Corkscrew
Always keep them handy and always have a backup!
Cooking Utensils
If you still haven't caught on, we are ALLL about the sets….
Strainer/Colander
Silverware Organizer
This is a necessity! Make sure you measure your drawer!
Silverware and Flatware Organizer
First home? When you're ready for design tips for your new place, contact Nestrs – we're obsessed with this stuff! 
Ice Cube Trays
Even if your fridge has an icemaker, we highly suggest getting back up ice cube trays. If you're having a get-together, you don't want to run out!
Paper Towel Holder
To each their own, but just setting the roll on the counter isn't cute…
Related: The Best Kitchen Ceiling Light Fixtures For Your Home
Storage Containers and Plastic Bags
Personally, I feel like I am always running out of food storage containers. Whether you're storing leftovers, packing a lunch, or bringing cookies to a potluck, you'll want plenty of containers in different sizes!
Food Storage Containers with Lids
Measuring Utensils
If measuring utensils aren't included in your cooking utensil set, make sure you add them to the list. I would get both dry and liquid measuring utensils!
Grater
Works for grating and zesting!
Juicer
Even if you're not into juicing, it's still good to have a little handheld citrus juicer!
Vegetable Peeler
Check your utensil set but make sure you have one!
Mixing Bowls
Mixing bowls can double as serving bowls! Make sure to get (you guessed it) a set of different sizes.
Cutting Board
Personally, I like having two different sets, one basic and another that's cute and can be used for appetizers and a charcuterie board!
Sharp Knives
Speaking from experience, a single sharp knife can not, in fact, be used for everything. 
Coffee Maker
This choice is yours! Personally, I like to make a regular pot of coffee but if you like single-serve pods, go for it. Or you can even get a coffee maker with both options like the one below!
Kettle
If you're an avid tea drinker, you may want something fancier. If not, at least get a basic kettle. 
Can Opener
You'll thank me later!
Toaster
This is a hot debate. (ha, get it) But, I think a toaster oven is WAY better than a simple toaster, you decide!
Microwave
Maybe I should've moved this higher on the list, but if you don't have one already, IT'S A MUST!
Blender
Smoothies, Soups, Margaritas?
Trash Can
No explanation is needed!
Amazon Basics Stainless Steel Trash Can
Recycling Bin
Don't forget a recycling bin! Be sure to check your local recycling guidelines to see what is acceptable! If you're short on space, maybe try a can with two sides, one for trash and the other for recycling.
Double-Sided Trash and Recycling Can
Dish Towels
When buying dish towels, some things to keep in mind are, are they absorbent or decorative and easy to clean? Here are some of our favorites!
Dish Drying Rack
You could try one that goes over the sink or a rack beside your sink!
Broom
I love this type of broom for a quick clean-up!
Mop
We are all about simple and easy, but think about getting a mop that is washable! This will save you a ton of money in the long run!
Vacuum Cleaner
A vacuum can, of course, be used all over the house but is great to keep close to the kitchen! For crumbs and quick cleanup consider a small handheld vacuum.
Bucket
One of those things you'll thank yourself for getting when you need it!
Related: How to Choose Affordable High-End Kitchen Appliances
Final Thoughts
Did we forget anything? Did we mention an item you hadn't thought of? What are your kitchen basics? Let us know!
Thinking about renovating, design, or even short-term rentals? We're your ultimate resource! Check out Nestrs today.