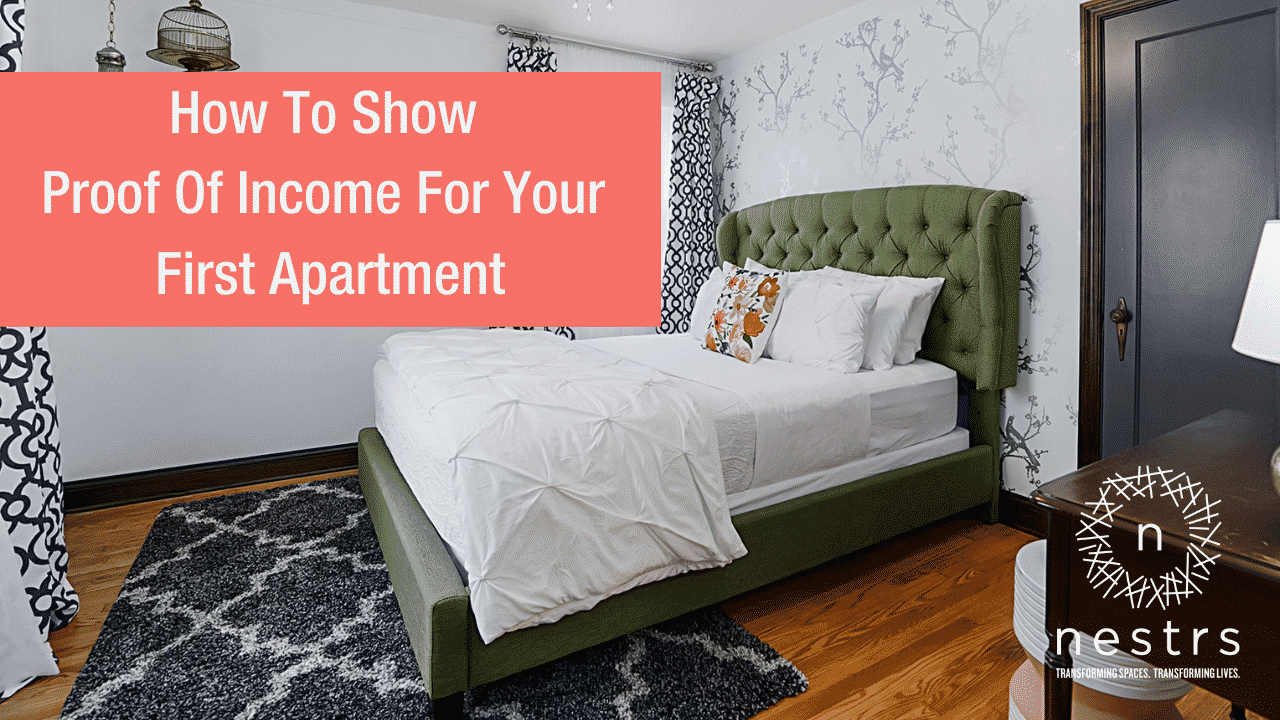 07 May

How To Show Proof Of Income For Your First Apartment
Congratulations, and welcome to "adulting"! You're about to rent your first apartment, but before you move in, you'll need to prove you can afford to pay rent with proof of income.
Here's how you can prove to your landlord that you can afford this baller new place!
What is proof of income, and why you need it
Even if you know you can afford an apartment you'll need the documentation to back it up. Proof of income verifies you can pay for something and gives your landlord, peace of mind. These documents show what you're earning, and while paystubs are the most common proof used, many other documents can verify your earnings.
Think about this from a landlord's perspective. They want to make sure you can afford the apartment you want to rent. Without checking proof of income, they may end up renting to someone who genuinely can't afford to pay rent and be stuck trying to evict them. That's a waste of time and resources.
Most of us look to rent apartments within our means, so there's no need to fear an income check. It's simply an official documentation process that proves to your landlord that you can afford your apartment.
This process also benefits you, the renter. Not only does this force you to honestly assess the level of rent you can afford, but this official documentation will protect you if there's ever a rent dispute. A landlord can't claim that you're unable to pay rent because you've proved that your earnings can support it.
Pay Stubs
Pay stubs are the most common way to show proof of income for those who receive regular paychecks. This is a valid method for full-time and part-time employees working for a company that sends biweekly or otherwise consistent payments. 
Pay stubs indicate what you've earned over a given period after insurance, taxes, and investments. This is the most robust method for verifying your income, but be aware that landlords may contact your employer. They want to make sure pay stubs are accurate and in no way forged.
Related: How To Throw A Housewarming Party: Tips and Tricks
Bank Statements
Bank statements, either paper or online documents, are given to you each month and outline the past month's transactions. This includes withdrawals, deposits, or any other expenses incurred and interest earned.
In theory, these show landlords your income and expenses and indicate whether or not you can afford to pay their requested rent.
That said, bank statements are both revealing and not always the most accurate. This paperwork tells your landlord your income, your spending habits, and if you've got any debt payments. This should be the last option.
These statements can also be misleading, as some people are paid on commission, for instance. For them, income can fluctuate month-to-month. The same is true for freelancers or contract workers.
Federal Income Tax Returns (IRS 1040)
Your tax returns give an annual overview of your earnings. When you file taxes each year, you receive a tax return highlighting what you earned the year before. 
Not everyone files tax returns. Four factors impact whether or not you exceed the gross income threshold for filing:
Age

Blindness

Ability to be claimed as a dependent

Marital status
The vast majority of people file taxes each year. In this case, your federal tax returns may be used as proof of income. When you fill out your IRS 1040, you'll report annual revenue, and this is the number your landlord will want to see.
As a tenant, you can request a computer transcript of your 1040 through the IRS.
Letter from Employer
While this isn't the most ironclad proof of income, it can work. Salary verification letters are written by your employer and indicate what you're earning, how long you've been working at the company, and what your role is. 
This is a big picture overview of your current employment status, beyond just your earnings. This also serves as proof of your credibility as a person. Your employer can speak to your reliability, trustworthiness, and easiness to work with.
Your landlord may call your employer or otherwise verify that the letter isn't forged, as it's incredibly easy to do so. Make sure whomever authors the letter is willing to hop on a phone call to verify.
Income Statement (W-2)
A W-2 form is filed by your employer each year. Your employer reports total wages to the IRS using your W-2. Whether you're a W-2 employee is defined by whether or not employers withhold your taxes and later give this information to the IRS. 
Employers further use your W-2 to report FICA taxes, and this is used in conjunction with a W-3 to determine your Social Security benefits.
Like your 1040, a W-2 outlines your annual earnings. It gives landlords an idea of your ability to pay rent based on your overall earnings.
Related: Real Estate Financial Planning Tips You Should Know
Workers' Compensation Letter
Workers' compensation exists to provide workers certain compensation, such as:
Payment for rehabilitation costs due to injury or illness sustained on the employers' property

Medical care

Payment for lost wages

Various other benefits
All businesses with employees should have workers' compensation insurance. If you're currently not working or working at a reduced capacity and are covered by workers' comp, you can submit a workers' comp letter outlining your remuneration. 
Note that workers' comp is fixed, so a landlord will likely want to see proof of income that extends after those benefits end.
Designing and styling your first-ever apartment can be daunting. Nestrs is here to help you create the apartment of your dreams. Learn more today!
Social Security Statement
If you're receiving Social Security benefits, this letter details your monthly income. A landlord can use this to verify that those amounts cover rent.
Pension
Some employers and careers give pensions after you retire. This can be enough to cover rent and may be used as proof of income.
Disability Insurance
If you have a disability and receive payment from the government, this can serve as your proof of income.
Court Ordered Payments Documents
Perhaps this is alimony or something else, but if another entity is legally required to pay you regularly in enough of a sum to cover rent, this can be used as proof of income, too.
Unemployment Documentation
Those who are unemployed receive payments from the government and these can be used as proof of income.
Note that these are time-stamped and will eventually end, so you'll want to have a plan for when that happens.
Proof of Income for Freelancers or the Self-Employed
If you're a freelancer or are self-employed, your income may be variable. You also aren't a W-2 employee who receives pay stubs or regular paychecks. Here's how you can verify your income anyway.
Tax Returns
Whether you're an employee or self-employed, you file tax returns. Although your payments may come at irregular times, tax returns provide an annual snapshot of your earnings. 
Tax returns prove to landlords that your overall earnings are strong enough to cover rent, even if it fluctuates on a monthly basis.
Related: Moving In Together: A Complete Guide
Bank Statements
You can provide your landlord with several months of bank statements to prove that your earnings and spending habits are enough to support paying rent. 
That said, because of how variable payment is as a freelancer or someone who's self-employed, this shouldn't be your first choice unless you're a newbie and don't have a valid tax return. 
Landlords may still be concerned about your ability to pay rent on time every month with how variable your monthly earnings are.
Invoices, deal memos, contracts, and other payment paperwork
Those who run their own businesses sign contracts and send invoices. This type of paperwork outlines who's paying you what and when. Providing many of these to your landlord is one option to prove that you'll be compensated enough to cover rent.
IRS Form 1099 Miscellaneous Income
If you're paid more than $600 as a contract worker, which many freelancers are on a part-time basis, you'll need to file a 1099-MISC during tax season. This details how much you were paid from that employer, even if you aren't working a typical full-time job.
Be upfront and discuss it
Trying to hide your role as a freelancer or self-employed individual doesn't work. 
Your best bet is to enter the conversation honestly and state immediately that you work for yourself. Backing that up with consistent, long-term documentation that proves your earnings is the best way to get the landlord on your side.
Ideal Rent-to-Income Ratio
Most importantly, if you're looking to rent a place, you want to make sure you can afford it. The rule of thumb is to look at your rent-to-income ratio and determine what percent of your income is allocated to rent. 
A standard metric is that your rent should occupy no more than 30% of your income.
How to Use the Rent Coverage Ratio
You may also want to consider your rent coverage ratio. In this case, you'll divide your income by your expenses. If that ratio is higher than 1.3, you should easily be able to afford that apartment you want.
Preparing to rent
Landlords want organized, responsible tenants. If you can prove that's who you are, you'll have a much better time securing a place. Come prepared with proper documentation and make your landlord's job as easy as possible.
Final thoughts
Renting your first apartment is incredibly exciting! Using any of the above methods to verify income means you're well on your way to signing the lease agreement and moving into your first place.
Need help designing and styling your new apartment? Nestrs is here for you. We'll fully furnish your apartment and turn it into the place of your dreams! Learn more today.