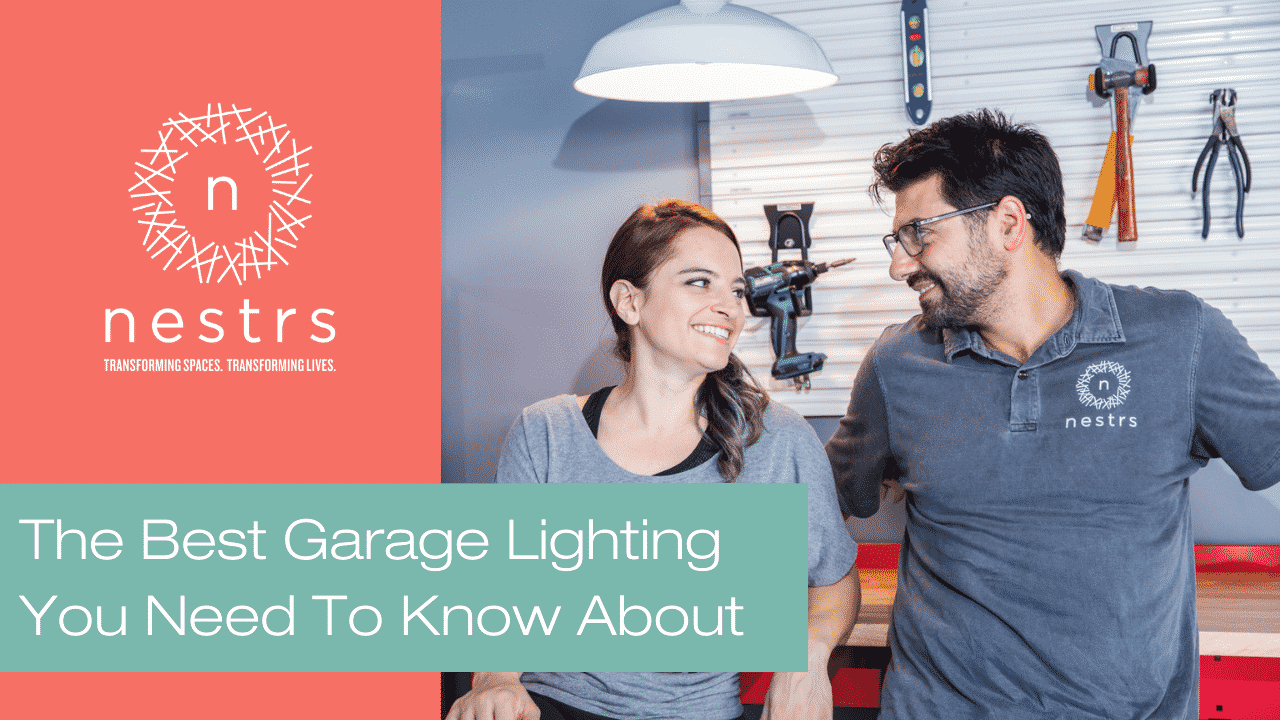 19 Mar

The Best Garage Lighting You Need to Know About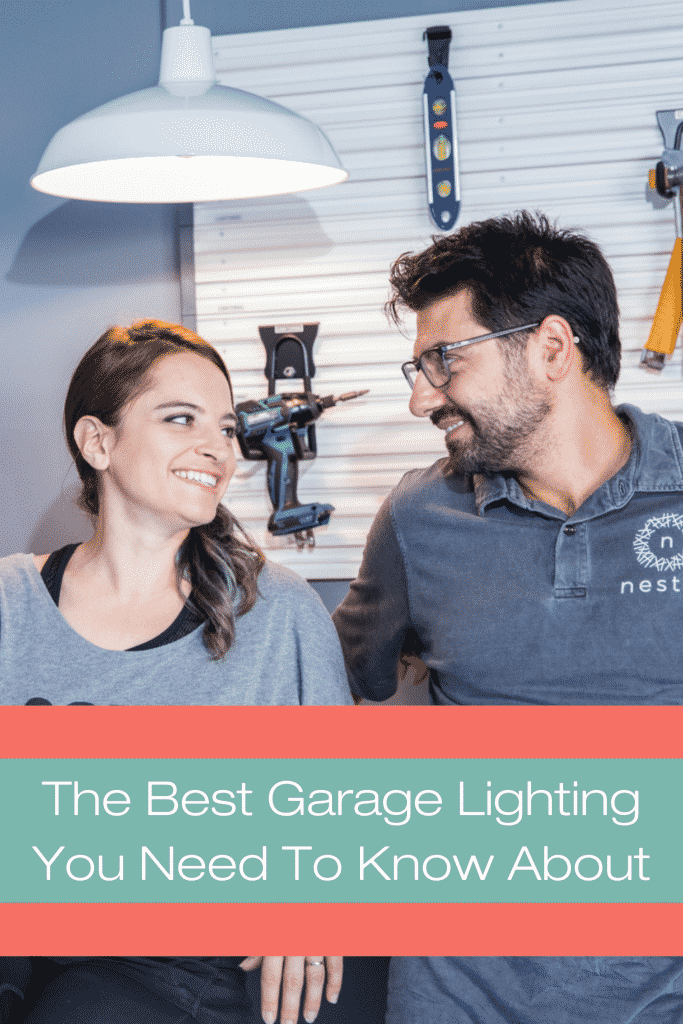 Is your garage looking like something out of an old horror movie — dark, dusty, and lit by a few faint tube lights? It's okay; we won't tell. What we will do is help you find the best garage lighting to brighten up your workspace! We typically prefer LED lighting to fluorescent because of the illumination quality, lifespan, and energy savings, but we'll look at a couple of fluorescent too if you prefer those bulbs.
Related: Organize Your Garage Like a Pro
Let's get to it — here are our top choices when it comes to garage lighting!
Why stop with your garage? Upgrading the lighting in the rest of your home really brightens up the space — get more design, style, and renovation tips from Nestrs!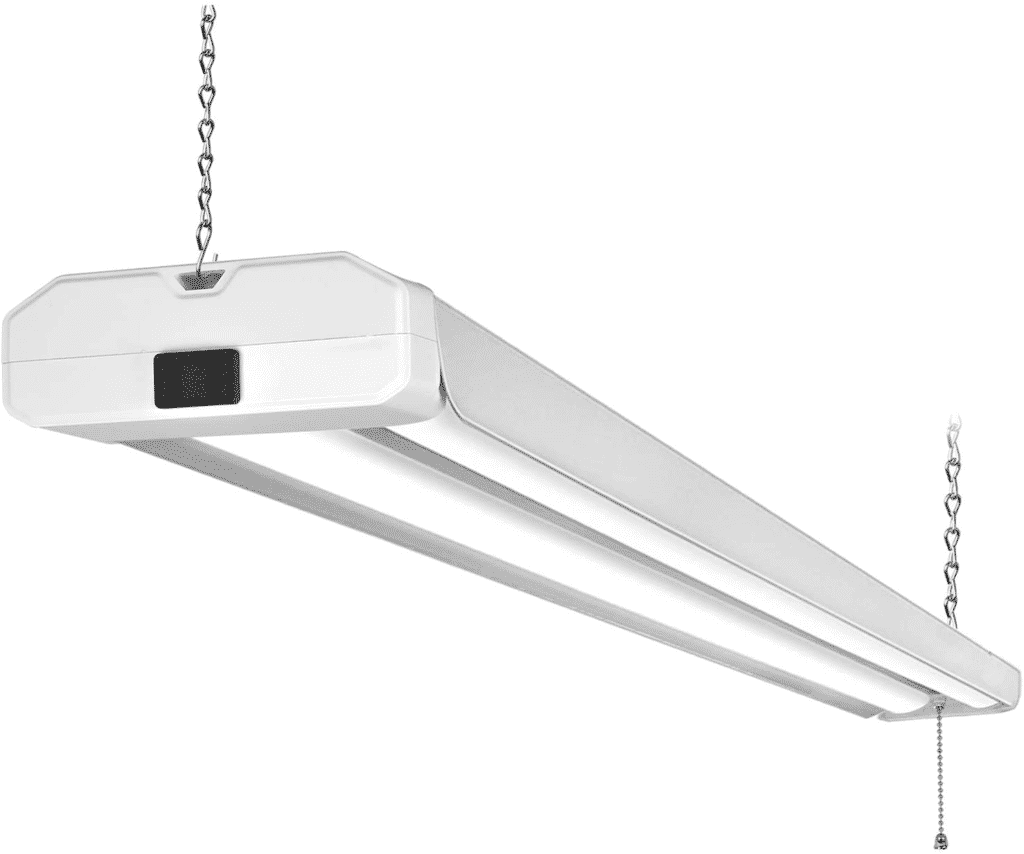 If you're looking for an energy-efficient, bright light fixture for your garage, this 42-watt daylight LED by Hykolity is a perfect fit. You can hang it from the ceiling or mount it flush. Unlike some garage lighting, this light doesn't have to get hardwired in; you can plug it into any nearby electrical outlets.
Each one of these light fixtures is four feet long, and you can link four of them together for an even brighter garage — not that you'll need to; one of these LED lights puts out 3,700 lumens. The light these bulbs put out is smoother and brighter than a typical fluorescent bulb.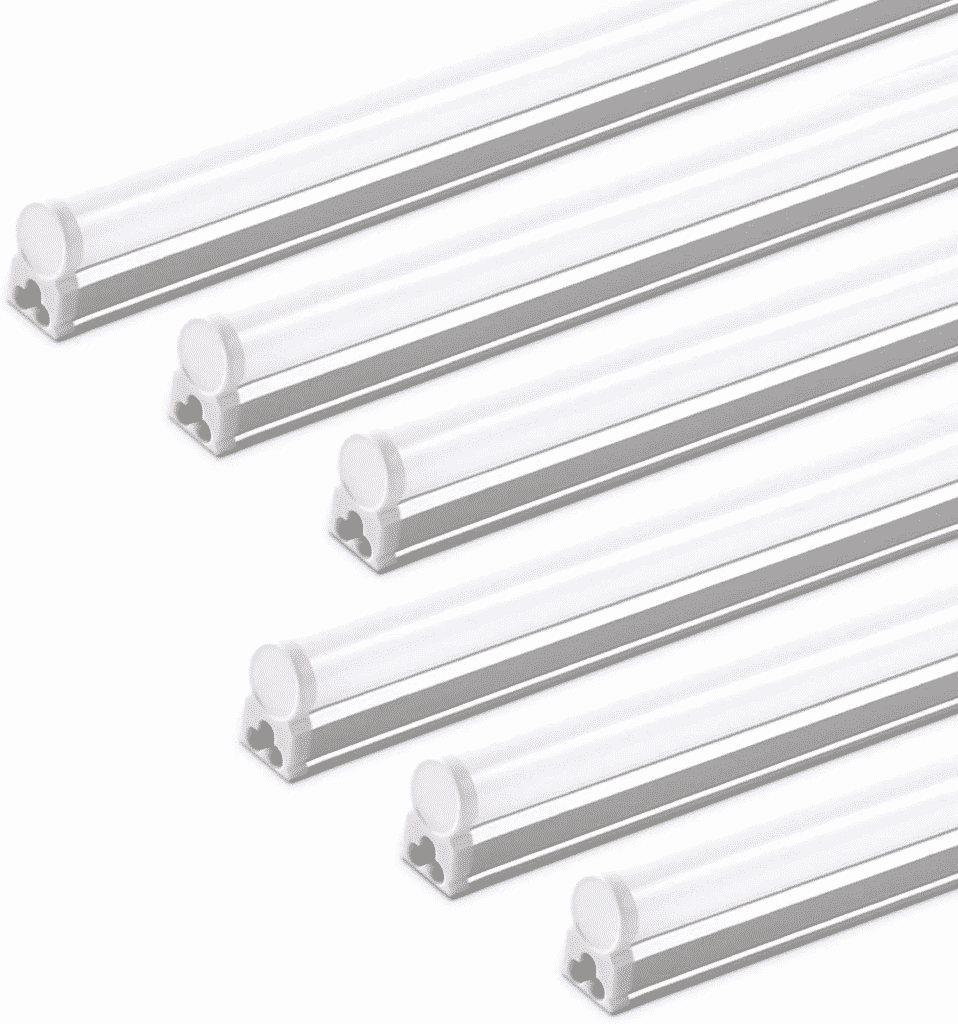 Getting the best garage lighting doesn't have to be overly expensive, especially with this multi-pack from Barrina. This set includes six light fixtures that you can place anywhere in your garage.
Each light puts out 2,200 lumens of bright white light, and they are energy-efficient, drawing only 20 watts each. You can use all six lights to brighten up your garage or use less, and you won't have to worry about replacement bulbs for quite some time.
These lights are easy to install — you can mount them with the included brackets and hardwire them in or use a power cord.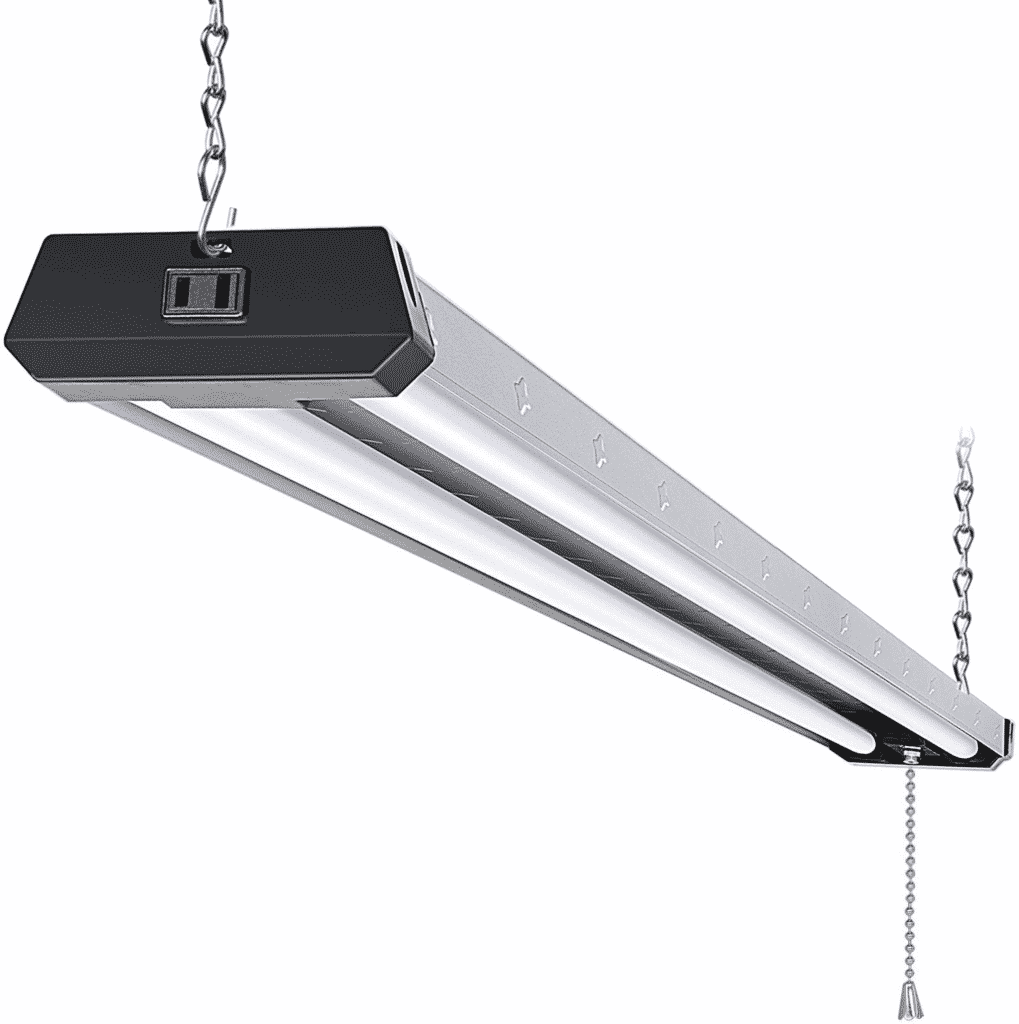 The best industrial garage light fixtures should be made with a metal housing and be brighter than your average bulb. This light from Hykolity checks both of those boxes and more. Its metal housing features increased protection from cracking and overall durability.
This light comes with two 42 watt LED bulbs that generate 4,200 lumens. They also have a frosted cover to provide additional protection to the bulbs. You can surface mount or hang these lights, link up to four of them together, and you won't have to worry about replacing them anytime soon with their 50,000-hour lifespan.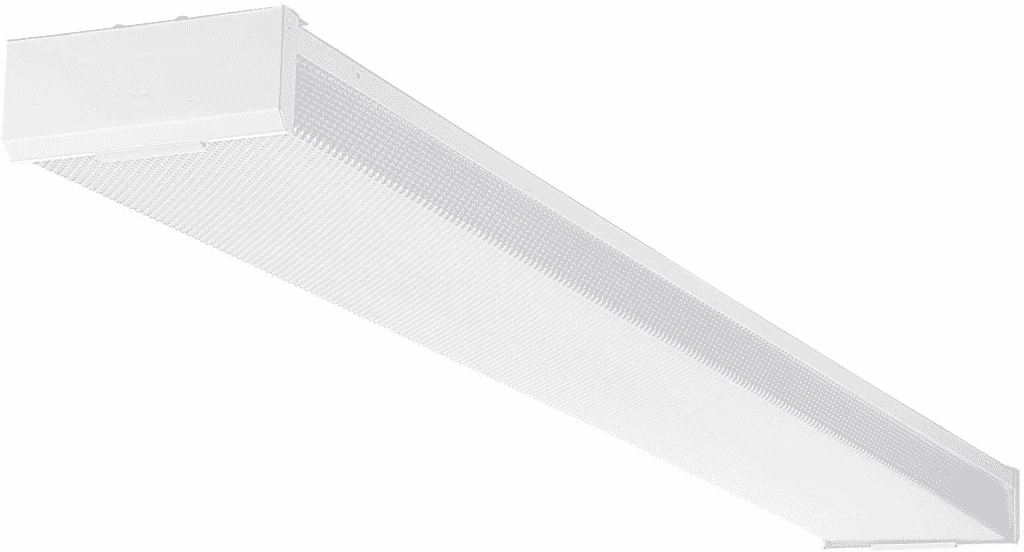 Whether you don't have a lot of overhead clearance in your garage, or you just prefer the look of flush-mounted lights, this wraparound LED light from Leonlite is an excellent choice. Its 5000K bulb puts out 4,4000 lumens; it's not the brightest option, but it is plenty of light for most garages.
Rated with a lifespan of 50,000 hours, this wraparound garage light puts out the bright light from the bottom and both sides to minimize dark corners and shadows. Like most flush mount garage lights, you have to hardwire this one into place.
Related: Choosing the Best Light Fixtures for Your Home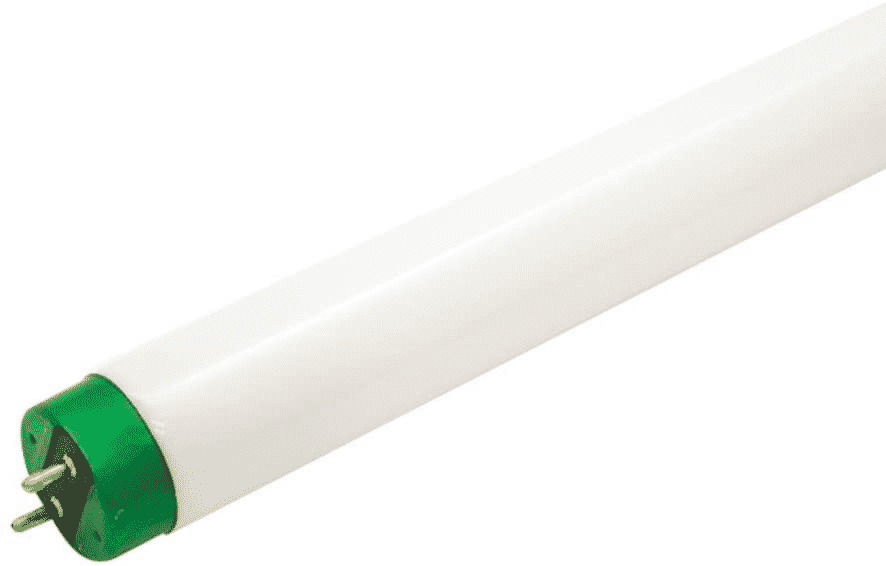 If you prefer fluorescent bulbs to LED ones for your garage lighting, this daylight bulb from Phillips is one of the best, most reliable options. These bulbs draw 40 watts each and emit 2,325 lumens of white, bright light.
Note: unlike the lights mentioned above, this is only the bulb replacement and not the actual light fixture. We felt we should include this one on the list as it's one of the best fluorescent replacement bulbs for garage lighting.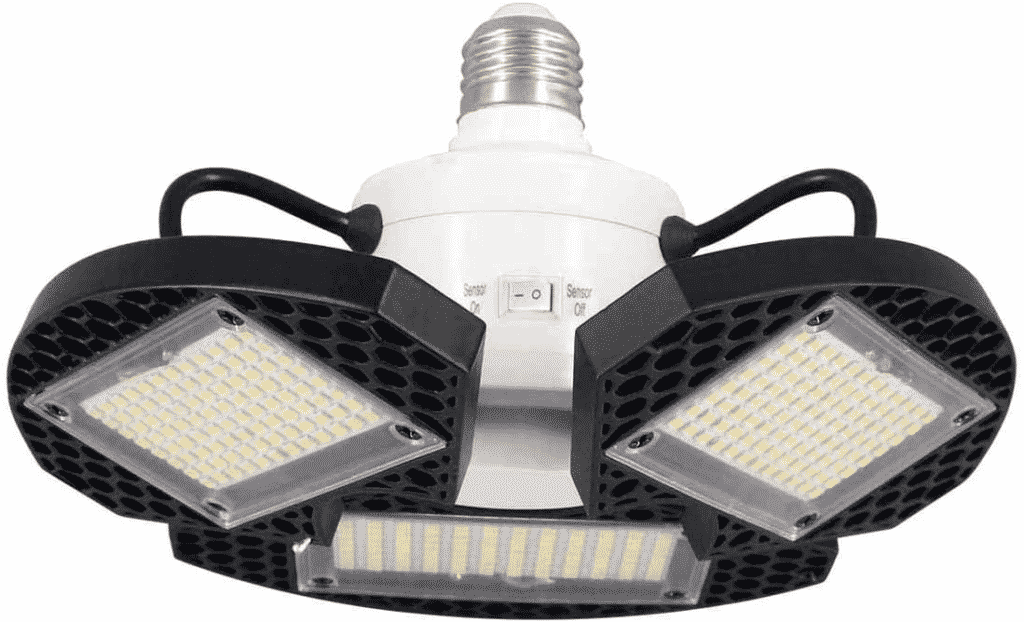 Motion-activated garage lights help you conserve energy by only lighting the area when you need it. This LED light from ZJOJO uses 60 watts, is rated for 50,000 hours, and has three adjustable panels to direct the light where you need it the most.
You can screw the base of this garage light into any standard light socket — installation is super easy. The light will turn off by itself after 30 seconds without sensing any movement.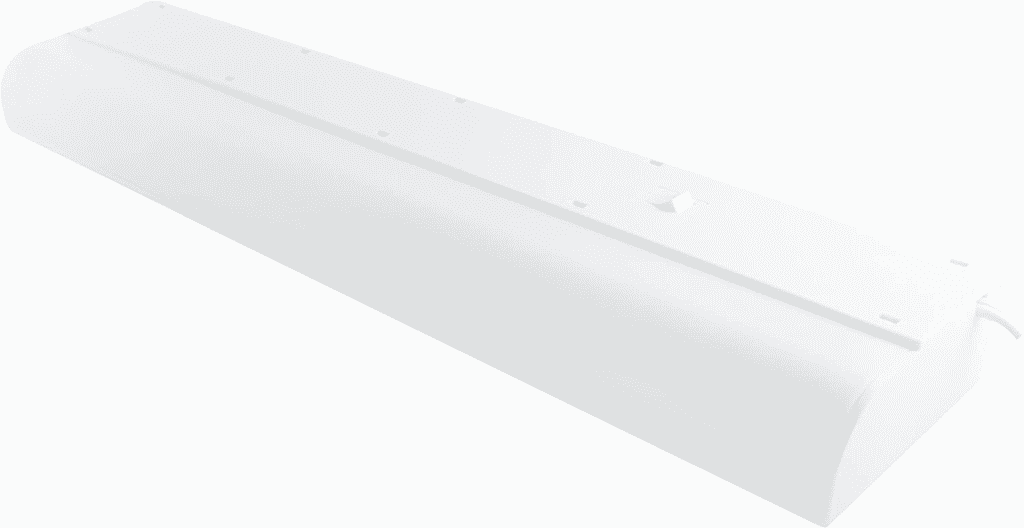 Having the best garage light for your workbench is essential when you are working on projects or repairs. This fluorescent light is simple to install and provides plenty of workbench lighting. 
It has a five-foot cord and plugs into any regular electrical outlet. The best part about this workbench light is that it has almost no hum or flickering that can be common for fluorescent lights.

If you're worried about getting dust or water in your garage lighting, the vapor-proof LED light from LLT is water-resistant, dust-proof, and features an IP66 rating. Each of these LED lights are four feet long, and they come in white, bright white, or daylight hues.
These garage lights are all-in-one and hardwired; once the 30,000-hour lifespan is up and the LED bulb burns out, you'll have to replace the entire unit. Vapor-proof lights are perfect for garages that experience a lot of moisture or dust.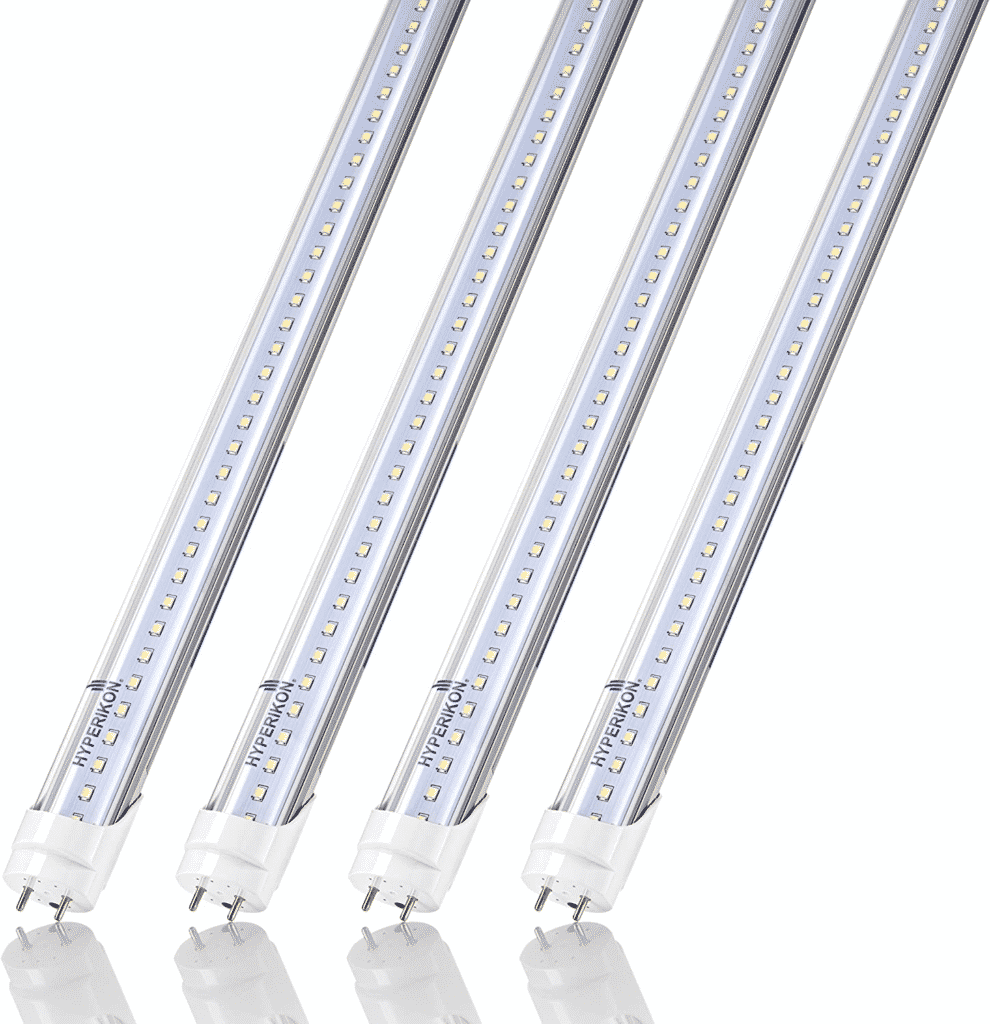 If you already have a garage light fixture that you love, you can replace the fluorescent bulbs with a compatible LED alternative. This light tube from Hyperikon is a popular choice because it offers more energy savings and has a longer lifespan than fluorescent tubes.
Replacing your existing garage lighting with LED lights can give you better illumination and save you money in the long run.
Looking for a hand in making your home renovations perfect? Get in touch with us at Nestrs!