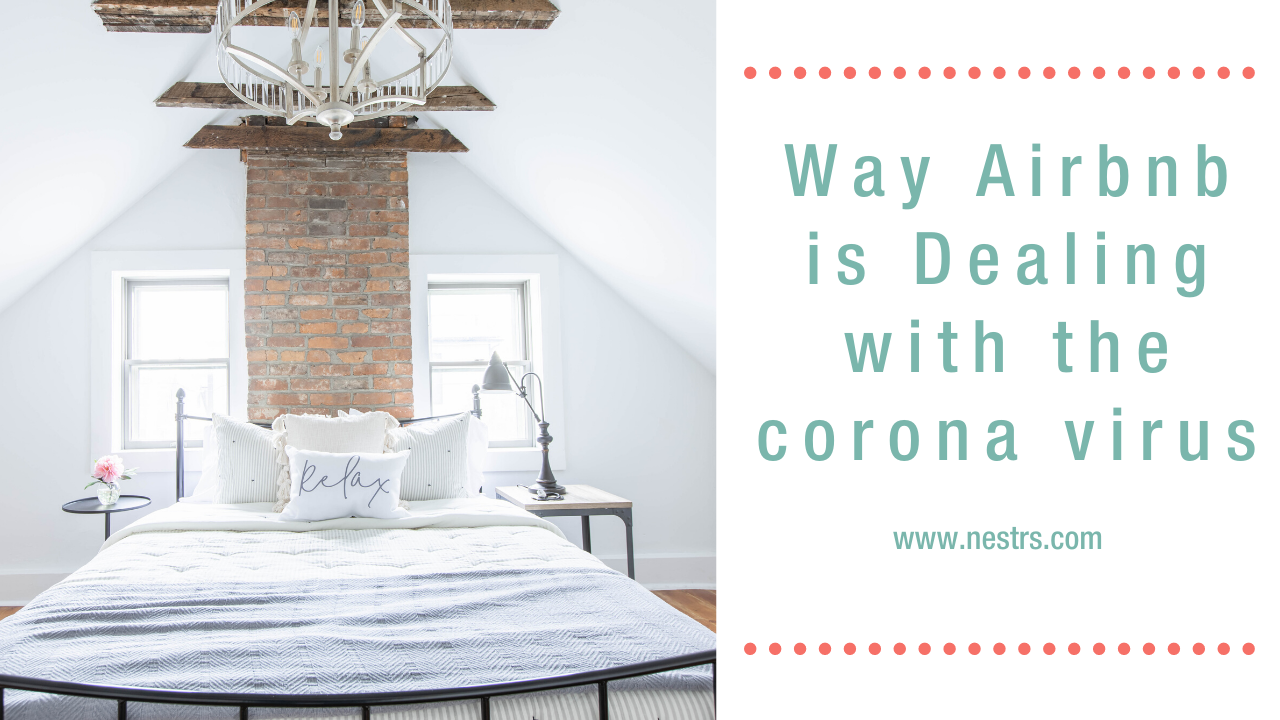 02 May

Way Airbnb is Dealing With the Coronavirus
Introduction
The coronavirus pandemic has led to social distancing mandates and quarantines around the world. Non-essential businesses are closed, including museums, bars,dine-in restaurants, national parks and everything else that makes a destination fun to visit. Due to health risks, fear, and the ongoing social distancing measures, travel is very much out.
In fact, only 90,000 people have been TSA screened each day in April 2020, as opposed to the usual 2.5 million travelers per day.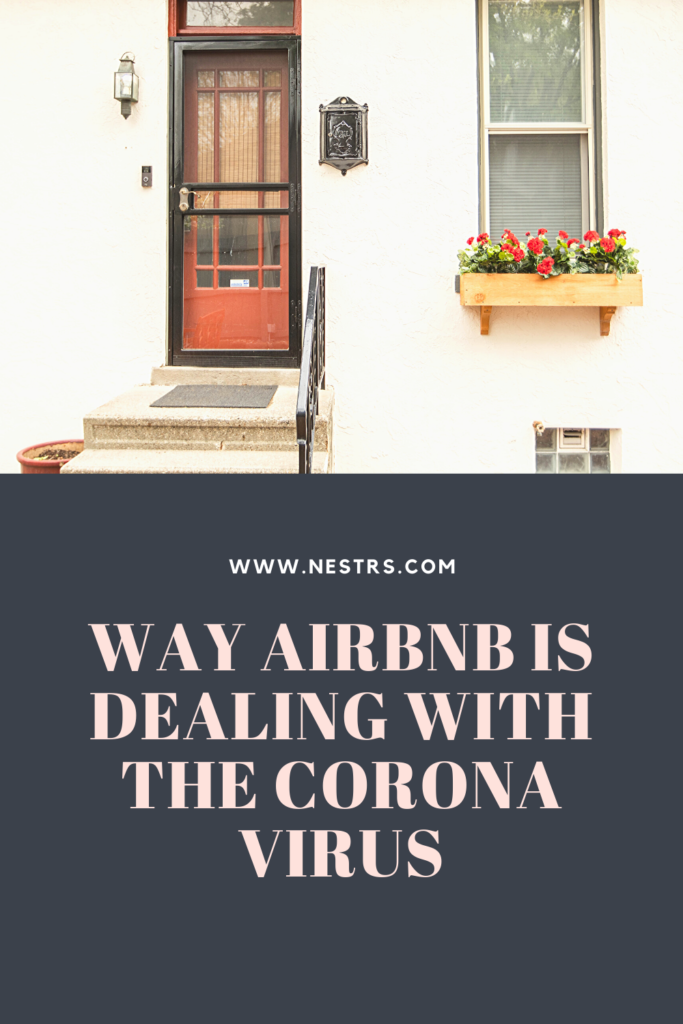 So where does that leave Airbnbs? A lot of hosts have been worried about the future of their business — and the future of travel in general. That includes us here at Nestrs, since we love designing beautiful Airbnb destinations for travelers. Let's take a closer look at how Airbnb is dealing with COVID-19 and what you can do to get involved.
How Coronavirus Has Affected Airbnb
With the travel industry so greatly affected by the coronavirus, it's no surprise that people are renting Airbnbs less than ever before. The majority of Airbnbs are booked for three days. This could leave hosts quite busy, especially during peak travel seasons or events in their cities, but the pandemic has made many hosts turn to long-term rentals instead. At least according to a bunch of tweets.
Many media outlets have also rung the alarm, many using headlines like, "Will Airbnb Survive After the Coronavirus?"
For now, it's still too early to speculate how people will travel and where they will stay once the COVID-19 pandemic is over. These titles read as sensationalized, as Airbnb themselves has denied that they are losing listings as hosts supposedly jump over to Zillow.
In a statement, Airbnb said, "Today there are as many listings available on the Airbnb platform for prospective guests as there were prior to the pandemic. Real estate economists have confirmed, there is no surge of short-term rental listings to the long-term rental market."
In a recent company survey, Airbnb found that 92% of their current hosts answered that they would be hosting just as much — or even more — once the pandemic was over. So how will Airbnb continue going forward in the post-coronavirus world of travel?
Will Airbnb Be Okay After the Coronavirus?
Not only is Airbnb continuing to maintain its number of listings and hosts, but they've actually started to adapt to the situation.
According to Airbnb's President of Homes, Greg Greeley, homes have become a "place of shelter" and that mindset will carry on into the future of travel.
"We are working with leading experts in health and hygiene so that our community's trademark hospitality can incorporate official guidance and fulfill new personal preferences, with hosts and guests uniting to offer, manage and enjoy cleaner accommodations," he said in a press release on their new cleaning initiative.
Related: Hospitality for Short Term Rentals: Everything You Need to Know
In May, Airbnb is launching their new Cleaning Protocol, which will provide enhanced procedures and guidance on how to clean every room in a home. While 94% of Airbnb reviews show that guests are "satisfied" with the cleanliness of their hosts' home, the new protocol will include a lot more guidelines to follow to ensure an even safer and more comfortable stay. This includes:
The use of personal protective gear, like masks and gloves, for hosts or their cleaners
The use of disinfectants that are approved by regulatory authorities
A CDC-recommended 24-hour wait period before entering
Listings enrolled in the Cleaning Protocol will be available for stays immediately after the enhanced cleaning is performed. For hots that can't commit to the Cleaning Protocol, there's the Booking Buffer, which creates a vacancy period between stays to help give them time to clean properly between guests.
Extenuating Circumstances Policy and the Coronavirus (COVID-19)
On March 11, the World Health Organization declared COVID-19 a global pandemic. In response, Airbnb has categorized coronavirus as an extenuating circumstance. This means it's covered by their extenuating circumstances policy in an attempt to protect Airbnb hosts and users during this time.
By now, most Airbnb users and hosts are well aware that reservations made on or before March 14, 2020, with a check-in date between March 14 and May 31, 2020, are covered by the policy. This means they were all canceled before check-in, no questions asked. Guests were given a variety of refund options and hosts were able to cancel without any impact to their Superhost status.
Reservations made after March 14, 2020 are deferred to the host's own cancellation policies instead.
What Reservations are Covered?
Reservations Made On or Before March 14, 2020
As stated previously, Airbnb reservations and experiences made on or before March 14, with a check-in date between then and May 31, may be canceled before check-in. The guests who cancel will receive either travel credit or a full cash refund — their choice.
Reservations made on March 14 with a check-in date after May 31 are not currently included under the COVID-19 extenuating circumstances policy. The host's cancellation policy for those reservations will apply as usual.
Reservations Made After March 14, 2020
Reservations made after this date will not be covered by the extenuating circumstances policy, unless the guest or host is sick with COVID-19. COVID-19-related circumstances not covered by the policy include:
Health advisories
Quarantines
Changes to applicable law
Government mandates (evacuation orders, border closures)
Airbnb states that their extenuating circumstances policy is intended to protect guests and hosts from unforeseen circumstances that arise after booking. They explained that reservations made on or for after those dates are not covered because COVID-19 and its consequences "are no longer unforeseen or unexpected."
This makes sense, but if the lockdown continues even longer (yikes) it's not yet clear if Airbnb will extend their policy to cover reservations made throughout the summer and fall. At Nestrs, we are hoping it doesn't come to this, but we also want everyone to be safe and healthy!
How Reservation Cancellation Works
So if you're a guest, here's what you need to do to cancel an upcoming trip due to the coronavirus pandemic. First, go to Trips and find the reservation you need to cancel. Click "show trip details" and then tap "change or cancel."
You'll then be taken to a new page where you can choose to chancel the upcoming reservation. You'll see a list of your options once you select "cancel," including how much your refund will be. You'll be able to review the cancellation information before you submit it.
If your trip is not covered by the extenuating circumstances policy, your refund will be determined by the host's cancellation policy. You'll see a refund breakdown, outlining this in more detail. You will have the option to ask the host for a full refund before you finalize the cancellation.
Related: How to Properly Handle Airbnb Reservation Cancellations
Airbnb Introduces Online Experiences
Now that travel has died down, what is there to do on the Airbnb app? Well, surprisingly a lot thanks to Airbnb's Online Experiences. This not only allows people stuck in their homes to connect with other people all around the world, it also gives hosts a chance to make some cash and get some exposure for when traveling returns.
Display your city's unique destinations and entertainment options or show off some skills of your own to better connect with future travelers.
Types of Experiences
You can find almost every type of online experience there is on Airbnb. Let an Olympian gold medalist inspire you to reach your goals or learn sake secrets from Japan's oldest brewery. There's also family baking courses, meditation classes, magic shows, and even behind the scenes looks at how Hollywood does sound fx. There's makeup courses, the chance to watch a cartoonist work, and cheesemaking. Basically, if someone around the world knows how to do it, it's available to watch or learn on Airbnb's Online Experiences.
Here's the full list of online experiences.
How to Host an Experience
If you're looking to become a host yourself, Airbnb has made it pretty simple to set up. The first thing you'll need to do is design your experience. This should be a course that features something unique and special, something you have an expertise in or certain access to. But also think about how you can connect with guests online, engaging, informing and exciting them.
Here's how Airbnb describes an experience:
It's led by a knowledgeable and passionate host
Guests participate hands-on, or are immersed in an activity
It gives guests access to a special place or community
It tells the story of a host's unique perspective
This shouldn't be something guests could easily do on their own.
Then share your idea with Airbnb. Describe the activity, including a breakdown of prices and what that payment will get guests. The length should also be 90 minutes or less. Then you can submit your experience by checking "yes" that it's an online experience. Expect it to be approved between two and four weeks.
Airbnb Support for Experiences
Once your experience is approved, you can choose a location that best represents the activity and then start planning for filming. This includes a camera set-up, lighting, and sound. Online experiences are often held through Zoom, so you'll want to explore that conference platform before you begin hosting.
Airbnb also provides a lot of support before and during your time as a host. They offer educational tools to help you grow, including resources like guidelines, tips and tricks. They also offer online events that help you "master the art of hosting." There's also communities for online experience hosts, so you can support each other and learn from one another.
Conclusion
Airbnb has so far adapted to the big travel changes occurring around the world due to the coronavirus pandemic. Despite traveling and vacationing coming to an almost complete stop, Airbnb has managed to keep the majority of their hosts on board and even reassured guests that the company is trustworthy by taking extra precaution in the months to follow.
Meanwhile, Airbnb has also created a great platform for hosts to share their talents and connect with guests through online experiences. This is a way to make money, but also connect with people around the world and build your brand.
At Nestrs, we know the importance of creating a brand and style for your Airbnb, as well as making guests feel comfy, safe, and excited during their travels. If you're taking this downtime to renovate your space or redecorate your rental, contact us for professional guidance.