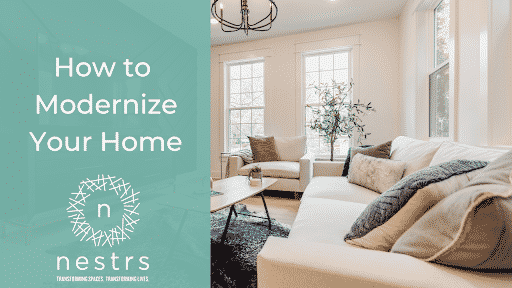 01 Sep

How to Modernize Your Home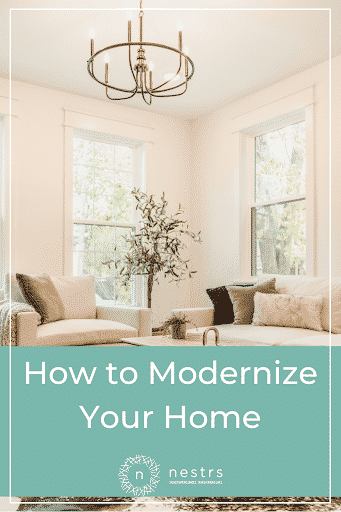 Old homes can be beautiful, charming, and full of character, but there is a difference between an old home and an outdated home. Your big, beautiful Victorian home can be old while still having all the modern updates and conveniences, and newer home in comparison can be incredibly outdated. There is a way to update your home and give it a fresh, modern facelift without sacrificing character or charm (or your bank account)!
Signs your home is outdated: 
Popcorn ceilings 
These became popular in the 1950s, and the texture made for an easy way to hide imperfections in the ceilings. They also allegedly improve the acoustics of a room by muffling ambient noise and echo. Unfortunately, they're a pain to remove and may require the expertise of a professional, which can be costly.
White appliances
The jury might be out on this one because while some people say white appliances are old-fashioned, others believe that white will never go out of style. White (and especially white plastic) tends to get dingy and stained in a way that stainless steel doesn't. Plus, stainless steel by virtue of the color and shine just looks modern and futuristic. 
Outdated wallpaper
If you still have grandma's wallpaper… maybe it's time for it to go. And don't get me wrong… there are many examples of where a vintage wallpaper can look magnificent in a vintage home, but if the wallpaper is looking dated, it's time to go out with the old and in with the new!
Dated hardware 
If you're taking a look around your kitchen or bathroom and it's looking a little drab or old, it might be time to update and modernize your hardware! Check the drawer handles, the hinges, and even your light fixtures! Replacing those can go a long way.
Tile countertops 
You can thank the 80s and 90s for these. Tile countertops crack easily, can be tough to clean, and overall look dated. Replacing your tile counter with granite, quartz, or marble can give your kitchen a fresh, modern, sleek look.   
Wood panels 
A vestige of the 1970s (hello, Brady Bunch), wood paneling can make your home look dark and dingy, and it's a sign that your home hasn't been remodeled in decades. You can ditch the not-so-groovy look by painting it white or ripping it out altogether.    
Still, have questions about whether you need to modernize your home or not? Contact the home experts at Nestrs. 
How to modernize your home in 2021? 
Open it up
That open concept design trend is HOT right now, and open spaces make a home feel more modern. If knocking out walls is not something you're really able to do, try getting rid of your big, bulky furniture and replacing it with something smaller. Switch things up and move them around! You might be surprised at how much something as simple as rearranging your furnishings can change the look and feel of a space. Adding mirrors to your walls can create the illusion that your space is bigger and more open than it actually is.  
Repair the walls
Years and years of holes and patching can take their toll on walls. Fix the blemishes on the walls, fill in those teeny holes, and add a fresh coat of paint!
Introduce more light 
We say this a lot… but lighting can make or break your space, and lighting can be one of the easiest ways you can transform your space. Without enough light, rooms look dark, dingy, and cramped. If you don't have a ton of natural light or overhead lighting in your home, consider adding more tall floor lamps. Lose the yellow bulbs and opt for soft white instead, and while you're at it, don't forget to update your light fixtures too! Even painting with a lighter color or changing your curtains or drapes can make your space feel like it is lighter. 

Focus on the details
Small touches can go a long way. Here are some ideas:
Replace your drawer and cabinet handles 

Get some new throw pillows for your couch

Remove outdated prints and swap for monotone or two-tone instead

Use simple plant and flower containers when adding a little greenery to your home

Update your dinnerware

Accent your home with bright colors by way of art pieces, pillows, or throws
Related Link: Organize Your Kitchen With IKEA
Update the doors 
Is your front door old? Maybe it has some etched glass paneling? Replace it with a traditional 9 pane door. You could even paint it a bright color for a little razzle-dazzle to your home. You may be shocked at how a new door can transform your space and add a ton more light.
Credit: Nestrs
Modernize the kitchen
Kitchen remodels can get costly, but I'm telling you, an updated kitchen adds so much style and value to your home. Updating your kitchen with new appliances, countertops, and cabinetry is one of the single biggest ways you can modernize your home.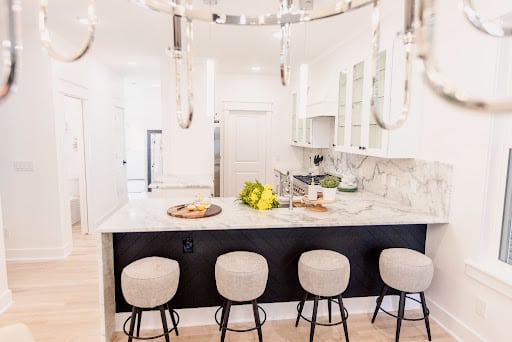 Add more plants (inside and outside) 
Landscaping can make a world of difference and can increase curb appeal. If you don't have a green thumb, that's ok! Ask your local greenhouse employees for advice on plants that are the easiest to care for and that thrive in your local area, and see about adding a few raised garden beds or shrubs to your front yard. Psst… remember to put the tallest ones in the back and read the labels for spacing! On the inside, look into adding some fresh flowers to your tables every week (Trader Joe's has great prices!), and when all else fails, opt for fake plants to add some greenery to your home! 
Switch up the cabinet pulls and handles 
You won't believe how what seems like such a small detail can make a huge difference in the overall look of your home. And the best part? This is a simple DIY project that just about everyone can do, even if you don't have any experience with home improvement.
Refinish the floor 
Got hardwood? Give them some life! The best thing about hardwood floors is that they are timeless and they will never go out of style. But they do need to be spruced up every now and then, and it's not as expensive as you might think. Bonus: if you're ever looking to sell, hardwood floors are always a major selling point, and taking care of them will add value to your home.
Add a fresh coat of paint 
When in doubt, paint it out! If you're still at a loss at how to make your home look more modern, start with a fresh coat of paint. Lighter colors are what's in style now, and they will make your room brighter and appear more spacious. Think about a cohesive color palette that will bring together the overall design of your home. Want to make your home really pop? Add a colored accent wall. While you add it, touch up your ceilings and trim!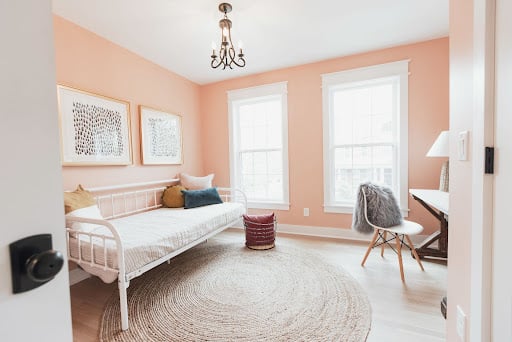 Invest in modern furniture 
This is your reminder to get rid of that old sofa and replace it with something sleek and modern. There's nothing worse than a space that looks beautiful… except for the ugly, outdated couch. 
Go minimal 
Sometimes having too much clutter can make a space look and feel dated. If it's been a while since you've done a home purge, maybe now is the time to do it! Get rid of all of your old, outdated pieces and remove the clutter!
Final Word
Updating your home doesn't have to cost you an arm and a leg, and you don't have to have the knowledge of a professional contractor to do it. If you're reading through the top part of this are nodding your head, recognizing that maybe your home needs a little TLC to make it more modern looking, start with some of the steps above, and I promise, you'll see huge changes without the huge price tag!
Do you want more tips on how to make your home as appealing as possible to AirBnB guests? We at Nestrs can teach you how to become a super host and make money off of your property!
Related Link: How to Be a Successful Airbnb Property Manager in 2021