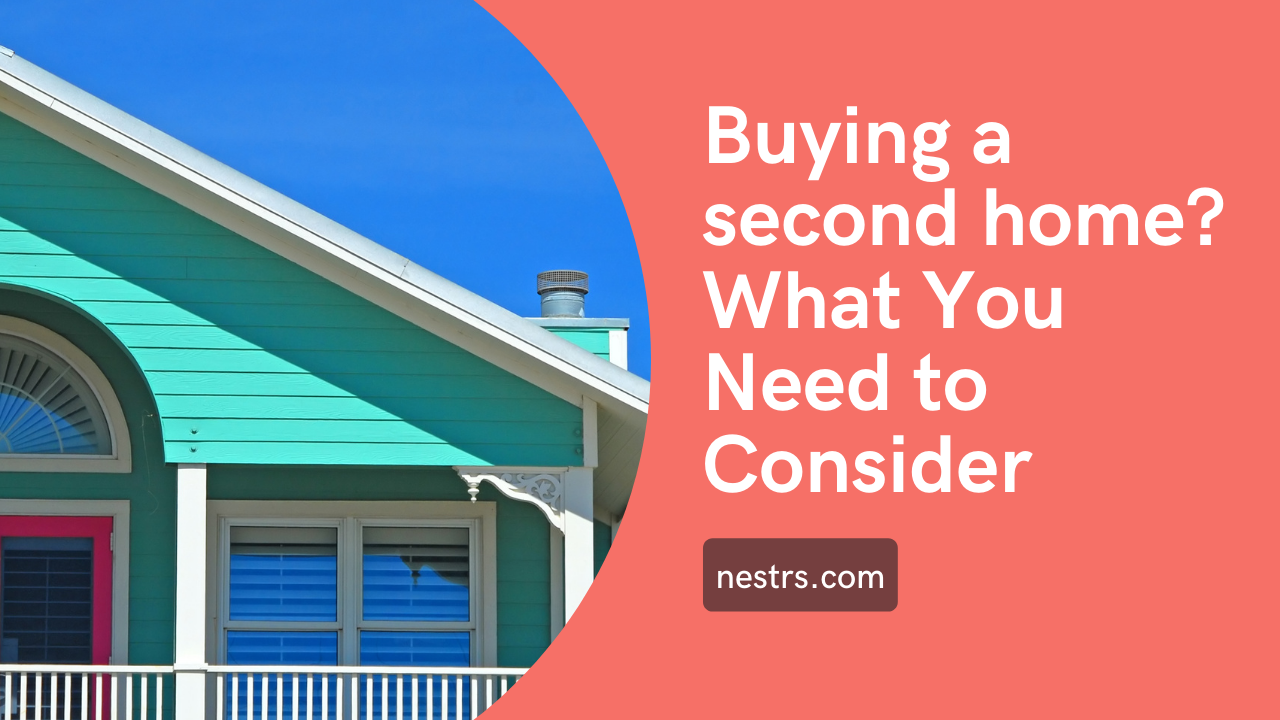 28 Sep

Buying a Second Home? What You Need to Consider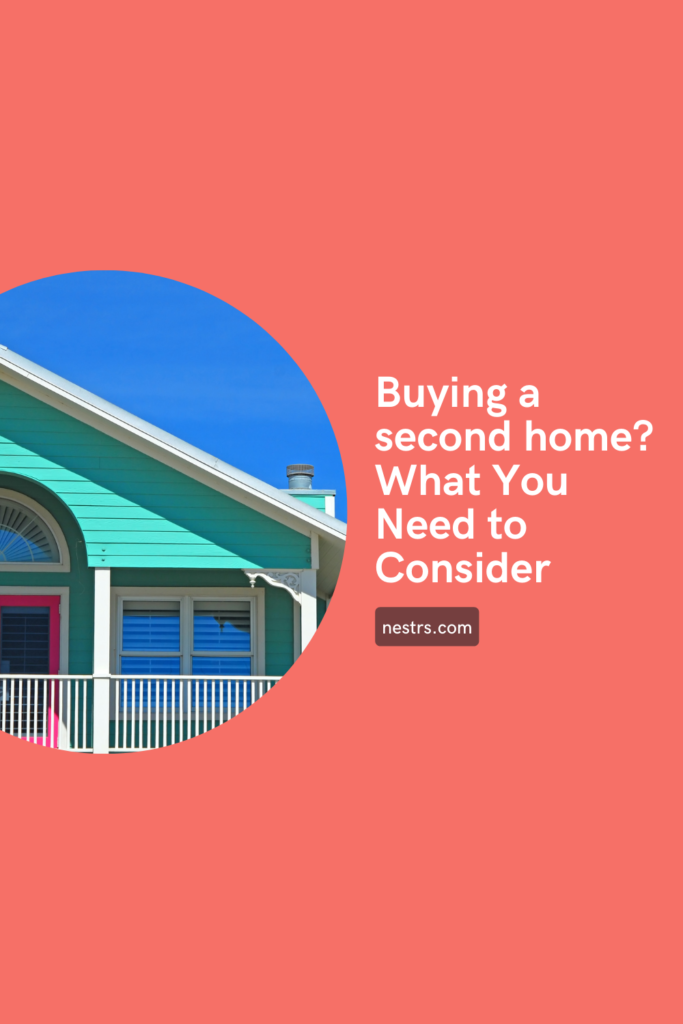 Are you considering a second property as a vacation home or for rental income? Acquiring another property is a dream for many of us … we certainly had the itch (and haven't stopped growing our portfolio yet). From mortgages, to taxes, to rental agreements – there's a lot to consider before jumping into a second property. We'll touch on both vacation and rental scenarios below. 
Looking for more guides, tips and how-to's for you home check out the Nestrs Blog.
The Full Financial Impact
When you buy a second property, you're 2x responsible for all of the financial burden that comes with owning a home (duh). The odds may not be in your favor, at times. You could be dealing with one maintenance problem at your first residence (say, a sump pump issue), followed shortly by another unexpected issue at the second place (leaky roof, anyone?)
The potential financial impact really begins to add up when you consider bills for home insurance, taxes, utilities, and HOA fees. Make sure you've built a detailed budget and evaluated yourself on big money issues before committing to this extra responsibility. If you can check the boxes on the following milestones, you're probably in a solid position to consider a second property.
You're saving at least 15% of your income for retirement
You have at least six months in an emergency cash fund
You are out of credit card debt
Your current home is paid off
Will You Need a Second Mortgage?
You may be in a position where you feel ready to buy a second property … but are still committed to a mortgage on your primary residence. If you apply for a second mortgage, the banking institution will evaluate whether your income is adequate to cover all of your costs. They'll review your credit report, income, employment history, and assets. Looking for strategies to improve your financial picture ahead of this evaluation? Consider consolidating outstanding high-interest debt into a lower payment. Moves like this may improve the way you look to lenders.
The cool thing is in some cases you'll be able to write off interest on a second home. According to Marc Kade, Production Manager and a registered originator with Prime Lending —and also the most informed originator I know and a dear friend— you can snag the same rate as primary home rates and oftentimes only 10% down is required. Wanna connect with Marc and chat more about a second home mortgage? Chat with him here.
Related: What to Look for When Buying a House: A Beginner's Guide
Will You Feel Stuck with This One Vacation Spot?
If you're considering a second property as a vacation spot, make sure you're cool with a long-term relationship with the place. How will you feel after your tenth summer along the Gulf shores? Will you tire of making the trip over and over again? Another consideration is whether the second home will limit your ability to travel to other destinations. If you're paying for a second home, it may be difficult to justify (or even afford) to travel elsewhere. Your second home may stay more appealing for a longer time if it's positioned near the amenities that make your experience fun and convenient.
Renting Out The Second Home
Rentals are our JAM. But there's so much to know when it comes to purchasing a property to rent! First, you'll want to start with getting really familiar with the local laws for rentals, especially rentals operated through platforms like Airbnb and VRBO. Some areas or HOAs impose restrictions on rental arrangements. Make sure you know what you're getting into. You'll also want to have full clarity on your out-of-pocket costs to maintain the rental. This is especially important during times when you may not be collecting on as much rental income as you had planned. Your rental may not always be cash flow positive!
If you're buying a vacation property and planning to rent the space when you're away, this may cause some disappointment for you when making your travel plans. You'll be balancing peak and off-peak travel times and your own interests versus the ability to obtain great occupancy rates. Entering the landlord world is a big messy job, so you may want to consider just renting your property in short bursts rather than committing all-in.
Related: How to Set up an Airbnb
Calculating Your Rental Income
Calculating your potential income from a second property for rent can be fairly straightforward. Start by taking your expected monthly income rent and multiplying it by twelve. Then, divide that number by the price you paid for the property to arrive at your "gross cap rate."
Example: Your second property was purchased for $100,000 and you anticipate that the monthly rent will be $500. The gross cap rate for this property is 6% ($500 x 12 = $6,000 / $100,000 = 6%)
But what's missing? Remember: the gross cap rate does not factor in your expenses. Will you be paying for HOA fees, utilities, and property management? If you're facing significant expenses for the property, you'll want to evaluate your net cap rate by backing out these expenses from your expected rental income. In many cases, these expenses can reduce your potential annual income and cap rate by 0.5 to 1%. (Don't forget to include your property taxes and insurance, too!)
Taxes on Vacation Homes
Your vacation home will be classified as a personal residence or a rental property in the eyes of the IRS. To qualify as a personal residence, you must rent the property for less than 14 days per year. Otherwise, it is considered a rental property. Regardless of your home's classification status, you'll likely need to report rental income. Be sure to consult with an experienced tax professional about potential liabilities and deductions related to your second home. This is a proactive step that could save you big time in the event of an audit! We always talk to a lawyer and tax advisor before purchasing a new property, even though we've done it 5+ times.
Tax Benefits of Property Ownership
A bit of good news! The IRS provides for significant tax breaks with short-term tax benefits to those who invest in real estate. We don't want to get into the nitty gritty of real estate tax law here because it gets complicated quickly. And tax rules are subject to change. Partner up with an experienced professional to evaluate the potential tax benefits you may receive from your second property.
4 Best Places to Buy a Vacation Home
Are you thinking about an overseas property for your second home as a vacation destination? The current strength of the dollar is creating bargains in places across the globe. Consider these locations below to get a great deal on an overseas investment. For more information, check out this article from Forbes on the best places to buy a second home overseas.

Brazil
A real estate purchase in Brazil will qualify you for permanent residency in the country. This is a recent change that makes investing in the region even more attractive. Brazil has a fascinating history with incredible property options along the coast in Rio de Janeiro and smaller beach towns like Florianopolis. In certain parts of Brazil, you can snag large beachfront property for less than $75,000. What's more, Brazil's economy is heading into a recovery period that stands to further raise the value of your investment in dollar terms. A few words of caution: currency exchange rates and controls can be tricky.

Mexico
Mexico boasts two long coasts, mountain towns, and unique sights to see including the Mayan ruins and rain forests. It's the most accessible "overseas" location for travelers from the United States – within driving distance from certain areas. This makes it possible to maintain a dual lifestyle in both the United States and Mexico, if desired.Today's exchange rates mean low cost of living and great property bargains. To establish residency, you can obtain your visa in under thirty minutes from a Mexican consulate in the United States. A few words of caution: certain parts of Mexico have dangerous conflict zones.
Chile
The high standard of living in Chile makes it one of Latin America's easiest transitions for American expats. The country feels efficient, stable, and safe. The coastal communities offer temperate climates that are comfortable all year round. At today's exchange rates, buyers can get a bargain concerning both cost of living and property values. Similar to Mexico, the residency process is relatively easy and can be completed by mail. A few words of caution: pollution can be a major problem in big cities like Santiago and getting to Chile is at least a nine hour flight from the United States.

Colombia
Did you know that the AARP named Boquete, Panama one of the top five places in the world to retire? Property values throughout the region continue to be under-valued and in favor of investors. In large part, this is due to misperceptions about the safety and character of the area. In Medellin, for instance, investors can stand to make a sound purchase with as little as $50,000. What's more, Colombia is one of the easiest places on the globe to obtain residency. The requirements are minimal and there are 17 visa options to choose from. A few words of caution: exchange control, high taxes, and other bureaucracy can be a real drag.
Try it out!
A second home gives you the opportunity to have another lifestyle if that's what you're looking for … perhaps even in a different part of the world. It can also be a baller revenue-generating machine. But as with any major investment, buying a second home is not without its risks. Go into the potential investment with eyes wide open and clear goals for your purchase!