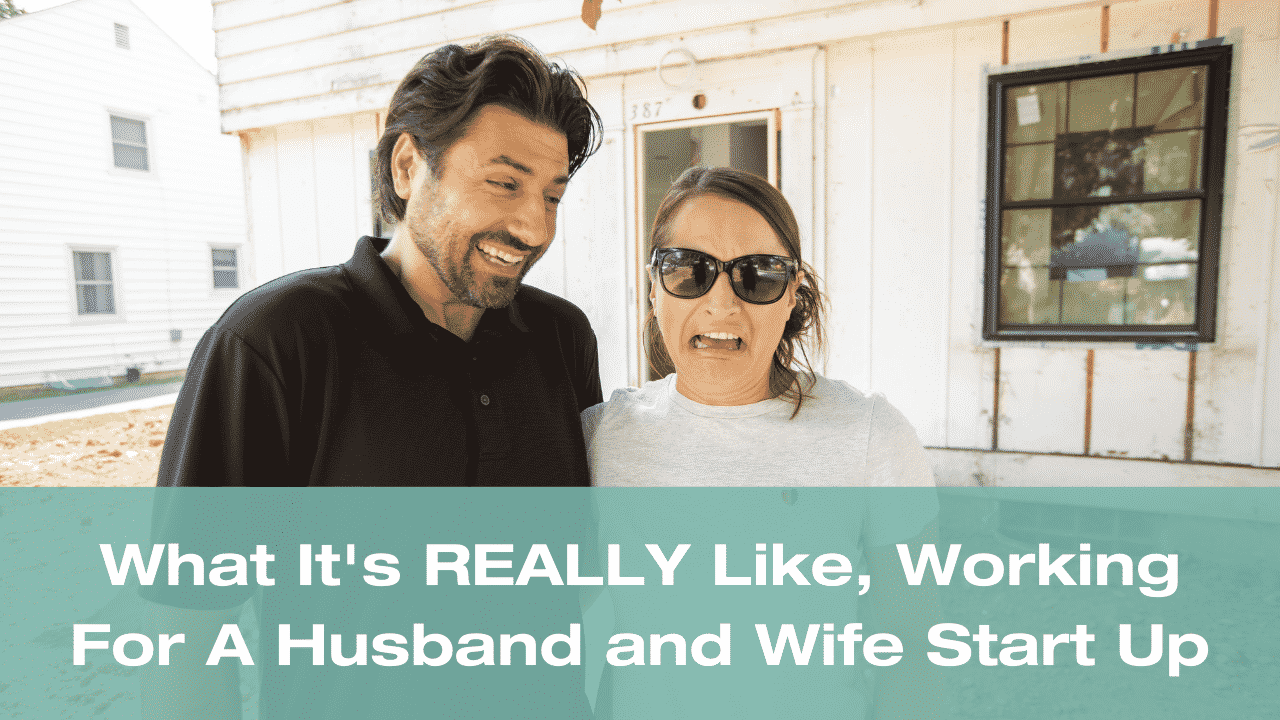 01 Mar

What It's REALLY Like, Working for a Husband and Wife Start Up
What It's REALLY Like, Working for a Husband and Wife Start Up
Hey friends! My name is Ireland and I'm the newest Nestrs Team Member! 
Okay, ~technically~ I am the "Marketing and Office Coordinator", but before I get into anything too technical, let me tell you a little bit about myself! I'm a fun loving, open minded, positive vibes only kinda gal who loves home decor and all things DIY. In my car, the only rule is to sing as loudly and as poorly as you can because honestly, it's just more fun. 
Fun Facts: coffee addict, enneagram type 2, Billie Eilish stan, have a fear of car washes, once broke my arm from tripping over my tied shoelaces.
Life Motto: "Why Not?"
My background is actually in music, the arts, and the nonprofit world if you can believe it! I studied Voice and Arts Management at Baldwin Wallace University (weirdly enough, where Sarah did a year of college). While the arts will always have a special place in my heart, I was also that kid that talked about investing in real estate and house designs before middle school. I might be giving away my age here, but I had wayyy more interest in scrolling Realtor.com than Facebook or Vine.
Like a lot of people, 2020 turned my world upside down, but it was the perfect wake up call to stop settling and stop waiting. (I realize this lowkey sounds like a self help book title…BUT)  After years of only thinking and talking about it, I closed on my first house in June and shortly after, took a shot in the dark with a "super cool, how is this even real" job I came across to start down a career path I had only been dreaming about. 
I started with Nestrs in November 2020 and I'm here to spill the tea on what it's REALLY like working for a husband and wife start-up…..
Most Challenging
One of the most challenging aspects of the job is that I will never have all the answers. The first couple weeks I felt overwhelmed thinking how the hell am I going to learn all of this?! Then I realized when it comes to managing Airbnbs/Short Term Rentals, there will always be a question from a guest that makes you go uhhhhh. But you just have to figure it out! In this kind of industry, you have to be open to what comes your way and willing to learn as you go. Every day I'm adding bits and pieces to my personal toolbox!
Few Of My Favorite Things
As much as I like to schedule and plan, I get bored with routines pretty quickly. One of the reasons I love my job is because no two days are the same. The schedule of a real estate and design business is ever changing, so sometimes my days aren't planned out until the night before the day of. You never know what each day will bring and let me tell you, there is never a dull moment!
Nestrs is still in its start up phase, which to some may sound scary. And don't get me wrong, it's hard work. The hours are long and there's A LOT of responsibilities. But here's the cool part… I have the incredible opportunity to watch the business grow, all while being a part of the growth. We aren't stuck in a cycle of "well this is how we've always done it". There is so much room to INNOVATE! From day one, well…maybe even during the interview process, my creativity and ideas have been encouraged and celebrated. Sarah and Nick have established an open environment and have given me the freedom to explore new ideas. 
Last but most certainly not the least, the TEAM! I could not have asked for a more welcoming, supportive and inspiring group of people to work with. From Sarah and Nick, to our rockstar head cleaner Thelma, to our Cliffs Property Coordinator Taylor and all of our clients… what an amazing group of BADASS human beings! And I get to work with them every day….like I actually get paid to work with them…it's WILD.
The Cherry On Top
If you haven't caught on yet, I'm a sucker for all the cheesy sentimental stuff, but I swear I'm almost done! Something that has been really eye opening since this crazy journey started in November, is the clarity of the future. Yeah this is my "job" but honestly, it just feels like the next chapter of my life. I never realized that when you're in the right job and you're where you're supposed to be how natural and exciting it can be and I CAN'T WAIT!
The journey has just begun, so if you're wondering just what a "day in the life" looks like, be sure sure to follow along on instagram (@nestrs) for ALLL the deets.