07 Jul

Mom! We're on HGTV!

We're a part of the HGTV family!

We've officially known about this since December 2014, but now it's real! It aired! Our creativity, our successes, our failures, and my bed head hair were all aired on national TV!

We threw a viewing party for this first episode. We went all out.

We purchased a step and repeat.

Yep!

It was worth it! Our dear friend Kris Rogers took fantastic photos capturing the perfect evening!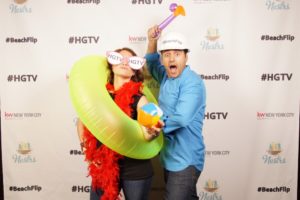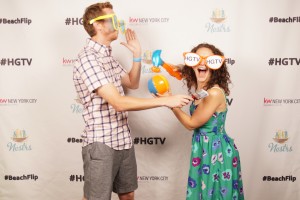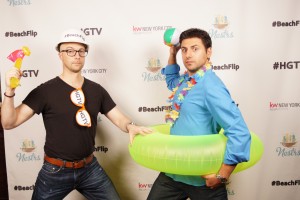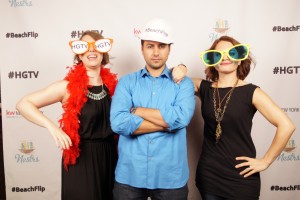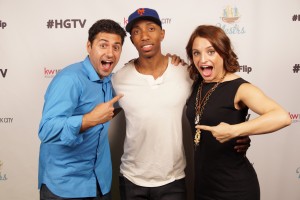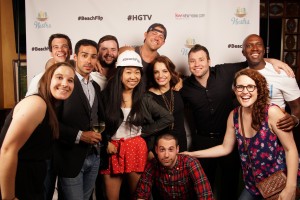 How lucky are we?
How lucky are we to have so many beautiful and supportive friends? How lucky are we to be alive and healthy? How lucky are we to be living a dream?
*pinches herself*
Okay. That being said…what did you think of the first episode? What did you think of our design?
It's one thing to work on our house or on a project together when it's just the two of us and a client. If we make a mistake, we fix it. On the show, if we make a mistake it's a perfect spotlight for reality TV. And why wouldn't it be? Mistakes mean we are human.
We are indeed human.
And how about those closets setting us back?! This was episode 1 so it was the very first challenge. We live in New York City—land of no storage. Nick has real estate clients all the time who request homes with a view and storage, or pet friendly and storage, or elevator building and storage.
We learned the hard way that the same wants and needs do not apply to beach front rentals.
Not to mention I'm a Professional Organizer and creating storage is in my blood.
Oops.
Now Nick and I have the smallest budget to work with. We didn't win the challenge mainly because we didn't finish. What you don't see is some of our crown and base boards aren't painted. Lucy and Daphney had time to drink margaritas.
Lucky! ?
And while it would be easy to hate on them….you gotta give it to them….they were smart. Their experience in this market paid off big time and they smoked the rest of us.
But adding that window and maximizing the view of the Gulf of Mexico was smart of us! So was upgrading from a Queen sized bed to a King sized bed!
It was pretty cool coming in second place for the first episode. Everyone at our viewing party was on the edge of their seats wondering if we were going to win the first challenge! Of course we knew what was going to happen—but somehow you still wish you can change the outcome!
Either way, Nick and I are now forever a part of a network that we have loved for years. We got to meet and work along side of three of our favorite HGTV personalities, Josh Temple, Nicole Curtis, and the delicious David Bromstad!
What's even cooler is HGTV lets viewers go behind the scenes as David interviews each contestant and talks to them about the outcome of the first challenge. Additional out takes are included and it's a really fun watch:
Click here for Behind the Scenes Interview with David Bromstad
Tour our Beach Flip Master Bedroom here.
Click here to be the judge and cast your vote for your favorite Master Bedroom!