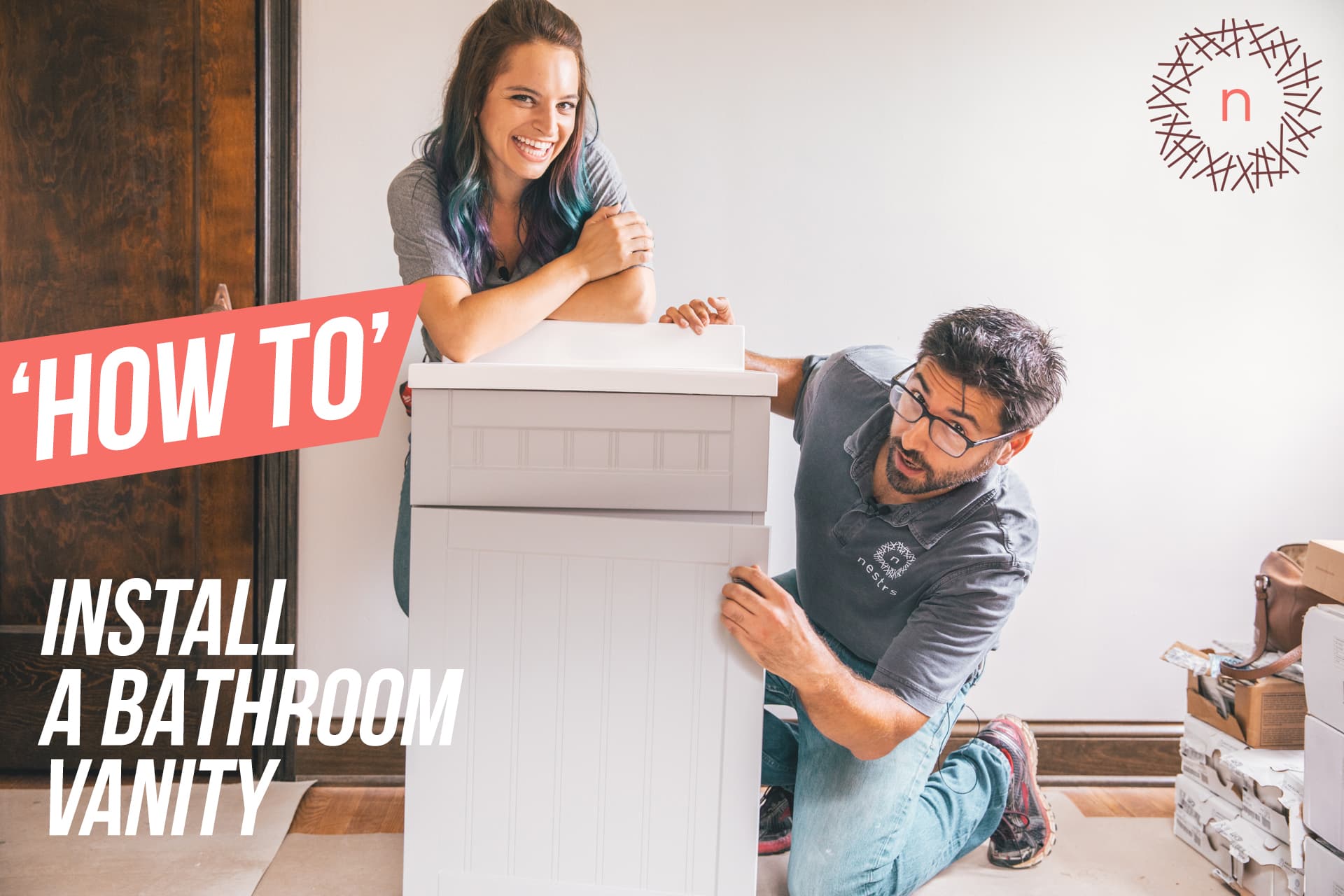 31 Aug

How To Install a Vanity and Faucet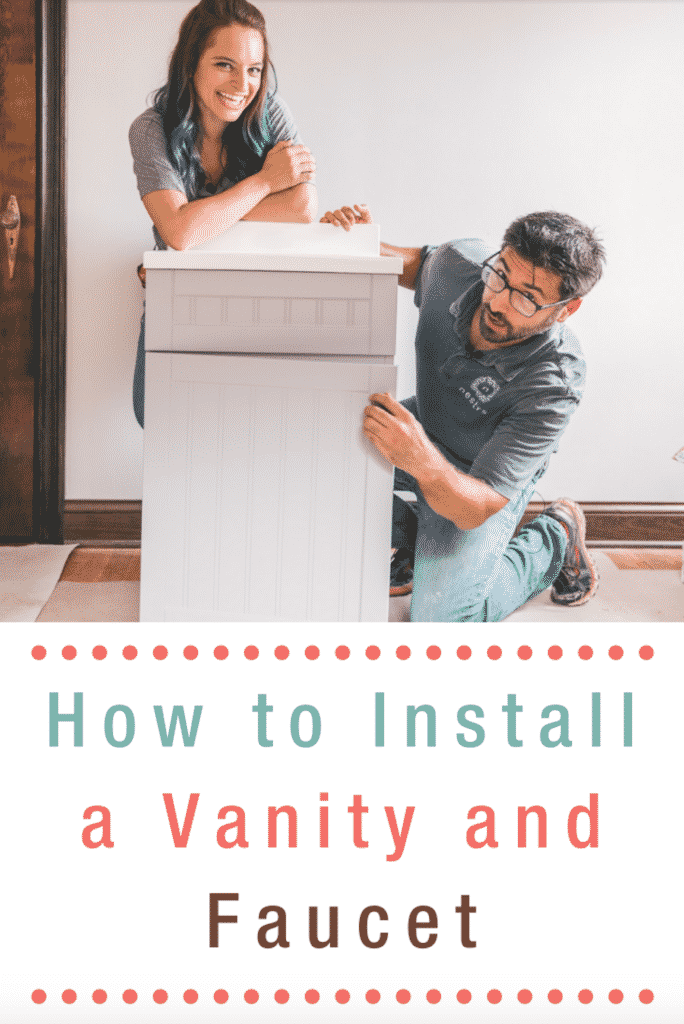 This post is a paid collaboration with Lowe's Home Improvement. All opinions are our own. Thanks for supporting our little online corner of the world!
Maybe you take it for granted…until there's a plumbing issue that is…. but the bathroom is one of the most important rooms in your house ….or hotel…..or short-term rental.
And the bathroom in our new Airbnb needed some love.
It's cramped, the walls are old, and space might just be a little uneven.
But where there's a will there's a way–and we needed to install a new vanity.
So we took a trip to Lowes to pick up everything we need. Figured we would walk you through the process in case you're in need of a vanity facelift too!
And if you already like what you see -shop our affordable look from Lowes by clicking here!
Lowe's Shopping List
Want to watch us install the vanity? Check out our 10-minute video for step-by-step instructions!
STEP 1: Dry Fit Your Vanity
Our Airbnb's bathroom is tiiiiight. Thank goodness Lowe's has great options for smaller vanities. We picked up the Style Selections Ellenbee Gray Single Sink Vanity. At just 18" wide and 16" deep it's the perfect solution for our tiny bathroom!
Before mounting the vanity to the wall, take a quick look at how it fits in the space. Is it too close to the tub? Is it uneven or wiggly? Dry fit the vanity before securing it to the wall. By taking a few steps before installation to make sure everything is ship-shape, you'll end up with a better result.
In our case, we had to modify the back panel of the vanity, so it would accommodate the existing plumbing situation. After adjusting with some shims to ensure it was perfectly level and making sure that everything was exactly the way we wanted it, we were ready for action.
Here at Nestrs, we don't just double check–we TRIPLE check that things are level. Hey–that's the cost of perfection.  #ocd
Step 2: Install Securely
Every girl needs a wing woman–and mine's my stud finder.
How do you think I met Nick?
But seriously, a stud finder is a necessary part of installing heavy cabinetry or artwork and will keep your projects secure. Just run the stud finder along the wall, and she'll do the rest.
Once you've found your studs, you're ready to secure the vanity to the wall. We recommend you drill pilot holes–just makes the process easier.
Also,  you can also put a piece of painter's tape over the area you'll be drilling. The tape captures any dust from making the hole. We just forgot! Plus, the mess from these two small holes is minimal. But I definitely wanted to share that tip!
Remember, after drilling, double (or triple) check that the vanity is still level.
Step 3: Install Faucet
Our vanity is going to feature the Delta Valdosta Venetian Bronze Centerset Bathroom Faucet.
Pro tip: work with the sink top BEFORE you place it on top of the vanity cabinet. Set it up on two sawhorses rather than working a cramped space.
Follow the manufacturer's instructions for installing your faucet.
Step 4:
Place the Sinktop and Hook Up Your Plumbing
When you're ready to place the sink top on the vanity, make sure everything fits together nicely before securing it with silicone.
Hook up the drain, the hot and cold water lines, and check that the seals are tight. We like to add plumbers' tape to the water lines.
Our manufacturer's instructions had us run the hot and cold water for at least 1-minute with the aerator off. This helps flush the lines. Now is a great time to check for leaks from the plumbing.
Replace the aerator, caulk your backsplash, style your sink with a pretty towel, fancy soap, or cute succulent and you're good to go!
Verdict
This vanity was easy to install–and it's easy on the eyes. We were really excited at how it upgraded our little bathroom and we're one more step towards opening our newest Airbnb!
Don't forget to pick out your favorite mirror and lighting sconce from Lowes as well! We loved the detailing on the Allen + Roth Silver Beveled Oval Wall Mirror. It's the perfect addition to our Buffalo Check tiled bathroom! The Quoizel Soho 1-Light 6-in Bronze Globe Vanity Light helps light up the space.
How cute is this bathroom?! From the tiles to the mirror to the vanity -this bathroom is Pinterest ready even with our tight budget!
Can't wait to give you a tour of this entire Airbnb soon!