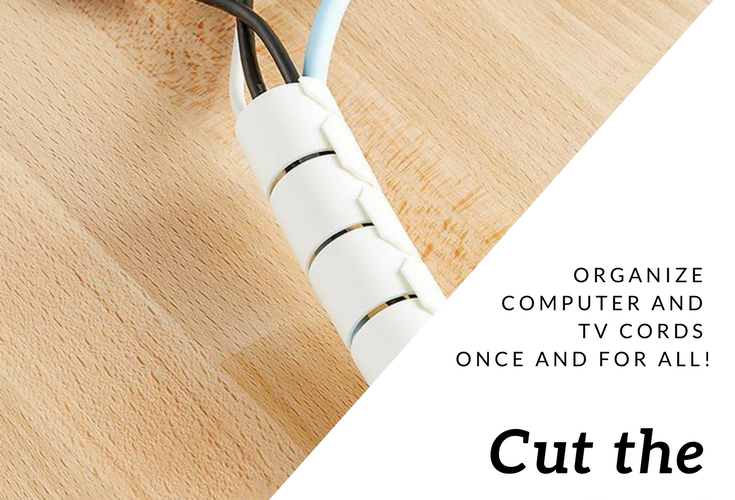 30 Jun

Cut Cord Clutter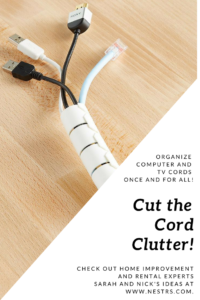 I don't like rat's nests..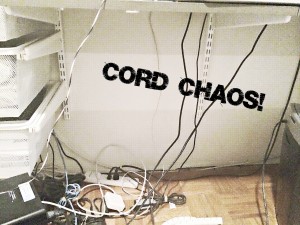 So as you can imagine, the above picture gives me heart palpitations.
Like…so much anxiety.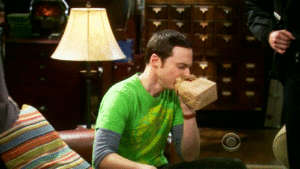 Yep, that's me most days. But that's not what this post is about… 😉 I've tried all sorts of zip ties and bundling methods. In the end, the cords are organized but they aren't aesthetically pleasing. I wanted a way to cut cord clutter that also made them look uniform on the cheap. Then I found the Cable Zipper .
I found the product very easy to use and for $15 it's a great buy. Not only does it bundle all electronic cords, but it unifies their colors. Most cords are white, grey, black, etc. Having one 'cord' color is much more pleasing to the eye.
However, printer, internet router and modem plugs have big boxes and don't make for a tidy floor once plugged into a power strip. I searched and searched and eventually found a great product from D-Line for around $20 that hides all the cord clutter and your power strip:
I wrapped up the cable, printer, router, and modem cords. If you have more you can also label them, but since I only had 4 cords for this project my client and I decided to keep things simple and opt out of labeling.
(I used to be "label-happy" but ended up realizing that most of the time I just liked how all the labels looked—so now when I don't need them, I don't use them.)
A combination of both products made a huge impact on this office space. I have used this same system in at least 4 other client's offices and they really enjoy the streamlined look as well!
What do you think? Have you tried these products, or similar ones, before? Have another cord clutter control method? Please share!