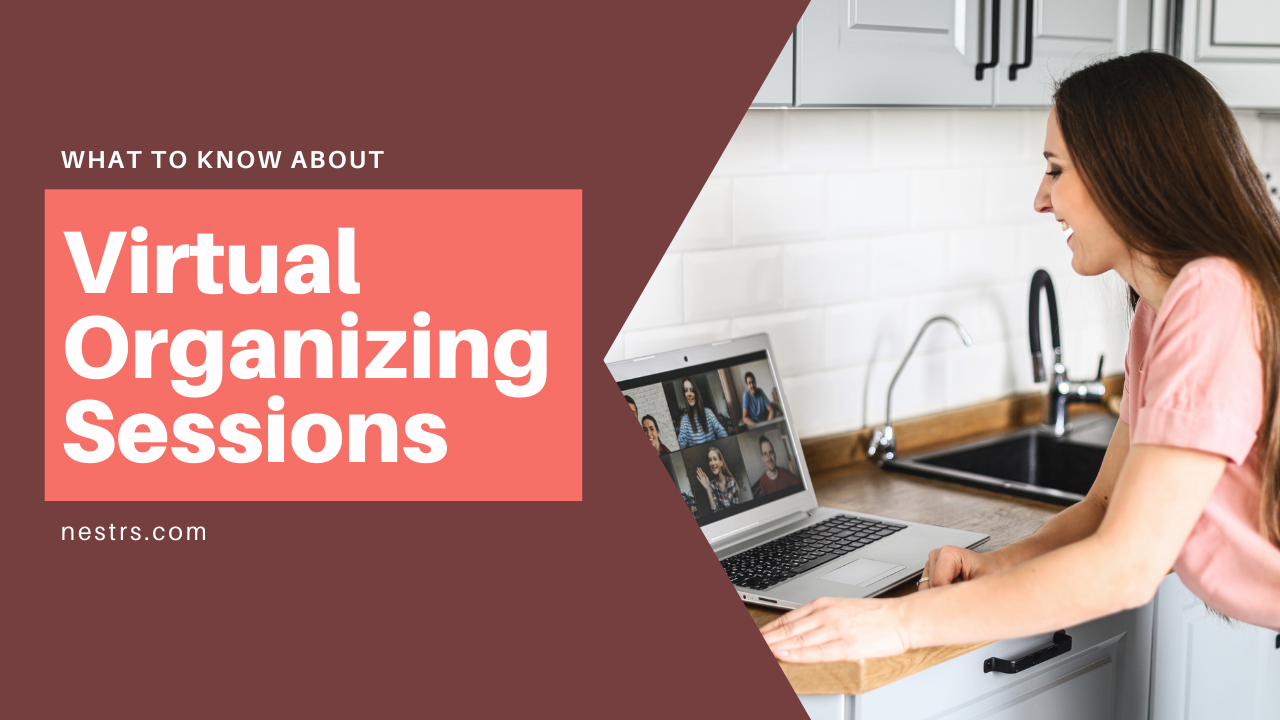 02 Oct

What to Know about Virtual Organizing Sessions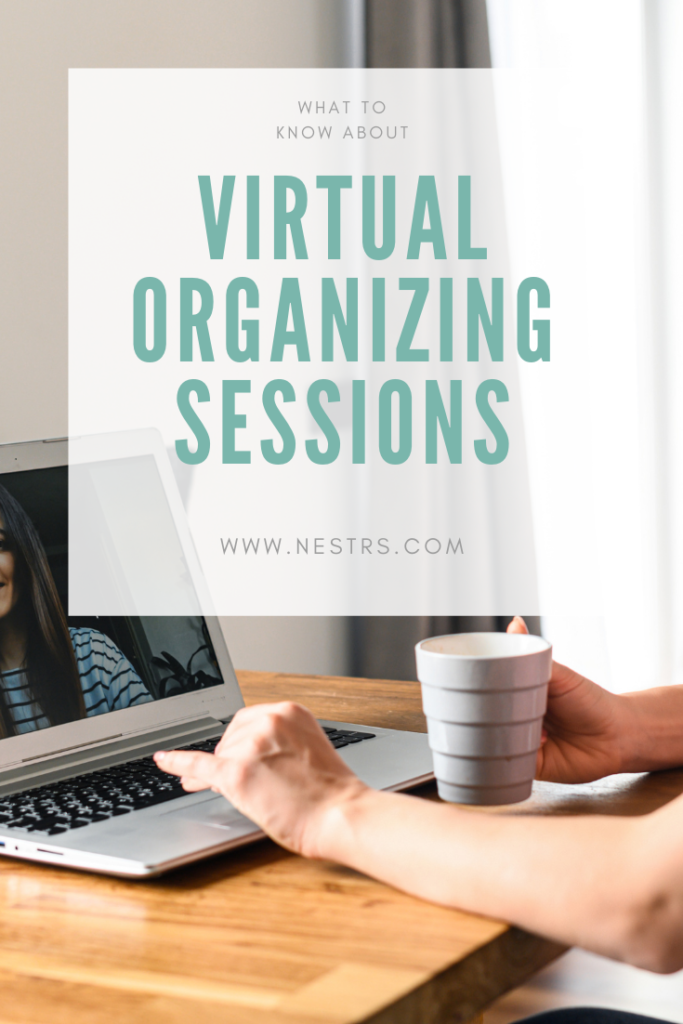 Professional organizers began offering virtual organizing sessions long before the global pandemic forced us into our homes and onto Zoom. I know this because I currently belong to NAPO —the National Association of Productivity and Organizing Professionals. While my organizing and productivity chops are now focusing on the real estate and short-term rental world, I have many professional colleagues who have offered this service for years!
Throughout this article, I'll have my friend over at Clever Girl Organizing, Kathy Vines, CPO (Certified Professional Organizer®), help us understand what virtual organizing is really like! In fact, I love how she got started —
"I began offering Virtual Organizing services in my business five years ago, when a person who was a fan of my blog had reached out and shared that she wished I lived closer to her so we could work together. I was in Boston, and she was in England! So, I told her we could try to work virtually… and the rest is history! My business was already a steady way for me to connect with people who found me through social media or magazines or TV and wanted to have my guidance as part of their success in getting organized or more productive. The pandemic, however, has definitely increased my business, even with people who just live a mile from me!"
Working with a professional organizer through a virtual session can be a great experience, but there are a few things to consider before diving in. While the "hands-on" element of working with an organizer is hard to recreate in a virtual environment, you can still get a ton of value out of a one-on-one session, including benefits that are unique to virtual organizing!
Virtual organizing sessions are often delivered in short bursts where the client tackles projects in between the dedicated time with the organizing pro. It's a great option for busy, motivated people. For some, this arrangement makes working with an organizing pro more accessible because time and costs are reduced. You can also find the perfect match by opening up your search for an organizing pro outside of your local area!
If you are looking for someone to help you with decorative style, check out NESTRS!
What is Virtual Organizing?
Perhaps you can picture what an in-person organizing session looks like. Maybe you've even done one before! The organizer and the client coordinate a time to meet, the organizer visits the client at her space … and then they work together to make a plan and make it happen. The two literally work side-by-side on the project. The organizer is active in guiding the client in setting goals, making decisions, choosing what goes, and organizing what remains. A big part of the organizer's job is to support the client in discarding, packing, and moving lots and lots of stuff. There's a huge physical component to the work.
Of course, a virtual organizing session looks quite a bit different. The organizer and the client meet through video conferencing or on the phone. Oftentimes, the client will send pictures to the organizer in advance of the sessions. This way, the organizer has a way to interact with the space, ideally on a live video tour. The client and the organizer can still work together on goal setting and making decisions.
Related: 3 Things to Do To Start Your Year Off Organized!
With virtual organizing, clients get the same coaching, guidance, and support of a side-by-side session. However, the organizer can't assist with the actual movement of items in the space – the "elbow grease" part of the process. This last piece falls to the client (and her support system). I love how Kathy puts it—
"Not all potential clients are a great fit. I use the phrase "My expertise, your elbow grease" because they really *are* the ones doing all the work in their space. I'm there to help support them, but at the end of the day, if they're not up for doing the physical work in their space, it's going to be hard for them to feel they've accomplished what they hoped." —Kathy Vines, CPO, Clever Girl Organizing
Benefits of Virtual Organizing
Accountability
Having an organizer in your corner is instant accountability for projects that can feel overwhelming. A virtual organizer can also help maintain accountability across multiple projects if you already have an organizing journey well underway. Oftentimes, virtual organizers will provide support via email in between sessions to keep you on-track. What's more, your virtual organizer can record your meetings for you to reference later. These refreshers can help keep you accountable to your goals and motivated during the times when you need to work on your own.
Generating New Ideas
A virtual organizing session can be a great way to get a fresh set of eyes when you're already on your own decluttering journey. A short virtual session can help you generate new ideas to keep the momentum going with your project. Your organizer can even provide you with a list of products to order that can support your goals in the space. Remember – the skills and knowledge you'll gain through these sessions will be with you forever!
Trusted Opinions from Far Away
If you're open to virtual organizing, you can choose to work with a professional outside of your local geography. Since you aren't limited to selecting from professionals in your area, you can search for an organizer with the right style and approach for you. Also, working virtually with an organizer can make this service accessible to you if you live in an area with no organizers nearby. The National Association of Productivity & Organizing Professionals maintains a directory of NAPO members. It's a great place to start to find a pro to work with. You can filter your search to help narrow down the options and hone in on professionals who will be a good fit for your needs.
Related: OrgaNYze your Kitchen with IKEA
Eliminating Travel Costs
Of course, when you arrange to work with an organizer over Zoom or another technology … all time and cost associated with travel disappear. This can add up to significant savings for you! Cost aside, eliminating travel period is a smart move during the pandemic. Right now, limiting the number of people in and out of your home can help to keep you and your family safe. Working with a virtual organizer can "flip the script" on quarantine, empowering you to take advantage of this time at home!
Session Flexibility
Often, virtual organizing sessions are delivered as one-hour coaching calls. Shorter appointments leave more time for you to do the hands-on work yourself – on your own time. This can be really helpful for people who wouldn't otherwise have the time to set-aside for a longer in-person organizing session. It may be easier to coordinate a time that works for both you and the organizer, as well. Need to schedule your sessions at an unconventional time for your area? Consider working with an organizer in another time zone to make it happen. You can choose hours that work for you!
How to Prepare for a Virtual Organizing Session
Know Your Goals
It's important to know how you want your room or home to function after the virtual organizing session is over with. You'll need to clearly communicate your goals for function to your professional organizer to help guide the project. Additionally, you'll want to think about your lifestyle goals that relate to the space (because working with an organizer is about more than just clearing the clutter!) If you're unsure of your goals or need some help deciding between alternatives, that's okay! Just be transparent with your organizer. She can help walk you through this process, too. It's all about bridging the gap between where you and your space are now … and where you'd like to be.
Virtual organizers can help you address a variety of spaces in your life and home. Here are a few common challenge areas to get your wheels turning:
Declutter and organize your bedroom closets to ease getting ready
Declutter and organize your kitchen so that it is more functional
Declutter and organize your garage so you can actually park a car inside
Declutter and organize a bathroom space for easier mornings
Finally get control over your paper clutter and learn tips to keep it that way
Learn strategies for personal organization such as making recurring decisions on what to keep/ toss/ donate and how to set goals
We have a whole post on getting your garage organized —complete with video! Check it out here.
Prepare Your Space
Contrary to what you might think, you don't need to pre-clean or pre-organize before your session. That's why you've called in an organizer, afterall! It's actually really helpful for the organizer to see how you really live. Getting a feel for your natural environment will help the organizer assess what needs to happen. Don't forget to reduce distraction around you so that you can focus on working with the organizer. This is especially important for virtual sessions where you're only able to connect through a device. If you can, arrange for children or pets to be out of the home (or in another room) during your session.
Related: 16 Ways to Get Organized with IKEA
Get to it!
If you're good at working on your own and finishing what you've started, a virtual organizing session may be the right way for you to partner with an organizing pro. Virtual organizing is a great fit for people who are motivated for change and have a willingness to learn. You'll be able to work on your own under the advice and instruction of an expert. However, don't forget to make room to set-aside sufficient time to make progress on your "homework" in between sessions.
While working with an organizer virtually can be an incredible experience, it's not right for everyone. If you have trouble following directions without having someone by your side to walk you through the process, you should consider an in-person option. The same goes for those who are uncomfortable with technology or have mobility challenges that would interfere with the physical work involved in an organizing project. If you're on the fence, ask your desired professional organizer if he or she offers a free consultation so that you can evaluate the arrangement before making a firm commitment.
Through regular consultations, check-ins, and emails, your virtual organizer will help you develop good strategies and systems to meet your organizing goals and achieve the results you're looking for!
For more organization tips and tricks, contact Nestrs today or head on over to our YouTube page.